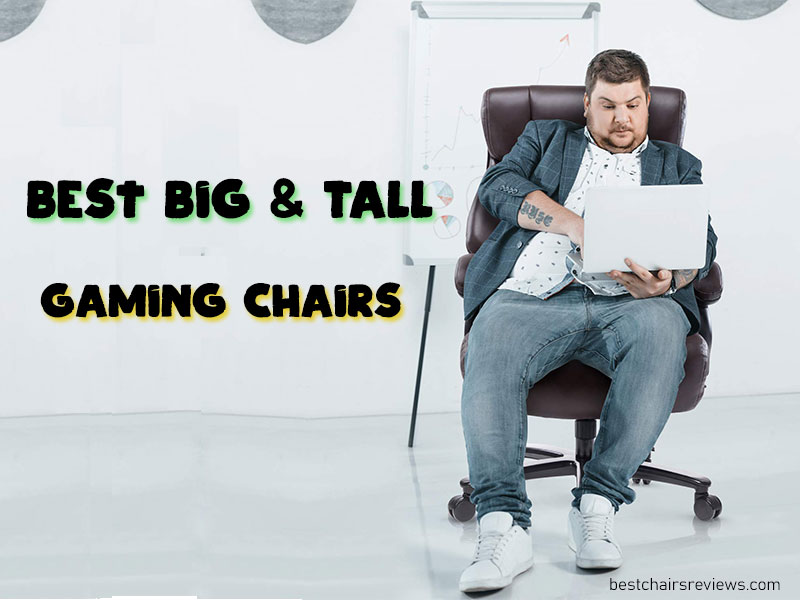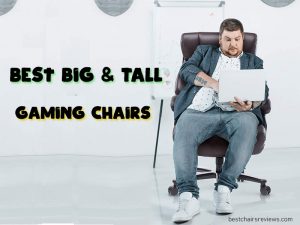 So, are you sick of gaming on your old, squeezed, and worn-out gaming chair? And, are you looking for the best big and tall gaming chairs that suit your physique?
If your answer is a big YES to all of these questions, you no longer have to put up with your old gaming chair. Luckily, our world is full of enthusiastic gamers. For these gamers, new and advanced inventions are always blowing up the charts.
With games like Call of Duty, Warzone, Apex legends, and Fortnite dominating a gamer's life, soft and comfortable chairs are necessary to execute hectic missions.
The room of every gamer is full of accessories and items that participate in gaming. The most prominent gaming-item is a gaming chair.
Here, we will present a series of fantastic big and tall gaming chairs suitable for your every need. So, enough of the jibber-jabber, let's get to the point – mesmerizing, high-quality, and affordable big and tall gaming chairs. Here we go.
Best Big & Tall Gaming Chairs (Quick Rankings)
Top 13 Best Big and Tall Gaming Chairs (Researched Reviews)
1. Vertagear VG-PL6000 Gaming Chair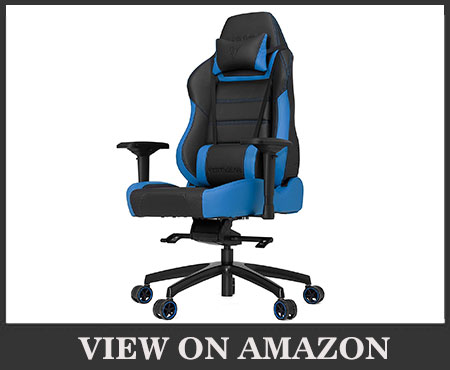 If there's a chair in the gaming world that emphasizes on additional comfort with a broader headrest and seat support, then it's the Vertegear P-Line 6000.
We love everything about it. It has a beautiful and unique design that meets the criteria of big and tall persons. Additionally, it offers a sequence of adjustability options for gamers to increase their comfort levels while gaming in any position.
The hallmark of an incredible gaming chair is its seat depth. The P-Line 6000 series offers 590mm of the seat depth, which is spacious enough for ultimate comfort. Besides that, the high-density foam provides relief and relaxation when working or gaming for long hours.
As a verdict, we recommend the Vertagear P-Line 6000 series to every gamer looking for a sturdy and durable gaming chair for both gaming and office use. Moreover, it is affordable and gives the user what he deserves.
Key Benefit
It is an exceptional choice for people with body aches. It contains memory foam cushions for lumbar and neck support.
Quick Features
Supreme Quality Resiliency Foam:Vertagear includes a high-density foam that represents all standards of comfort and support. It stands high at 4lbs per cubic foot, and the elasticity of the memory foam adds a soothing effect to the chair.
Durable metal frame:It consists of a heavy-duty frame full of industrial-grade metal to accommodate 400 lbs of weight for everlasting comfort.
Massive Gliding casters:The PL6000 boasts PENTA RS1 caster wheels that incorporate smooth and noiseless operation with decent resistance to debris and rust.
Effortless Assembling:Thanks to the patent-pending "Easy slide-in" mechanical configuration that requires one person and five minutes to assemble.
Pros
Powerful metal frame base
Four adjustable armrest positions
Adjustable resistance
Locking system
Easy-reach tilting feature
PV Leather
Comes with a lot of extra accessories
Adjustable back and height
Durable structure
Cons
Only two color options
Bulky chair
Not enough padding in the armrests
A bit traditional for high-level gamers
2. Marvel Avengers Big & Tall Heavy Duty Gaming Chair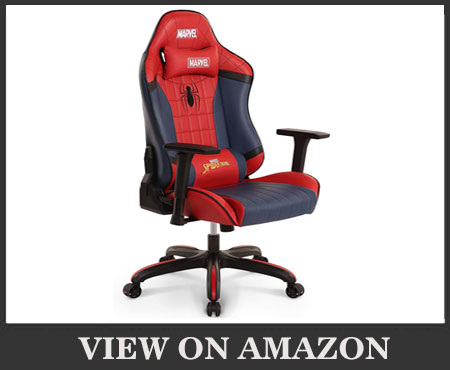 Captain America or Iron Man?
The Marvel Avengers big and tall gaming chair gives you the chance to play games side by side with your favorite avenger. Now, this one is for all the gamers who are willing to go the extra mile for a heavy-duty gaming chair. It is a marvel-licensed gaming chair with an ottoman stool for every avenger fan.
The chair features plenty of remarkable features, including adjustable height, seat, and backrest options. It is a modern chair with unique details and design.
When it comes to comfort and durability, is it worth it? Absolutely, YES! It is the production of quality and durable materials, which means it is bound to offer support and comfort for years. Besides that, it has a few flexible options which make this chair compatible with the others.
Key Benefit
It is a production of excellent quality materials. It incorporates the "Avengers, Assemble!" element, so it is a good gaming chair for players.
Quick Features
Cold-Cure Foam: With ultimate density and elasticity, the Marvel Avengers big and tall gaming chair offers cold-cure memory foam for outstanding comfort during gaming hours.
Robust PU Leather: The chair includes luxurious and delicate embroidery on the premium PU leather surface, which is skin-friendly, stain-resistant, and super-soft.
BIFMA-Certified: It is a BIFMA-certified product with diamond-cutting nylon base wheels. Additionally, a class-4 gas lift 4for ultimate elegance.
Weight Capacity: This chair consists of high-end construction material, which means it is robust enough to handle 400 lbs of weight.
Pros
Easy to maintain
Easy to assemble
High-quality leather
Spring seat for long-hour use
Heavy-duty frame for maximum stability
Suitable for offices, students, and gamers
Back and head cushion
Standard and formal style
Adjustable height and seat
Incredible weight capacity
Cons
The seat design is not very aesthetic
Some users complain about the padding
Expensive chair
3. AKRacing Onyx Deluxe Real Leather Gaming Office Chair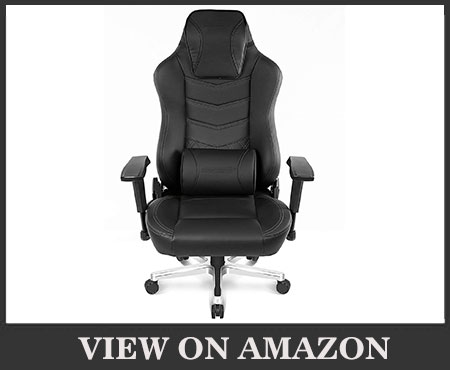 Do not be baffled by the word office because the AKRacing Obsidian chair is an excellent option for gamers.
The Obsidian chair features two pillows that are necessary for all high-end gaming chairs: one for the spine and another for comforting the head. It feels nice to have a bright and cheerful gaming chair, but sometimes you crave for all the high-end features necessary for ultimate gaming. When it comes to office use, it may not seem formal to sit on a yellow chair because it does not suit the environment. On the other hand, the AKRacing office series chair is a multi-purpose chair, best for gaming and working.
Without a doubt, this chair contains everything you need for gaming. When it comes to comfort, the chair is extraordinarily padded and excellent to help you win the office and gaming Olympics with ease.
The Obsidian chair is a masterpiece of the entire AKRacing chair series.
It features executive perks and high-quality construction. It is truly the best choice for gaming. Other than that, it offers adjustable backrest and seat, lumbar support, exceptional cold-cured cushioning, and headrest pillows for optimal support and comfort during the long-run. Even if you play hectic games on this chair all day, you will still feel fresh and not numb. Most low-quality gaming chairs have back-aching, leg-numbing, and focus-loosing structures. But that is not the case with the AKRacing office series, because it is everything you deserve.
On the other hand, a few users are not satisfied with the lumbar pillows; they do not provide a decent amount of cushioning and comfort.
Key Benefit
You can use this chair for gaming, office work, and whenever you feel tired and need a place to sleep, as it is super-comfortable.
Quick Features
Exclusive Seat Structure: With PU leather upholstery for the back and front, this chair is durable enough to last for five years and easy to clean.
Anti-Corrosive Metal Frame: It features a corrosion-resistant frame with advanced cold-cured memory foam for padding purposes of providing unlimited durability and comfort.
Adjustable Features: Adjustable lumbar and headrest pillows support your entire body and ensure ergonomic feels. The 4D adjustable armrests offer movements in four directions: back and forth, up and down, rotation, and in and out.
Rocking Chair: Here is a feature that may turn your gaming mood into a sleepy head. This chair features a standard back and forth rocking mechanism with 330 lbs of weight capacity.
Pros
Adjustable armrests
Easy to assemble
Weight capacity up to 350lbs
Horizontal recline
Cons
Uncomfortable lumbar pillow
High in price
4. GTRACING Big & Tall Gaming Chair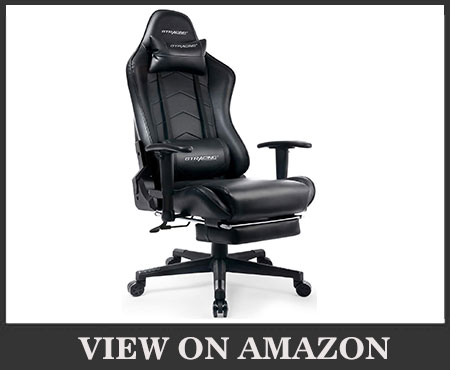 If you need an elegant and professional gaming chair, then the Gtracing gaming chair is a remarkable option for you.
It may not have the best design and offer a sequence of colors, but it sure is a worthy choice for gaming. Many users claim it to be the best and most supportive gaming chair in the market. Now, let's talk basics of this cool gaming chair
The first design features a Faux leather seat. At the same time, the other has traditional yet premium leather upholstery and is quite expensive.
Sure, an expensive gaming chair may not be the choice of every gamer, but the gtracing gaming chair is something special.
It features adjustable armrests; they move up, in, down, out, and you can angle them in any position you please. In addition to this, the casters are sweet as well; they can move smoothly on either soft or hard flooring.
When it comes to the frame, it is made from robust steel and looks fantastic. Additionally, the base is of aluminum, so that is another quality guarantee.
Key Benefit
GTRACING gaming chair is the perfect fit for tall and big persons because every part of this chair is adjustable.
Quick Features
Most Suitable Gaming Chair: A perfectly soft, comfortable chair. It contains extra-thick faux leather with 55% cold-cure foam density for absolute comfort and love.
Adjustable and Reclineable: You can recline this chair up to 135-degree and get a load of the adaptable and flexible armrests with four dimensions.
Practical and Sturdy Chair: The gtracing gaming chair offers a weight capacity of 330 lbs and a stunning rocking mechanism.
Ergonomic Features:It contains ergonomic features with premium stitching, debossed logo, and a sturdy steel base frame.
Pros
Durable construction
Appealing chair
Easy to assemble
Comfortable
Suitable for office use as well
Excellent gaming companion
Adjustable features
Sturdy construction
5. Homall Gaming Chair Office Chair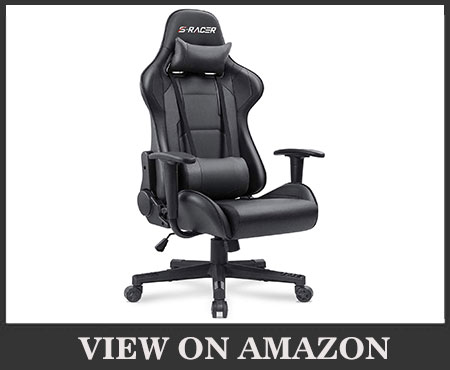 The Homall gaming chair is an example of "Love at first sight."
It is a stable chair with some impressive features. One of the most significant features of this gaming chair is the faux leather surface. It feels comfortable and secure. In addition to this, Homall always provides high-quality yet affordable masterpieces, and this gaming chair is the best example of Homall's efficiency.
On the other hand, some consumers find this gaming chair to be an average one. A few users have also received incomplete packages, without bolts, nuts, and the rest of the assembling kit.
It is an ergonomic chair with a stunning backrest for ultimate comfort. It offers adjustable lumbar and neck support as well. Moreover, faux leather increases the levels of durability and comfort.
The caster wheels are another feature to discuss, made from durable and movable PU leather. You will receive additional lumbar cushions and headrest pillows with the chair, and a gorgeous back with the S-racer gaming pattern.
Key Benefit
One of the primary reasons we love this gaming chair is because it offers the back-and-forth rocking mechanism. Moreover, it is easy to clean and does not disappoint in terms of performance and heavy usage.
Quick Features
High-Density Foam:With an outstanding high-density foam, you receive more comfort, long-lasting services, and extra elasticity. Besides that, the PU leather is super-friendly and stain-resistant.
Premium Configuration:You will love the 3-class gas lift certified by the SGS, making it more reliable, durable, and comfortable. Moreover, the rubber caster wheels roll nicely on any floor.
Multi-Purpose Chair:The Homall gaming chair features multi-direction wheels and a 360-degree Swivel to accommodate all sorts of big and tall persons. You can even make use of the back and forth rocking mechanism to spend your leisure time.
Versatile Usage:It is suitable for playing games, watching TV, doing work, and resting. Without a doubt, it will enhance your gaming space.
Pros
Adjustable height armrests
Robust 5-star steel frame
Comfortable and high-density foam for the cushions and back
Impressive steel back with tilting adjustments
One-year warranty
Cons
Users complain about customer service and incomplete delivery packages.
6. Big and Tall 440lb Gaming Chair Racing Office Chair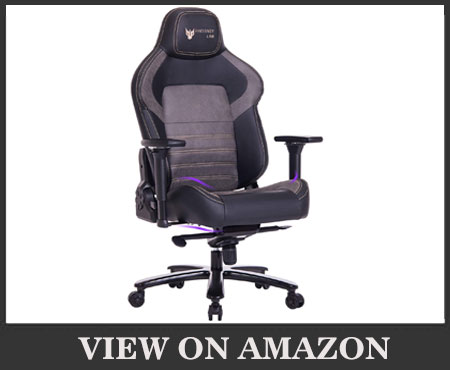 If you ever get the feeling that the world of gaming chairs is not sturdy enough to handle your big personality, think again!
We move to the VON RACER big and tall gaming chair with over 440lbs of weight capacity for all big and tall persons. From the headrest to the caster wheels, this gaming chair is the absolute best. We love how large and padded this chair is, plus it has some extra-special features for enthusiastic gamers as well. Moreover, it offers comfort to every inch of your body while you game in even the busiest position possible.
The wide armrests and deep seats provide a significant purpose to the recline. You can also set the pitch from ninety to fifty-six degrees according to your goal. In addition to this, the rocking feature of the chair offers adjustable comfort as well.
Key Benefit
We conclude the VON RACER big and tall gaming chair to be the best option for working people. On the other hand, you can use it for some traditional PS4 gaming as well.
Quick Features
Excellent Gaming Experience:With the large, unique huggable design of this chair, your gaming sessions will begin and end with extreme comfort.
Comfortable:Ergonomic design with a high backrest, this gaming chair healthily embraces your body and supports your spine and neck. Other than this, the premium memory foam in the seat and lumbar encourage straight posture.
Adjustable for Everyone:Featuring a flexible height system, rock locking, and 360-swivel design, anyone can have a good time sitting on this chair.
Powerful Cushioning:When it comes to the most remarkable and noticeable feature of the VON RACER gaming chair is the cushioning. The cushioning is made from gel memory foam to support your posture and provide ultimate comfort while doing what you love.
Pros
Extremely adjustable
The most comfortable chair in this list
Easy to assemble
Easy to clean
User-friendly features
Incredible chair design
Suitable for the neck and back
Best weight capacity
Cons
Low-quality construction
Not a lot of color choices
Not suitable for long-hour gaming
7. Anda Seat Spirit King High Back Gaming Chair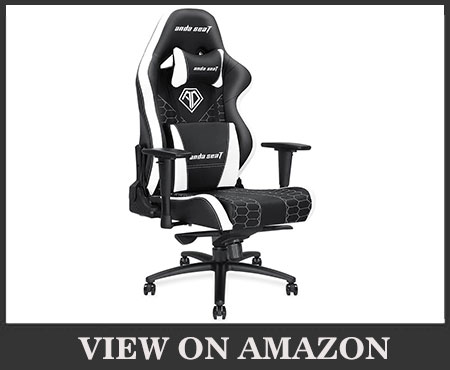 The leather chair industry is full of mesmerizing and highly comfortable products. You can easily find a top-notch and unique chair at a glance, but it takes specialized knowledge and skills to find a chair with it all and does not flinch.
Say hello to the Anda Seat Spirit King series high-back gaming chair! It has a broad back with an ergonomic design that appeals to every gamer.
We always admire a chair with a soft and sturdy structure, and the Anda Seat Spirit King series is an incredible production of high-end materials.
Furthermore, it has a bunch of adjustable features as well. With that, the 3D adjustable armrests provide rest to your elbows and arms with enough amount of padding. The surface is of PU leather, which supports the forearm to eliminate muscle strain and wrist pressure, which maximizes your gaming thrills.
You can also adjust the tilting according to your weight with ease and enjoy the back and forth rocky movements while gaming to reduce fatigue from the body.
Moreover, you will have more focus on what you do instead of continuously changing your position to find the right angle.
Key Benefit
It has a stain/scratch-resistant surface and incorporates the same design of a sports car seat. Surely, you will notice a breeze of goosebumps once you put your hands on this chair.
Quick Features
Great for the Back: The Velour lumbar and head pillow cushions help to keep your back straight and not-tired. That way, you will enhance the shape of your spine by sitting straight and smooth.
Tilting Support: Another remarkable feature to celebrate about this chair is the 160-tilt mechanism; it provides the chair suspension's unconditional support.
Brilliant Comfort: As it is a large chair, it is charismatic and unique. Moreover, it supports your back gently and keeps you active during extended hours.
Advance Construction: The chairfeatures the international standards of construction, including an integrated frame, heavy-duty chair base, and gentle and smooth rollers.
Pros
Excellent construction
Easy to maintain
Attractive color combinations
Every inch of the chair is adjustable
Comfortable padding
Best weight capacity: 400 lbs
Lifetime frame warranty
Cons
Poor-quality caster wheels
Not enough lumbar support
8. Devoko Ergonomic Gaming Chair with Lumbar Support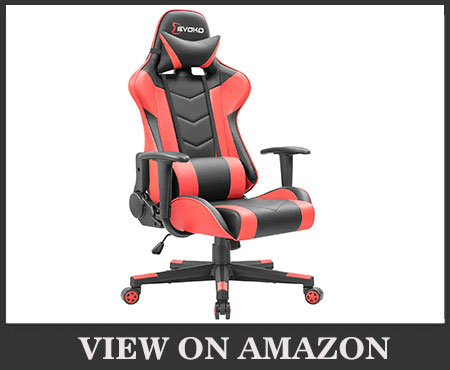 These days, many people struggle to find quality gaming chairs due to the overwhelming choices available on the market. On the other hand, this usually happens when you have no idea what to look to ask for in a gaming chair.
According to us, the perfect gaming chair is the Deveko Ergonomic gaming chair. In an instance, you will get a luxurious SUV vibe from this chair because it is a classic mix of sporty and elegance.
Let us start from the stitching to curvy edges; the Devoko ergonomic gaming chair is an excellent option for professional gamers. Another impressive and prominent feature of this chair is the DEVOKO logo, which makes this product even more stunning and unique.
Key Benefit
That said, if anyone asks you which is the best gaming chair, you say; the Devoko Ergonomic chair. It is the ideal choice for big and tall gamers, plus you can use it for other purposes as well.
Quick Features
Durable Wheels: The wheels are sturdy and durable enough to handle the chair's weight with accuracy. You do not need to worry about them rusting or breaking.
Quality Construction: When it comes to the material of build, it is of high-quality leather, and the chair is full of arrow-like lines and stripes around its structure.
Cutting-Edge Headrest: When you look at the red headrest, you instantly get a vibe of 'I WANT TO BUY THIS CHAIR," it represents the entire look of the chair, which is appealing! Moreover, Devoko offers a range of color combinations, including black/light red, black/white, and black/red.
Tilt Adjustment: With the recline angle adjuster and tilt adjustment features, you can quickly get rid of that tired and lost feeling while gaming or working for hours.
Pros
Best value
Appealing design
Super-comfortable
Includes a 6-month warranty
Ergonomic design
Carries weight like a pro
Cons
Unpleasant smell
Not all users find it to be comfortable
9. Gaming Chair Big and Tall 500lb Gaming Office Chair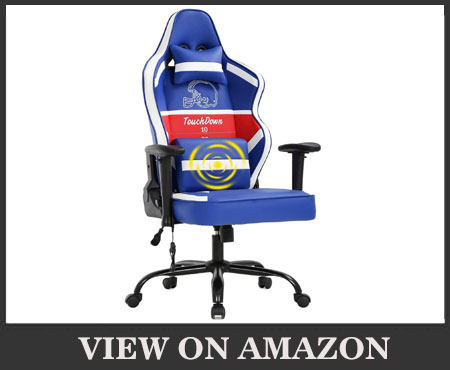 Have you ever heard of a gaming chair with USB massaging capabilities? If not, then today is your lucky day!
Here is another incredible and powerful gaming chair; the 500lb big and tall gaming and office chair. It surely is a unique one, as it requires a USB to provide lumbar support. When you come home from a long day at the office, you can throw yourself on this chair and feel the fatigue releasing.
There are plenty of hidden surprises on this chair – for instance, take out the lumbar pillow, and you will notice dainty embroidery. We consider this chair the best choice for tall and big gamers because it has a sweet design that is suitable for players and only gamers!
Furthermore, when it comes to assembling chairs, many people tend to run away from this, but it is nothing but a piece of cake. When it comes to the warranty details, the manufacturer offers a one-year warranty on the chair parts and a 6-month warranty for the chair.
Key Benefit
It is an aesthetically pleasing chair with loads of gaming and comfort benefits for the brain and body.
Quick Features
Adjustable Features:Thanks to the 2D adjustable headrest/lumbar and armrests, gaming has never been more comfortable. The thick and comfy-for-the-back padding keeps your body active and focused on whatever it is doing. Other than that, the chair reclines in any position you desire, up to 135-degree.
Heavy-duty wheels:The heavy-duty nylon caster wheels and metal base provide excellent mobility and stability. You can move around with ease while focusing on your game.
Effortless Installation:The package comes with all the necessary instructions needed to know about the assembling process. Moreover, as this is a significant and tall gaming chair, it can accommodate more than 500lbs of weight.
Weight Capacity: With a remarkable weight capacity of 500 lbs, you can game; any way you like on this chair.
Pros
Easy to assemble
Durable leather
A remarkable increase in gaming performance
Comfortable for those with back pain
USB lumbar support
Cons
Unpopular brand
Unappealing color schemes
10. Musso High-Back Racing Gaming Chair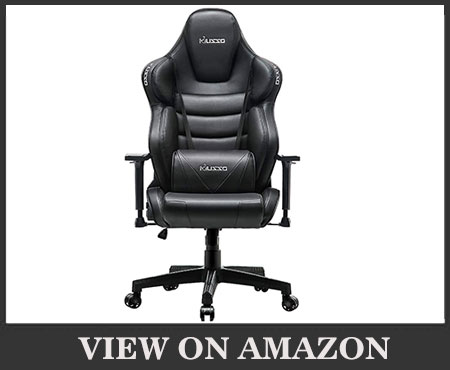 Is the thought of never being able to find the right gaming chair eating you out alive? Well, it is time for you to stop browsing for the wrong chairs and move on to the right one.
The Musso Executive E-sports gaming chair is our personal favorite, especially for the big and tall guys. This chair includes an ingenious and comfortable design that uses contours.
The benefit of having a well-padded chair is that they go deep into your body, eliminating backpressure, and gradually improving your blood circulation.
When it comes to seat comfort, it is enough to recline into a plank position. The lumbar cushions, high-back, head, and adjustable armrests ensure the satisfaction of your body. Moreover, this chair offers remarkable performance in reclining.
It is more versatile than any other product on this list. Also, it can be an excellent companion for gaming, working, and a bedroom.
Key Benefit
We cannot compliment the support and versatility of this chair enough. It offers premium quality PU leather coverage that makes it easier to manage and clean the chair.
Quick Features
Premium Construction:This chair features high-density foam and PU leather with permeability and excellent resilience. Moreover, the heavy-duty frame and caster wheels provide a stunning structure.
Prolong Comfort:Adjustable armrests, lumbar pillows, and head position filing offer a luxurious feel. The recline features allow you to snooze in a resting position as well.
Chair Design:It has a segmented and fully-padded design that portrays outlines suitable for your body to provide ultimate snug-fit comfort.
Pros
Heavy-duty base
Robust build supporting a sturdy metal frame
A commendable reclining mechanism with tilting up to 180-degree
Adjustable Features
Easy to assemble
Great for the spine
Cons
The seat may seem narrow for big guys.
11. HEALGEN Big and Tall Gaming Chair with Footrest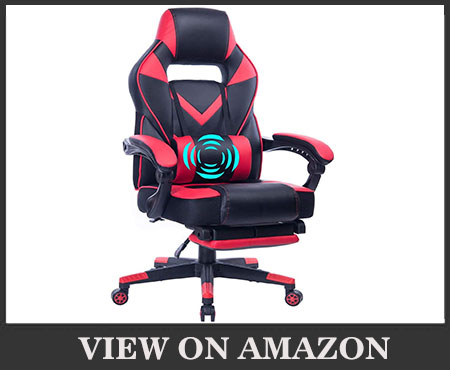 If traditional gaming chairs don't meet your expectations, try the HEALGEN big and tall gaming chair. One of the primary reasons why gamers cannot maintain their calm while gaming is sitting on a low-quality chair.
You have no idea how many side effects a worn-out, and uncomfortable chair consists of, and not to mention, backaches. With the HEALGEN big and tall gaming chair, you will enter into a new gaming world full of comfort and support. You can game easily on this ergonomic chair and win every one of them.
HEALGEN is a unique brand that offers many stunning products, and this gaming chair is truly a masterpiece. Unlike other gaming chairs, this one is durable enough to accommodate all types of personalities, big or small.
Key Benefit
We recommend this chair for every gamer who needs a reasonable and high-quality gaming chair. Moreover, it is an excellent gaming chair with stunning recline rotation, durability, and support.
Quick Features
HEALGEN Guarantee: HEALGEN provides a 30-day warranty, in case you are not satisfied with your purchase. On the other hand, if you have any further questions or require assistance, you can seek guidance from HEALGEN's customer service.
Super-Comfy and Ergonomic: It supports every little ergonomic support for your body—a lumbar cushion and a removable headrest pillow to support your neck and back. In addition to this, you are going to love what the armrests have in hold for you – sweet and sensational padding.
Tilt Mechanism: You can recline your body up to 135 degrees to take a quick nap during the streaming periods. Besides that, this big and tall chair revolves 360 degrees for smooth movement.
Multi-Functional Chair: It offers an adjustable back and height to accommodate your body's shape, and it instantly cradles your body. Therefore, you can use it as an office chair, bedroom chair, or a gaming chair.
Pros
Ideal for tall and big gamers
Removable lumbar cushion and headrest pillow
Ergonomic comfort
Rotation features
Adjustable recline
Cons
Tough to assemble
Not suitable for average-sized gamers
12. Vitesse High Back Racing Style Gaming Chair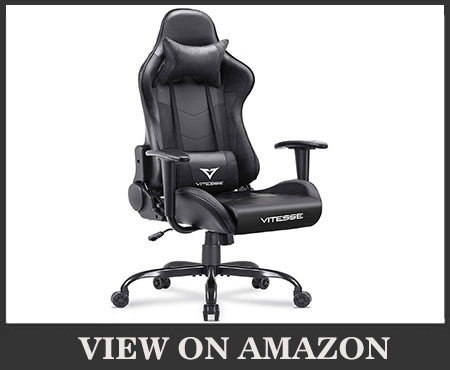 Buying an expensive gaming chair from a well-reputed brand will not always get you through, so it is essential to consider the facts.
There are many affordable, feature-filled, and high-end gaming chairs available on the planet, such as the Vitesse gaming chair. Most expensive brands make money from their brand logo, and not from the quality they provide.
When it comes to the adjustable features, the high-back takes care of your spine elegantly and professionally. Once you start playing your favorite video games on this chair, you will experience a sudden boost in your reflexes and mood. Even if you play for an hour or hours, the feeling will remain the same.
Overall, this gaming chair is affordable. On the other hand, you need to accept that not every gaming chair will last for a long time, so keep that in mind while using the Vitesse chair.
Still, if you use it nicely, you can have it with you for a lifetime. Additionally, we love how customizable this chair is, which means you can watch TV, read a book, or relax.
Key Benefit
It has all the features you need to have the ultimate gaming experience. It offers a gorgeous design, provides fantastic support, comfort, and enables you to adjust the features according to your body requirements.
Quick Features
Padded Backrest: The backrest is quite thick due to the excessive padding, but it is comfortable enough to get you through the hectic missions. In addition to this, there is a bucket seat that makes sure your legs feel alive and not numb.
Ergonomic Design: With a remarkable design, the Vitesse gaming chair offers the look of an ergonomic gaming chair with a PU leather coverage. So, we can guarantee that you will not have to face any problem while cleaning or gaming on the chair. It is soft enough to sink into your body and sturdy enough never to bore you.
Ample and Big Back/Seat: A thick seat and a deeper back provide additional comfort for your body, office, conference, home, and gaming.
Impressive Weight Capacity: This chair can accommodate more than 300 lbs of weight. You can recline it into a full plank position for sleeping as well.
Pros
Well-padded, thick bucket seat and backrest
Affordable price
Ultimate quality
Variety of color options
Adjustable features
Supportive and comfortable
High-back chair
Easy to assemble
Cons
The armrests are not adjustable
Some users find it difficult to assemble
13. Furmax High-Back Gaming Office Chair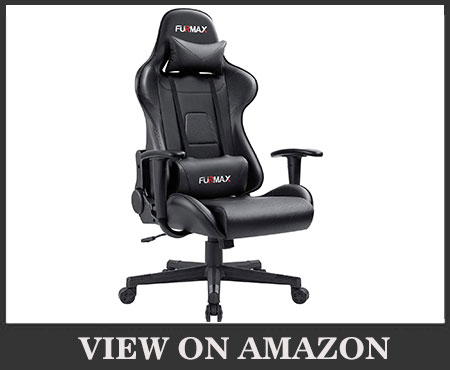 Do you need an affordable and high-quality gaming chair? We can bet this chair will be the solution to everything.
Save yourself the tiring and troublesome gaming chair-browse. You have reached the ultimate fighting champion, the Furmax gaming chair. Indeed, you must have seen a lot of high-quality gaming chairs in the market, but none of them will ever be affordable enough to buy.
The Furmax gaming chair is a blessing for every gamer because it is affordable and feature-filled. You can buy this chair in different colors; black, blue, and red to fit your gaming décor.
Starting from the design, Furmax incorporates a unique and sporty chair design with a spacious seat. It is as comfortable as sitting on a roses bed, so expect yourself to be gaming for hours on this chair. Besides that, it features excellent quality caster wheels that are smooth enough to move in every corner of your gaming space.
When it comes to comfort, Furmax is the kind of gaming chair that gives you what you pay for, excellent support for your body.
Key Benefit
In conclusion, the Furmax gaming chair is a solid supporter of heavy-duty players and workers.
Quick Features
Adjustable Features: It comes with an adjustable seat that lets you rock back and forth for anxious gaming. Other than that, it offers a 360-degree swiveling feature so users can move it in any direction without getting off from the chair.
Comfortable Construction: The combination of PU leather and mesh upholstery offers maximum comfort for an all-day gamer. Moreover, it uses premium quality faux leather which looks stunning and is easy to clean.
Commendable Design: With gorgeous patterns, ergonomic design, and smooth lines, you can use this elegant chair for your office.
Sturdy Caster Wheels: The wheels offer a 180-degree backward movement, smooth and anti-scratch rolling on any surface.
Pros
Best value
Simple yet elegant design
Flexible and smooth chair
Back and forth rocking mechanism
Easy to assemble
Cons
Unclear manual instructions
Unreliable warranty details
Buying Guide
The comfort and warmth of a good gaming chair will only take you to gaming heaven.
When it comes to purchasing the best big and tall gaming chair, is there anything special required? Yes, there is not one, but a lot of tiny details you must consider before purchasing a gaming chair. Sure, the variety of choices may rattle you, but with a little chair-knowledge, you can end up with the golden ticket.
Here are some necessary features to keep in mind when shopping for gaming chairs:
The structure
When you head to the market, the variety of gaming chairs may rattle you, but you can find what you need. Still, you should give preference to the chair design for utmost body-support.
The structure of a gaming chair is what speaks the most, so find a chair that offers the best package of comfort and support. Gaming chairs with attractive looks can often increase value. A few extra elements participate in the structure as well, including quality, contours, and colors.
Adjustable options
It would help you support every inch of your body, from head to toe. Good quality big and tall gaming chairs feature several unique and powerful specifications, including detachable headrests, retractable footrests, and 4D armrests.
Unlimted comfort
As a big and tall person, comfort is one of the essential features to consider when buying a gaming chair. Regular gaming chairs cannot level up to big and tall gaming chairs, so you must put comfort at the top of your list.
Comfort does not always mean the chair has to be good for your back, but there are a few other aspects. It would be perfect if you had a chair wide and high enough to keep you focused and active the entire time.
Moreover, a chair with lumbar and neck cushions can provide extra support to your body as well. Besides that, other factors like adjustable armrests, contours, footrests, and recline support also play a vital role.
Material of build
The material is another crucial thing to consider when buying a gaming chair. A gaming chair with quality construction will give you ultimate comfort and require less maintenance. The metal frame and base of your gaming chair must support at least 350 pounds.
If you want to know a personal favorite, it is best to go for a gaming chair with a PU leather finish. It is breathable, comfortable to clean, and stain-resistant.
Your budget
Here comes the real deal, your budget. Your budget can often destroy your hopes and dreams of a high-quality gaming chair, so keep that in mind when shopping.
The good news is, there are some affordable and fantastic gaming chair models in the market with all the excellent features and specs.
Some of the vital elements a chair must have include: headrests, tilt mechanism, affordable price, and lumbar support. On the other hand, you may come across a product with over-the-top features at a low cost.
Depth of seat
The perfect seat depth lets you lean comfortably back with your legs stretched at a reasonable distance away from the seat edge.
To select a chair with ultimate seat depth for you, sit straight, and ask your partner or retailer to measure the gap between the area of your knee and back.
Height of backrest
An ultimate backrest height helps to maintain the structure of the lumbar spine. It would surey help if you had a decent reclined posture that covers your neck and upper back.
When it comes to finding the right height of backrest for you, measure the height of your waist to your neck. Moreover, make sure that the seat comes with an excellent headrest that works well with the backrest height.
Width of seat
The seat width should be from one corner of the hip to another. It is best to pick a gaming chair with seat width 2 inches wider than your body.
Moreover, if you need a gaming chair with armrests, make room for 4 inches to ensure the armrests are not a distraction.
Width of backrest
The backrest's width has a different way of measurement; it does not depend on your body's shape, but to your preferences. Still, your backrest width must pick to be wider than your waist.
If you want to have a lot of wriggle room, pick a chair extra full backrest width.
BOTTOM LINE:
Be sure to keep these minds in mind while shopping as they will keep you from purchasing the wrong chair.
Conclusion
As you already know, gaming chairs come in all sizes, shapes, and brands, but the best kind is the one that gives you complete leisure while gaming.
Most of these chairs promote healthy and proper circulation from your head to the limbs, plus they are incredibly comfortable. So, prepare yourself for a soft and bumpy all-day gaming ride!
Related Links: