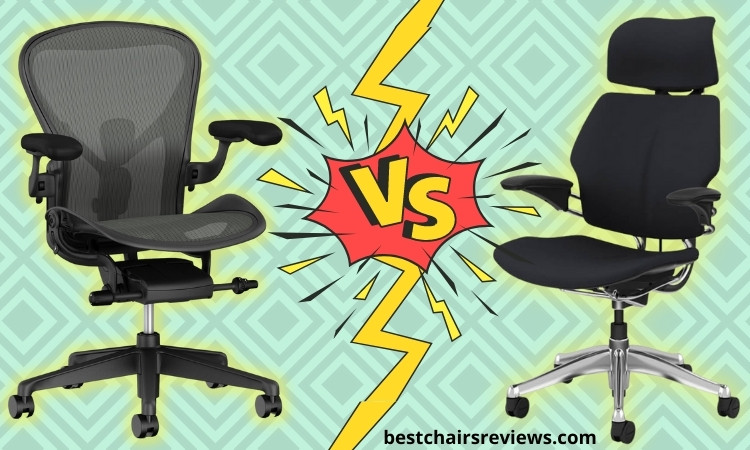 If you are in search mode for the highest quality office chair in the market so you should not miss out on this post.
Here we are all set to compare the two popular office furniture from the very renowned brand Herman Miller and Humanscale.
Although Herman Miller Aeron's ergonomic task chair has already earned the rank of being called 'legend', the Humanscale Freedom chair by the way is close enough to be near the top.
Whereas, the stylish ergonomic high-end design of Freedom by Humanscale is supposed to be a fairly standard choice even used in modern-day offices in TV shows e.g. American Netflix TV show 'Iron Fist'.
Undoubtedly, both Aeron & Freedom are among the best iconic Ergonomic Office/Task chairs. You may select either one comparing them both but the prime dynamics of adjustability, ergonomics, and durability ensuring lasting comfort are outfitted by both.
You should not overlook these two big players in the market if you are on an optimal-quality office chair hunt.
Let's start the comparison to get the answer of which chair is the best one.
We are going to compare their aesthetics, similarities & differences to provide you with deep-down insight that helps you to pick right.
Quick Review
Speaking of the ergonomic design, style, and looks, Freedom ranked higher than Herman Miller Aeron as the style fits all office decor well. Freedom task chair comes with multiple, exciting color options while the Aeron comes with three typical bland shades.
Freedom comes with a headrest also the chair has a large and tall frame, opposite Aeron completely. This is because both chairs are designed innovatively to accommodate and serve customers of different sizes, shapes, and weights.
The weight-sensitive design of the Freedom task chair proposes full-body and movement support as it adapts according to posture change all through the day.
Despite this aesthetic difference, Aeron has been improved with the latest technologies in every way possible since it has been launched. The office chair has got posture corrector technology and the finest mechanism to offer refined tilt, and materialistically provide great back support.
When it comes to the high-quality ergonomic office chair, the mesh backrest and seat are considered a prime aesthetic for weight dispersal and breathability, however, the standard seat pad of Freedom scored way too high in the comfort tests.
Let's get into the details and compare both chairs aesthetically to find out which one is the best, get started with a specification comparison chart:
Specification – Assessment
| | | |
| --- | --- | --- |
| | Freedom w/Headrest | Aeron (C) |
| Origin | Mexico | USA |
| Ergonomic |   | |
| Dimension (overall) | 26.75"W x 26"D x 48.2-53"H | 43″ H x 28.25″ W x 18.5″ D |
| Chair back style | High-back | No |
| Headrest | Yes | No |
| Lumbar support | Yes | Yes |
| Waterfall seat edge | Yes | Yes |
| Forward seat angle | No | Yes |
| Assembly required | Yes | No |
| Seat height adjustment | 16" – 21 " | 16" – 20.5" |
| Lumbar back adjustment | Yes | No |
| Chair weight | 38 pounds | 43 lbs |
| Load limit | 300 pounds | 350 pounds |
Assembly & Warranty
As Herman miller normally uses FedEx or UPS-like carriers, so for a limited quantity or one, they ship fully assembled Aeron. Although, the Humanscale Freedom comes partially assembled which then required some assembling in mostly the lower part of the chair.
Both companies use a common carrier that safely brings the task chairs to your doorstep.
The most impressive aesthetic about the Aeron is that Herman Miller offers 12 years warranty in which all parts of the chair are included. By taking a step forward they offer 24/7 customer service as a convenience factor for the consumer.
Within a warranty period, the repairing cost of the chair will be covered by the company (Herman Miller), a big plus factor for the chair for sure.
Besides, Humanscale proposes 15 years warranty on the Freedom headrest task chair, along with 24/7 validity of customer services.
However, with different parts of the chair, they offer various warranty periods for example on the arm pads, cushion, and upholstery they advert a single shift warranty.
Material & Options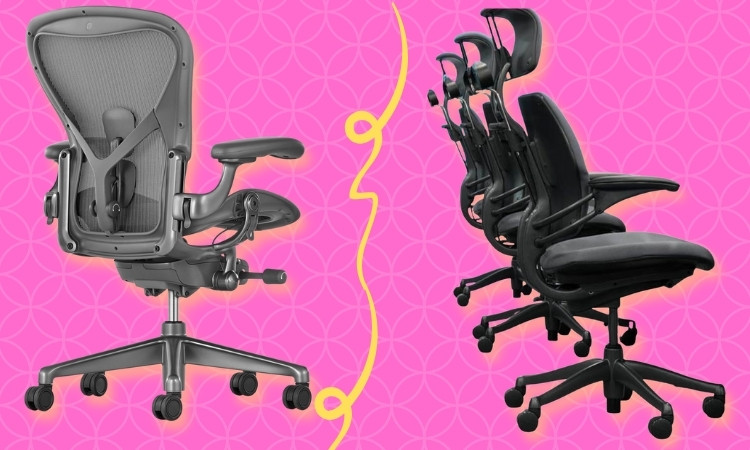 Aeron is not a chair that disappoints with any aesthetic and quality concern, all mesh Aeron, however, does not offer too many mesh options but very obviously it has got premium quality mesh in the whole market.
Herman Miller uses a durable mix of elastomeric and polyester material having flexible, soft touch and shape-retain properties.
Aeron is presented in just three mesh colors at most:
graphite: which is black
mineral: a light grey
carbon: which is in a mild gray shade. You need to pay an additional $140 for minerals and carbon.
Freedom, on the other hand, gives varieties of upholstery alternatives if you want to design a chair yourself. With almost 42 upholstery, 7 highest quality leather as well as 3 sensuedes options, Humanscale Freedom is truly a pro.
You can even select stitching to opt for one of 8 different choices especially and only with premium leather while you can pick matching arm upholstery from the arm selection.
All-Inclusive Comfort
Since they are designed on the parallel approach of absolute support and first-class comfort, Aeron and Freedom are fairly comfortable.
You need to opt for the right size with Aeron goes as size A, size B, and size C to ensure comfort and support.
The pellicle mesh material is of prime quality to lean back and sit as the breathable material is good for ventilation.
In terms of arms, Aeron got the edge as fully adjustable arms give comfort and freedom of customization whether it is arm pad depth, pivot, or height adjustment. In general, Aeron comes with standard quality spongy arms padding along with a sturdy exterior, however, they do offer an option of upgrading leather pads.
Freedom chair has a standard seat pad while they propose the option of upgrading the seat to a gel pad which is not a good idea. If you want to give Freedom a try, so save your extra bucks and go with a standard seat pad.
Similarly, the Humanscale chair is supplied with a Duron arm set, pretty similar to Aeron arm pads, the arm pads on Freedom have thick foam covered with a secure coating. As compared to Aeron arm pads, Freedom's arm pads are thinly padded and less squishy.
The arm set is adjustable in height and width the most, while the height adjustment of the armrest is uniquely easy as it adjusts in seconds using a hand simply. The unison movement of both arms is very useful while the width can be adjusted independently on each arm.
Backrest Support
As the master of ergonomics provides fine backrest support whereas the lower back support is the most impressive aesthetic of the Humanscale chair. However, tall people may face some issues adjusting them on the limited-high backrest but thanks to backrest height adjustment it's all solved.
Freedom allows you to adjust great support by using height adjustment of the backrest, the pivot function is fairly a good combination that upholds better posture irrespective of your seating position.
Aeron introduced an exceptional high-tech PostureFit SL back support mechanism which horizontally and vertically offers great support to the spine and also stimulates the incline angle of the pelvis for lasting support and comfort.
The office chair provides entire backrest support as the lumbar support based on a large vertical area includes dual pads that flex individually.
Ergonomic Adjustments
When it comes to ergonomic adjustments, Freedom is hard to compare with. It may seem standard office chair but due to top-of-the-line ergonomics, it is listed among 5 top ergonomic task chairs in 2022.
The chair featured more or less every ergonomic adjustment you would ever think of in a top-notch ergonomic task chair. The chair is furnished with seat height & depth adjustment, adjustable lumbar, and back height, and adjustable armrest (width & height).
Even though, the chair could have been better if it is equipped with a tilt lock feature but still is good enough to provide automatic adjustment to movement and full-body support.
Speaking of the Aeron, the adjustment features include a tilt forward seat option, 3D armrest, 3-positioned tilt lock & adjustable lumbar back. The chair lack in some areas like back height adjustment and seat slider.
Final Remarks
The very obvious aesthetic of both Herman Miller Aeron chair & Humanscale Freedom is the design that deals with prime long-lasting comfort. However, it would be unfair or biased to side up with either one but to settle the comparison debate, there has to be one.
It's the Humanscale Freedom task chair we like better although Aeron is not any less than this and deserve to be on the list of best office chairs. If you like mesh design so Herman Miller Aeron is pro-choice of the best way possible to comfortable office chair.
We like the Freedom task chair as its graceful design enables easy working throughout the day with the healthiest movement without any need for manual adjustments.
Rest, you can choose upon personal preferences, budget, and requirements.
Have a blessed day!
Related links: