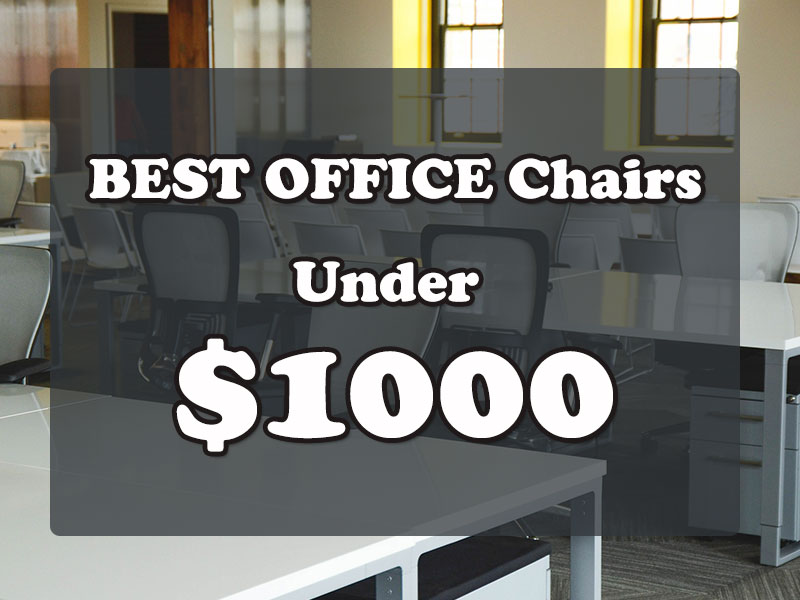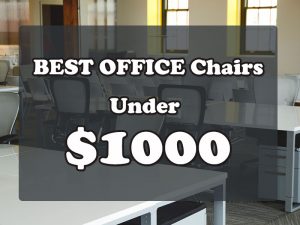 Best Office Chairs Under $1000: Are you an office person? Do you spend half of your day in the office sitting on a chair in front of your desk? Ok, whatever the matter is, you are merely looking for a chair that will be comfortable for you when you sit on it for so long in a day. People who do desk jobs either in the office or home slowly start facing the problems of fatigue, joint pain, neck and shoulders aches, and spinal misalignment. It is because of the poor quality chair on which they used to spend most of their time.
A chair is the most essential thing in an office while working because it is all you are dependent on for your work. If you are not comfortable, you will surely not give an excellent outcome. So it is very important to get the best office chair for yourself.
But finding the best chair is not as easy as just using it. For acquiring the utmost comfort, you have to consider some important factors like lumbar support, ergonomic design, and material. And under a $1000 budget, you will surely get these factors in an office chair.
But it needs some research to find a suitable model for you. So don't worry, we have already done the research for you and mentioned some best office chairs for under $1000.
Top 10 Best Office Chairs Under $1000 (Top Picks)
1. Herman Miller Classic Aeron Task Chair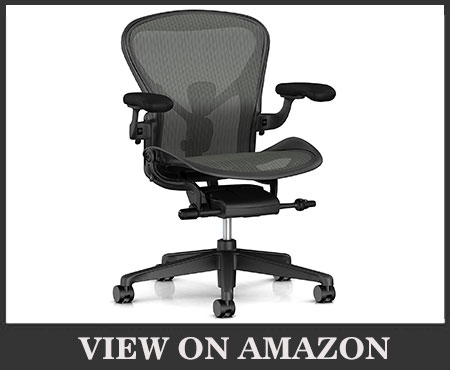 It is one of the absolute best chairs for office persons who used to spend most of their time in an office. This is presented by a well-known company. This time Herman Miller presents a classic Aeron task chair that ensures comfortability and durability.
This chair comprises the mesh back, quality material, padded lumbar support, tilt limiter, angle adjuster, carpet casters, and adjustable armrest. These are the primary and essential features that make up the whole structure and design of this chair and keep it on the top of this list.
Herman Miller Aeron also comes in the market after thorough testing and inspection from the experts and manufacturers. While it's the refurbishing process, this chair goes through functionality testing, necessary cleaning, repackaging, and inspection to eliminate all the doubts and errors from it. Wrap up in an ergonomic design that is most suitable for the persons who have to do work for long periods of time in front of their desk. It is not so bulky, so this feature makes it easy to move from one place to another.
The beautiful seat of this chair is covered with a unique breathable Pellicle suspension mesh material. This mesh material dissipates the body warmness that might produce during long hours of work. In this way, it keeps you cool and comfortable throughout your long sessions of work and provides you unparalleled support.
Equipped with the tilt mechanism that helps to keep your neck, shoulder, knees, hips, and ankles pivot naturally. Moreover, its waterfall-style seat helps to reduce the pressure from the thighs and increase blood circulation in a better way.
Featuring lumbar support that packs up in a soft padded cushion to give ultimate comfort to your lower back. It keeps the curve of the midback and lumbar at its natural curve. Its high and contoured back is designed to takes off the pressure from your back and give you the utmost comfort.
Pros
Ergonomic design
Adjusts according to your body
Mesh is cool
12-years warranty
Cons
Its lumbar pad doesn't provide broad support
2. Steelcase Leap Fabric Chair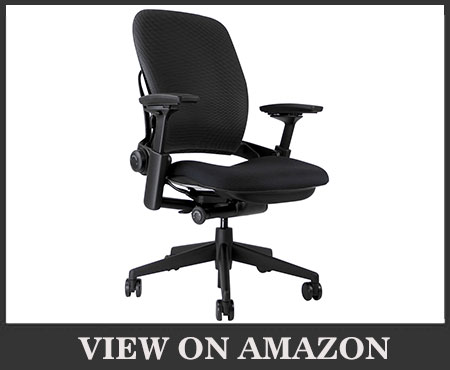 It is one of the number one selling chairs in terms of fulfilling the requirements of long hours work of a desk job. Steelcase is another well-known company that produces products by taking the needs of its customers into consideration.
This chair is designed to fit a user of any height and weight. It changes according to the user and adjusts the user so that one can feel extreme solace while sitting for so long. Its lumbar technology flexes with the movements for providing the user with ergonomic comfort.
Its back is engineered, which understands that the spinal movement is as crucial to design the excellent ergonomic seating experience.
Steelcase understands the customer's and users' needs, so that is why it creates a chair that delivers next-level comfort and productivity. It actually gives the best example of supreme quality and sustainability. You can adjust this chair in just a few minutes to provide extreme support to your back at the right pressure points and release stress and fatigue efficiently. This chair helps to develop a healthy posture throughout your relation with this chair.
Its glide system allows the user to maintain the right posture even if you recline this chair at different angles. So while hindering your work, you can find the most relaxing position of your choice. And thanks to its super-construction as it will not get damaged and broke quickly.
The pneumatic seat height adjustment allows every height of the user to take the ultimate benefit of this chair by utilizing the height adjuster. Moreover, the whole frame of this chair is made up of plastic material that ensures its stability and durability.
The hard casters ensure the mobility of this chair as it does not make any scratch on the floor during the movement of this chair.
Pros
LivBack patented technology
Promotes healthy posture
Adjustable seat depth
Comes in fully-assembled form
3. Ergohuman High Back Swivel Chair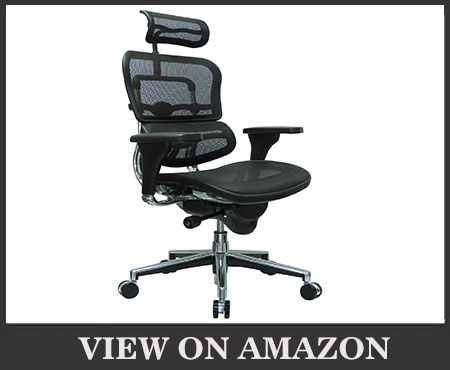 This chair is not only designed for office persons only, but this is also an ultimate option for enthusiastic gamers. This chair is a full package of comfortability even if you do work by sitting on it for a day. It is presented by the Ergohuman company.
Ergohuman High back chair is not fixed at one height as it comes with a cylinder that uses air pressure.
This cylinder helps to raises and lowers the chair comfortably and quickly without any hassle. So a user of any height can use this and set the height of this chair accordingly.
This chair is actually a pack of adjustability. From its headrest to its height, every single feature offers you to adjust it. A total of 8 different kinds of adjustability features are provided by this chair to cater to every user's seating needs. With 97% of recyclable components, this chair actually deserves a place in your office and home as it is an extremely eco-friendly chair. The overall seat is covered with mesh material that is superior in quality and comfort. This mesh material offers you to sit for so long without the fear of getting wet at your back. The mesh material ensures that the airflows from the holes of the mesh and keep the back of the user cool and fresh. So that you must agree that this chair is versatile.
Its high contour back, along with the adjustable lumbar support, is uniquely constructed to deliver long-term comfort and solace. Moreover, its synchro-tilt mechanism, along with the seat depth adjustment, ensures that the user sits comfortably and correctly and gets the unlimited support they need.
Furthermore, the pivoting armrests are constructed to work with a variety of seated postures and tasks. So whenever a user's arms get tired of work, the pivoting armrests allow the user to place arms on the sturdy armrests and get some rest.
Pros
High-grade mesh back
Adjustable lumbar support
Plenty of adjustment options
High back
Cons
Armrests are a little uncomfortable
4. HON Ignition Series Mid-Back Work Chair (HIWM2)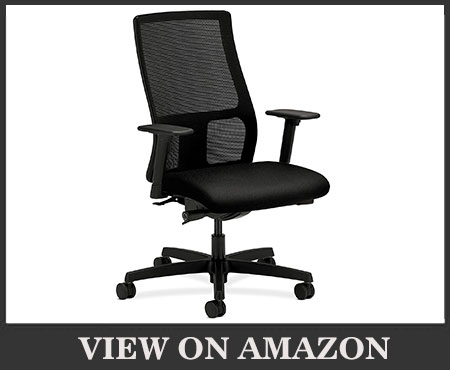 This chair is from the series of HON Ignition series. No matter where you work, and how you work, what is your seating style, HON Ignition HIWM2 is the best fit for you. This chair is designed by Wolfgang design as it supports every type of person, its working style, and space.
It has three adjustable back heights, two seat sizes, and four arm styles make this chair versatile and fit the 5th to 95th percentile.
It doesn't end up here, its three tilt mechanism controls support collaboration and computing. Its quality fits big businesses, whereas the price matches the small budget.
Featuring the synchro-tilt mechanism along with seat sliders offers a full range of reclining positions so that one can adjust the seat accordingly. So with its customizable back recline, you can recline your chair at your preferred position and do your work with much ease.
This chair is extremely helpful for people with chronic back pain as its contoured backing with mesh material adjusts according to the shape of the human body. People with all body shapes can take the maximum benefit of this chair presented by the HON company.
Unlike other office chairs with fixed armrests, this chair is designed to provide a different level of comfort to the users. Its armrests are flexible enough that one can move up and down, and even towards and away from the user to adapt the user body.
It doesn't need you to stick in one direction throughout your working session, as its 360-degree swivel rotation allows you to collaborate with your teammates and colleagues by rotating your chair in all directions. In addition to it, it accompanies five-star resin base caster wheels that are made up of professional-grade material.
These caster wheels are sturdy and smooth enough to revolve on the floor without making any scratch on the floor and without tearing the carpet as well.
Pros
Mid-back
Executive chair
Comfortable
300lbs weight capacity
5. Duramont Ergonomic Adjustable Office Chair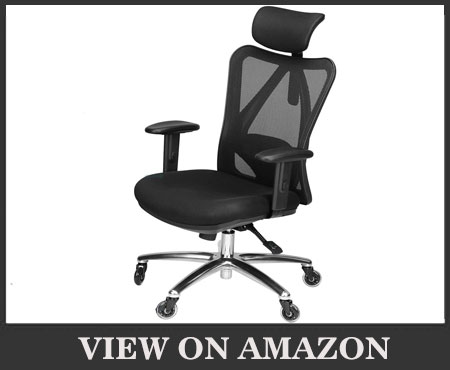 If you are new to try an ergonomically styled office chair, then you must go to try this chair presented by the Duramount. It allows you to use several options as it features multiple options and functionalities of this chair. Along with the help to keep your back sweat-free and cool with its breathable mesh.
It offers several adjustable features that enable you to take complete advantage of this beautiful ergonomic chair.
Upholstered with the high-quality material that will serve you for so long and is durable enough. An elegant high-back with breathable mesh material covers the seat and helps to traps the heat to keeps the back fresh. This chair is wrapped with top-notch materials with the inclusion of a high-density cushion seat, sturdy armrests, soft headrest, and the add-on feature is stylish rollerblade caster wheels. These features make this chair more noticeable, among other options. Moreover, its 5-star caster wheels are molded from premium quality material. These wheels are carpet friendly that allows the user to move this chair everywhere on the floor and carpet without any hassle.
Furthermore, this chair from Duramount facilitates you with flexible lumbar support and multiple reclining options for acquiring the advantage and keeps you in a relaxed mode for so long. It helps to keep the backrest in an upright position to maintain the position of the spine at its natural curve.
It can hold up the maximum weight limit of 330 lbs that is enough to let you know how sturdy it is and how durable the material is.
And when it comes to the point of its installation, it is effortless and straightforward to install with eight easy steps through which you will make set up of this chair in an effortless way. Its pneumatic controls enable you to generate the adjustments according to you.
Pros
Comfortable seating
Cost-effective chair
Allows air circulation by its mesh
90-days warranty
6. HON Wave Big and Tall Executive Chair (VL705)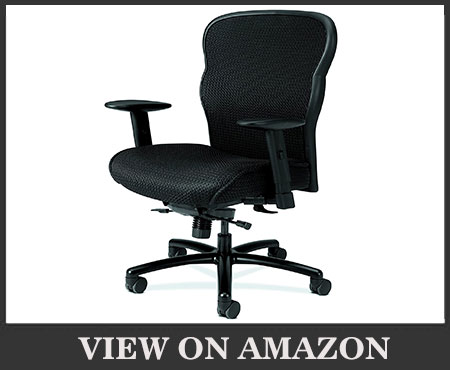 It is an executive chair presented by the HON company for taller persons. This chair is designed to meet the needs of all occasions and functions as from casual team training sessions to all-company conferences, it fits your needs.
Outfit any boardroom with a HON wave executive chair as this chair combine function and style to help make every meeting more comfortable and productive. Its mesh seat and back are beautifully constructed with high-quality material that ensures its durability and longevity. Its back and seat cushions are sandwiched with two layers of padding that helps to keep your body happy and comfortable. So that this high-density padded cushion seat helps the user to keep it fresh and relaxed so one can concentrate on work.
This chair from the HON company also features a reclining function that allows the user to adapt his favorite seating position. In addition to it, this chair comes with customizable lower back support that is operated by the pneumatic height adjustment knob.
The pneumatic height adjustment knob is located beneath the seat is just one hand far from the user. This knob is used to change the height of this chair according to the requirement of the user so that with the help of a pneumatic cylinder, this chair changes its height position. Moreover, featuring the flip-up arms not only move up and down but these armrests are also designed to move away and toward the body of the user. Its reinforced frame and larger scale give support to people of up to 450 lbs that ensures the strength of this chair. Furthermore, the 5-star base is constructed from the resin material that allows the 360-degree swivel rotation.
This 360-degree swivel rotation enables the user to move freely in any direction. For the individual functions of reclining and height adjustment, this chair comes with separate knobs.
Pros
Padded seat
Adjustable armrests
Reinforced frame
Durable wheels
Cons
Back of this chair does not move independently of the seat
7. La-Z-Boy Delano Big & Tall Executive Office Chair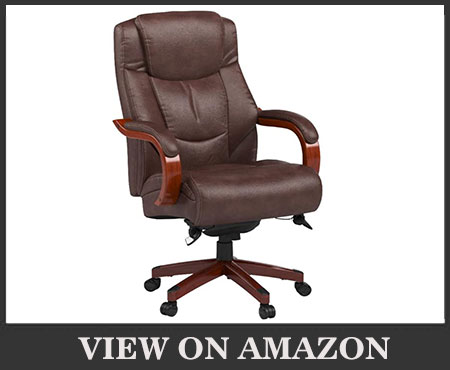 It is a classic style ergonomic chair offered by the company named La-Z-Boy. Just like the unique name of the company, it always manufactures unique products, especially furniture. This time this company presents a classic chair that is covered with brown leather to give a traditional look.
This is a super-comfortable and soft chair because this chair is totally wrapped into high-density padded foam. This is a plush chair that takes care of your health and posture while you are working for a long period of time by sitting on this chair.
I assure you that any prolonged usage of this chair will help you to attain a healthy posture and lifestyle as this chair is the ultimate option to gain comfort during working hours. It offers you premium support and comfort and keeps you fresh all day long.
This chair is upholstered with brown bonded leather along with rich weathered gray wood. This gray wood is really a hand-sculpted real wood that is used to make the arms, base, and frame of the chair. In short, this chair is a combination of traditional design with modern functionalities to increase the working experience of any user.
Moreover, its adjustable arms, height, tilt, and reclining function are just at your convenience. You can adjust its feature according to your personal needs and enjoy the work or game by sitting for long hours without getting fatigued. From 45 to 48 inches of height range, this chair offers a wide range of height adjustability. And from 21 to ¾ inches of seat width, you can adjust your seating position also.
Its big and tall design comes with a contoured back lumbar panel along with memory foam cushioning that delivers extreme support and comfort.
It doesn't need you to become a professional while assembling this chair as it is so easy to install. Just read out the manual and install it by yourself.
Pros
Traditional style
Advanced functionalities
Utmost comfort
Easy to assemble
Maximum weight capacity is 400lbs
Cons
The casters are no so durable
8. SIDIZ T80 Highly Adjustable Ergonomic Office Chair (TN800HLDA)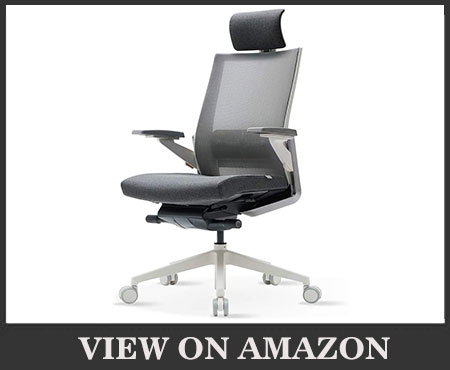 Unintentionally, you will definitely say 'wow' once you will see this chair for the first time. This authentic german design ergonomic chair is a masterpiece presented by the SIDIZ company. It is actually a result of 6 years of thorough research and collaboration of some intelligent minds in the company.
This SIDIZ masterpiece T80 ergonomic chair is actually a refined design and is both elegant and futuristic. The chair surely grabs everyone's attention towards it wherever you place it, whether in your office, home, and anywhere of your choice.
T80's patented ultimate sync tilting mechanism is designed in the German studio and engineered by the SIDIZ company experts. From its headrest to its 5-star caster wheels, everything in this chair is customizable and durable that can last for so long and provide you an ultimate satisfaction during your life. Its sleek and refined design lines and plush materials add charm to your space as well; its sophisticated details add elegance to your room. Moreover, its mesh back is made up of poly elastomer material that gives excellent ventilation for long-term use.
Furthermore, if we talk about its seat cushion, then surely this chair is the earth-friendly seat cushion that offers ultimate support and remarkable comfort to the users.
The seat cushion comprises memory foam and a high-elastic sponge that helps to absorb the vibration caused by movement. For keeping your posture at its best and fits your body needs, this chair offers adjustable height and angle. With the adjustable headrest, you are able to customize it to get the utmost comfort and support.
Additionally, armrests are adjustable in three different ways so that in this way, your shoulders will not get affected by just one arm position.
For the tilting mechanism, simply rotate the lever located beneath the seat, and you are allowed to tilt the chair more efficiently and correctly. The slide and slope of the seat are also adjustable that is designed to enhance blood circulation.
Pros
Excellent lumbar support
Adjustable headrest
High-grade seat cushion
Grabs your eye right away
Cons
It might produce squeaky noise when you move it
9. NOUHAUS Ergo3D Ergonomic Office Chair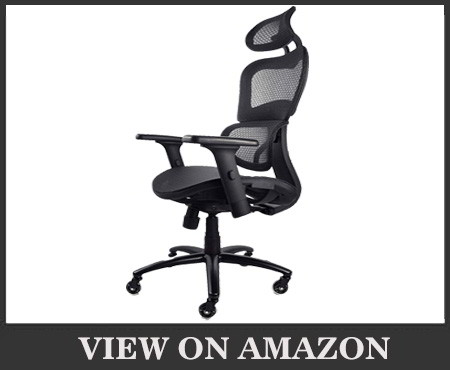 If you want to get a chair for your office work that should be rich in features and functionalities and offers you the ultimate support and comfort, then this could be the best option. This chair is presented by the NOUHAUS company for those who are looking for a reliable option.
This chair is not only rich in features, but it is also rich in providing comfortability. It is able to provide relaxation from your head to toe. Made up of high-quality material that assures the longevity of this chair along with its long-term smooth functionalities.
The whole back is made up of ElastoMesh material that provides the optimal airflow for the efficient ventilation process to keep the user sweat-free and fresh. This chair is excellent in providing comfort that you will forget you are working. Moreover, this chair offers incredible lumbar support. Its dynamic lumbar support only responds to the amount of pressure you place on it. Additionally, it pivots with you and keeps you comfortable and supportive throughout the extended session of work.
For tilting this chair, it offers you synchro reclining backrest. With the help of a reclining lock, you can adjust your favorite backrest position. It provides you three different modes of reclining mechanism from 90-degree to 135-degrees. The most essential feature of this chair is that it comes with 3D adjustable armrests. It means it offers three-dimensional adjustment features for the armrest so that one can adjust the arms in preferred height and position without making stress on shoulders. The rollerblade five-star caster wheels are so smooth as silk on hardwood, and it doesn't make any scratch on the floor. It is a heavy-duty, ergonomic chair that ensures stability and durability. In addition to it, its robust iron base is ideal for adults of up to 275 lbs.
Pros
HD mesh back
Available in 4 different colors
It can bear 275 lbs weight
Offers dynamic lumbar support
Cons
Not best for short people
10. Steelcase Amia Task Chair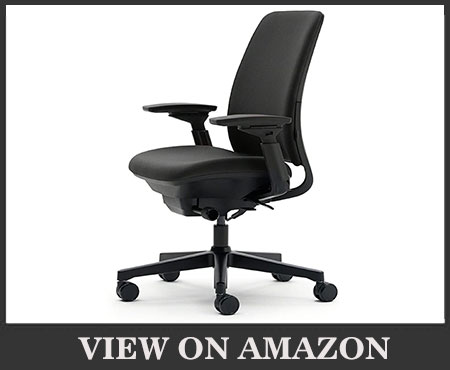 This is the last chair in this listing presented by the most well-known company, Steelcase. This company is in the market of producing quality chairs and furniture to satisfy the needs and requirements of its customers. Steelcase company gains the trust of its customers by providing them with quality products.
Steelcase Amia task chair is one the most recommended chair because of its features and quality. This chair provides the maximum benefit and comfort to the user. With its infinite functions and durability features, you will surely love this chair and will become a fan of it.
This chair does not only come in one color, just like other chairs. However, the Steelcase Amia model offers you a variety of different colors in this chair. It comes with a LiveBack feature that changes shape according to the user and supports the whole spine when you change posture. This chair eliminates the stress and tension from the spinal ligaments. For getting your favorite backrest position, this chair offers you a tilting mechanism that allows you to use the knob beneath the seat. With the help of its knob, you can manage the back lock settings. By using this back lock setting, you can flip down the lever to lock the backrest wherever you want and flip up the lever to unlock and change the position.
For maximum comfort during your work, you can also change the seat height and depth. As the seat depth adjustment helps to fit your legs, thighs, and hips for long-term comfort and solace. Moreover, you can also set the level of resistance you want as you recline. The flexible seat edge is designed in such a way that it automatically flexes to release pressure from the back of your legs when leaning forward.
Furthermore, if we talk about its armrests, it adjusts in four different directions. You can change the height, width, pivot, and depth of the armrests to dissipate kinks on the elbows and neck.
Pros
97% recyclable
10-year warranty period
Stable and durable
Offers maximum comfort
Buyer's Guide
Buying an office chair is just like you are going to buy a mattress for yourself cause you used to spend most of your time on it. So it is very important to consider factors in an office chair because it will surely be more essential for you in your office than your meal.
More comfortable you are more happy and fresh you will feel. So don't just get inspired by the design and outlook of the chair, consider it as your first priority during your desk job. And when you have a budget of $1000, then you need to check the premium segment.
In this price range, a person wants to get all the necessary and advanced features at once. And it is not wrong to say that this price tag deserves an excellent quality office chair.
We have mentioned some essential factors that are necessary for you to read before going to buy an office chair.
Noticeable factors:
1) Lumbar Support
Most of the office chairs come to serve as 'one size fits all,' but most of the people have different torso lengths and lumbar curvatures.
Nowadays, chronic pain is becoming severe because of the long hours of continuous desk jobs. So it is very important to purchase a chair that offers excellent lumbar support.
Check out the section above, and you will surely find the chairs with incredible advanced and adjustable lumbar support
2) Material
The second factor to consider is the material of the office chair. It is an absolute thing that if you are spending $1000, then the material will be superior.
But what would you prefer? Different chairs are made up of different materials like most of the office chairs are covered with leather, fabric, or mesh. Leather looks more luxurious, whereas the fabric and mesh are breathable materials.
So go for the option that suits your requirements and always check whether the material you are going to buy is eco-friendly or not.
3) Adjustability
This factor is also a big deal to consider. The more flexible your chair is, the more it will fit your needs. Under $1000, the adjustability features should be found.
So while selecting your preferred chair, check the adjustability features like headrest height, depth, and angle adjustments, armrest adjustments, seat depth, backrest curve, lumbar cushion depth, and so on.
Also, check the reclining function it is offering because this feature provides a sustainable sitting experience to you.
4) Controls
The more quickly you will control your chair, the more comfortable you will feel. If the knobs of the tilt mechanism or height adjustment are so tight, you will not be able to change the settings of the chair according to yourself.
So check for the controllers and knobs integrated on the chair, either it is durable or not. Because without controlling or changing the position and angle, you will be stuck in one position, and your money will get wasted.
5) Price
The article name defines all the stories; this factor is already taken into account before mentioning in this section.
But indicating this factor in this section is very important. Because there are many manufacturers available in the market who are selling products of poor quality with the same price tag.
So don't get confused by the price tag as it is not important if the price is high, then the product will be superior in quality. Under $1000, check all the features, functions, and necessary components you want to get in an office chair, and then go for your favorite model.
Conclusion
If you are an office person, then you are surely in need of an ergonomic chair that will provide you utmost comfort and solace. We have mentioned a list of the 10 best office chairs under $1000 that are a package of extreme support.
These chairs are wrapped up with the richness of features, and all are from the most well-known trusted brands.
Related Links: