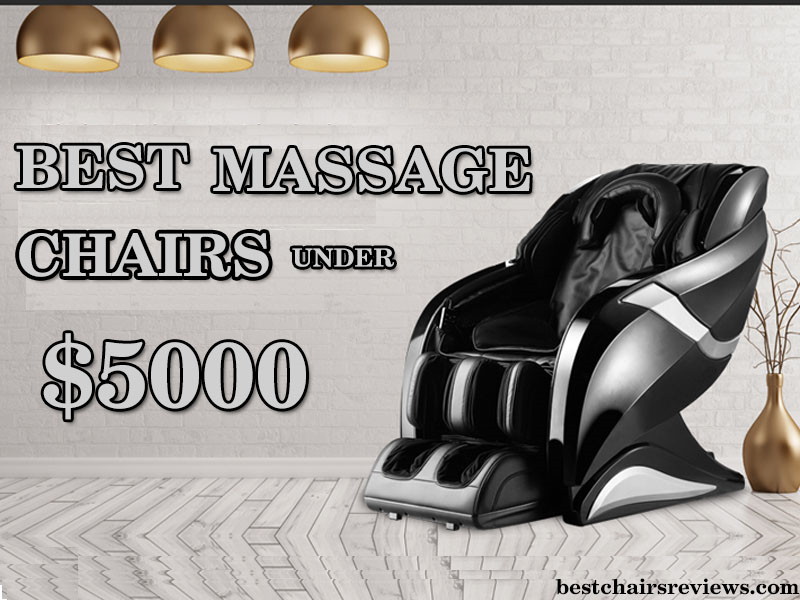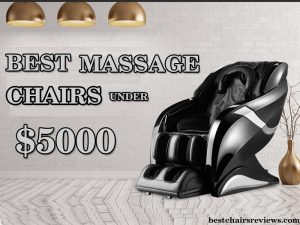 Relaxation and comfort are essential for maintaining a healthy lifestyle. Massage chairs are an excellent way to unwind after a long day. In this article, we have compiled a list of the best massage chairs under $5000 to help you find the perfect one for your needs.
We live in an era where life is not at all easy in any way you take it. Due to the fast pace and hardworking life, humans are much more prone to experience restlessness, stress, and fatigue.
On top of that, around 76% of people are regularly experiencing stress-tempted symptoms in their bodies, according to the American Psychological Association(APA). In addition to the survey facts around 70% of psychological issues are majorly caused by tension and stress.
As we all know massage chairs are pretty convenient, affordable, and pretty accessible than professional massage. Considering this fact, we thought to be a little helping hand to you by compiling an outstanding guide and reviews of the best massage chairs under $5000.
Best Massage Chairs under $5000 (Top Picks)
Best Massage Chairs under $5000
1. Johnson Wellness Ultra High Performance
Massage programs: refresh, recovery, extend, relax, relief
Massage techniques: 46 techniques
Heated: Yes
Johnson Wellness Massage chair is one of the all-around massage chairs available in the market. If you are in search of a high-end, attractive home massage chair, in this case, this seating can be your favorite one.
Unlike another standard massage robot, this 4D massage robot is a level higher as it offers top-notch deep tissue massage which is quite much for massage chairs. Also, this massage robot enables you to customize the rhythm and pressure techniques to provide a more natural massage.
Moreover, the chair uses state-of-the-art technologies to make it stand out such features include a premium LCD controller, 3 user memory profile, an auto recline armrest, and 31 speedy response airbags. This Japanese-designed massage robot is one of its kind that offers optimum 46 massage techniques and 5 back strength levels (3D strength adjustment).
Pros
Extravagant design with elevated levels of massage technologies
Featuring 4D massage techniques automatically adjust pressure mid-stroke and speed
A perfect all-rounder in massage robot world features 11 auto courses and 46 massage techniques
Surprisingly features 31 LLDPE airbags and special back heater/hand warmer
It carries reversible ottoman along with foot heater & best speakers on both sides
Easier to use all thanks to the LCD controller
2. Infinity Full Body Zero Gravity 3D Massage Chair
Massage style: full-body stretching, relaxation, recovery & extend
Heating: lumbar heat
Massage programs: air compression, shiatsu, zero gravity, decompression stretch, etc.
Infinity IT-8500 has been a popular model from the infinity massage chairs family due to its smart and high-end features and aesthetics. However, the model may not include whistles and bells features like the advanced IT-8500X3 but still, the chair carried efficient spine-compressing/spinal correction and the most popular extended massage program.
Amazingly, the chair is featuring built-in speakers so you can enjoy music after selecting & adjusting the massage program along with targeted therapy.
This super versatile massage recliner is the best fit for the entire family as you just need to lean on the back while having the pleasure of a body scan sensor system, preset programs by using a lumbar heat mechanism, and much more.
Pros
The seating holds dynamic looks, features, technologies and factors
Equipped with pre-scan feature, responsible to detect areas of the body which urgently needed therapy
Featuring the popular extent, whole-body stretching program
Height and reclining angle can be easily adjusted
It also features spinal correction through stretching, zero gravity positions, heating modules and most importantly USB sound system.
Cons
Airbags could be much better if these could have been adjusted
3. Infinity IT-8500 X3 Full Body Massage Chair
Massage style: relax, full-body stretching, recovery & extend
Massage programs: air compression, shiatsu, zero gravity, decompression stretch, etc.
Color: Classic black
Another model from the collection of Infinity is on the list, all because of its stand-out techniques and features. You could hardly count the benefits of this deluxe massage robot as it provides a targeted massage, is easily functional, very relaxing, and pain-relieving.
IT-8500 includes every feature that can make you fall for it. This deluxe massage professional is well suited for almost all, especially it is highly recommended for people with severe spine, shoulder, and foot pain.
This chair allows you to create your heaven with a speaker system while reclining on the back enjoying stretching, varieties of massage therapies, heating, and foot massaging.
Pros
One of the best and most popular massage chairs features a body scan sensor system
It has soothing airbags grip at shoulders and legs to make you stress-free
To relax and loosen fatigue/stressed muscles its lumbar heating can be a great help
Perfect ergonomics and sleek looks make it loveable and suitable to place even in living room or bedroom
Cons
Neck massage rollers are powerful so it could be better with extra padding
4. Osaki OS-7075R Executive Massage Chair
Massage style: relaxation, full-body stretching, pain-relieving & recovery
Massage programs: zero-gravity, intelligent leg & Calf massage, Fatigue Relieving Air Massage, 6 Healthcare auto programs
Heating: Mild Heat Therapy
Next up on the list is Osaki Executive, a Deluxe massage chair, an ideal fit for a big family. This all-new deluxe chair is featuring S-track massaging, zero gravity, infrared body scan technology together with varieties of massage programs and powerful motor systems.
Ease of use is one of the best factors that make this chair stands out as you are just a click away from comfort and a relaxing zone.
Remarkably this chair possesses NASA recognized zero gravity program as its innovative stress-relieving function gives a perfect floating feeling. This massage chair is amongst the best deluxe massage robot which is truly worth trying. Don't just settle for less, pick your best!
Pros
The perfect blend of advanced technology, ergonomics and comfort
Features new Thai body stretching and foot rolling massage
It features advanced pelvis and hip massage along with 6 healthcare auto programs
Featuring arm massage, special neck massage and vertical extra-long massage range
5. 3D Kahuna Exquisite Rhythmic Massage Chair
Massage style: relaxation, Extent/full-body stretching, pain-relieving & recovery
Colour: Champaign
Heating: Full body heating therapy
Massage programs: Rhythmic Kahuna special technology massages, full-body massage therapy, Anti-Stress Head Massage
If you are one who loves and cherishes stylish products so Kahuna Exquisite massage chair is the thing for you. Its detailed finish and perfect professionalism over world-class crafting make you astonishing it's a bet!
Apart from its sleek champaign color and detail finishing, the chair is equipped with innovative hyper SL-Track, improved massage mechanism, and ecstatic features overall. This massage chair helps in boosting blood circulation also stimulates oxygen levels through its special air-cells movement technology.
Similarly, the kahuna massage chair offers incredible healing therapy to almost entire body areas which makes you stress-free after a long tiring day.
Pros
Attractive, stylish and sleek design
Features Bluetooth premium speakers
Powerful 3D massage mechanism with different body areas, 5 intensity levels & 3-foot roller speed controls
Perfectly accommodate all body types together with massage tolerance for different people
Popular anti-stress head massage
Easy mobile app for ease in chair controlling
6. 3D Kahuna Exquisite Rhythmic Massage Chair (Black)
Massage style: Extent/full-body stretching, relaxation, pain-relieving & recovery
Heating: heating therapy for upper/lower back, legs, and feet
Massage programs: zero-gravity, powerful 3D Massage system, rhythmic massage, anti-stress massage, air-cells custom massage
The reason for adding this massage chair to the list is its rock-solid built and long-lasting features, in fact, the chair is exactly worth every penny of its cost. The massage chair carried an advanced hyper SL-Track system as well as an additional ergonomic curve in the long-range back to provide extreme comfort and pure health.
The chair is not just attractive in looks with sleek lines but it also delivers the highest grade comfort, relaxation, and relief using its state-of-the-art technologies. Unlike other massage chairs, this chair possesses a 3D performance massage system with double-in size high elasticity massage balls spreading all over the chair.
Kahuna massage chair comes partially assembled so it may hardly take 5 minutes to put together while its space-saving technology feature makes it ideal for even offices, home,s etc.
Pros
Featuring space-saving and zero gravity technology
Features 15 massage programs as well as updated massage mechanism, air-cells and rollers
It includes 100 air-cells along with 17 air control system
Best foot massage system along with extra rollers on the calf area
Easy to control via mobile app, functional with almost all gadgets
Premium speakers (Bluetooth)
Accommodate 300 lbs weight and 6.1 ft height
Cons
Anti-stress Head massage is not up to the mark
7. Medical Breakthrough 4 v2 Recliner Massage Chair
Massage style: relaxation, stress & pain-relieving, full-body stretching, deep tissue massaging
Massage programs: zero gravity, full-body shiatsu massage, head-to-toe back massage, chiropractic back stretch
Heating: intense heating options
Here comes the breakthrough in the massage chair industry, Medical breakthrough 4 V2 Massage chair is a super special massage recliner designed by special doctors, surgeons, pain specialists, and chiropractors.
This massage recliner is designed and crafted specifically to bring in additional comfort, relaxation, pain, and stress relief. This doctor's innovation is easier to use as it offers unlimited customization settings for massaging mode, level, and intensity along with pre-program massage function.
It is the perfect fit for those who need a safe, secure, and professional massage chair. Since this massage recliner is super comfortable and easy to use but easier to move through bottom wheels, such factors make it an ideal type for homes and offices.
Pros
It features computerized medical body scan
Thickly padded all over to make it more cosy and comfortable
Comes with healing air-cells for the perfect shape, size and offering more relaxing, softer surface
Advanced 4D arm massage
Modern L-Track massage system
Cons
Not suitable for the good height and overweight people
8. Top Performance SM-7300 KAHUNA Superior Massage Chair
Heating: heating therapy
Massage style: Yoga-Stretching, pains Relief, recovery, relax and refresh
Massage programs: (tapping, kneading, knocking, tapping + knocking, and shiatsu massage), Hip Air-Cell massage technology, zero gravity
Top Performance Kahuna SM-7300 is the improvised and exclusive model of the collection, this SL-Track system chair has a number of wonderful features and factors that make it one of the top massage chairs in the market.
It is designed with advanced SL-Track technology, extra-wide seat, air-cell massage system, and 6 rollers system while its heating therapy system and foot massage technology are matchless. This is the advanced mechanism of massaging as it offers an acupoint body detection program which makes it the most custom fit massage chair along with 9 auto massage programs.
Besides, this chair also uses space-saving technology, LCD upgrades remote, LED light design, and zipper leg extension covering. This chair is made for those who expect more than just an ordinary massage experience.
Pros
Stylish and cosy looking with space-saving technology
Led lighting design
Wrap around squeeze foot massage
5 auto programs and 4 special massage programs
Acupressure points to massage to boost blood circulation
Hip air-cell massage
Stand up to 320 lbs weight and 6.5 ft height
Cons
Back rollers could be improved for better results
9. Top Performance Kahuna Superior Massage SM-7300S
Massage style: 4 Stretching programs, fast Recovery, pain Relief, relaxation
Massage programs: zero gravity, tapping, kneading, knocking, tapping + kneading combination, and shiatsu
Heating: Yes
Heading towards the end of the list but there is still a surprise package for you all, Kahuna Superior SM-7300S is amongst the best deluxe massage chairs which is truly worth every penny of its price. This is the chair that cost you the lowest on the pocket but greatest on comfort and relaxation.
As this is the most advanced version of the model SM-7300 therefore equipped with many new and more improved features. From the strong built quality to world-class massage techniques and technologies this chair can be compared to most expensive competitors.
The premium massage chair features bigger body coverage massage techniques, varieties of auto programs, and newly featured 13 automatic massage programs. If you are searching for a non-expensive, strong, and professional massage chair this chair is best eligible to end your search.
Pros
Featuring deeper 3 angles zero gravity & space-saving technology
SL-Track along with 6 wheel roller system
Foot massage technology (advanced)
Features computerized body scan technology
It features Bluetooth app control for wireless devices & Bluetooth premium speakers
Cons
Customer services should be improved
10. OSAKI OS-3D PRO Cyber Zero Gravity Heated Massage Chair
Massage programs: 3D massage technology, zero gravity, humanistic massage, deep tissue massage
Heating: lower back heat therapy
Massage style: full-body stretching programs, fast Recovery, pain Relief, relaxation
Do you think a massage chair is a luxury, that cannot be afforded by the average person? Then check out the Osaki OS-3D Pro Cyber massage chair on the list we have. This model brings the new generation 3D massage technology with ergonomic comfort, outstanding massage experience, and much more.
OS-Pro provides you deep tissue massaging through its 3D technology and powerful rollers while you can adjust among 5 different intensity levels from mild to intense.
This massage chair got zero gravity positioning for anti-stress effect at the same time its acupoint technique targets all pressure points in the body for precise comfort.
Pros
Featuring 3D massage rollers along with head massage to offer best effects of humanistic massage
Auto body scan technology
36 Airbag massaging gives shoulder & arm massage, lumbar, hip squeeze twist
It has attached full-size remote control for ease of use
Speakers with mp3 connection
Auto leg scan provide calf and foot massage
Cons
It is indeed heavy chair thus cannot be moved easily
Not suitable for plus size people
Buying Guide
What Are The Advantages Of Premium Massage Chairs?
The general perception of the massage chair floating in society is that this is considered a luxury. On the contrary, to this, there are countless health benefits are associated with massage chairs. It is indeed impossible to describe all those related health and other allied benefits but we tried to briefly discuss them, let's take a look:
Stress, Pressure, And Anxiety Relief
According to various studies it has proven that massage therapies play a vital role in reducing stress, anxiety, and tension. Not only can this but therapies deal great with psychological and physical stress levels.
Also, it is concluded in some studies that oxygen consumption count, blood pressure as well as salivatory cortisol levels gets impressively lower just after 8 to 12 minutes on the massage chair.
Better Sleep & Better Mood
Adding into it, different types of massage stimulates the production of 'endorphins', it is a natural chemical in the body that helps in a pleasing mood. As well massage helps in balancing moods in the body. Therefore massage chairs can affect your mood in a very good way.
Similarly, due to massage therapy, the levels of serotonin boost thus human brain directly converts into melatonin, the sleeping hormones.
Nature has crafted human machines in a most advanced way, it tends to give a signal when you need to stop or take a break. The same goes for exercise or training, where you need to pay attention to bodily signals before it turns out to be muscle soreness and stiffness.
A massage chair is the best luxurious solution to deal with muscles stiffness, muscles fatigue, muscles pain, and soreness.
Pain relief is the foremost yet immediate advantage of massage therapy. Typically it is one of the biggest reasons make people consider buying a massage chair.
In practice, our working environment and so many other factors cause everyone to suffer from any sort of body pain these days.
Proper posture is one of the prevention to back pain while due to pain you unconsciously end up changing the sitting and standing posture to feel relieved somehow.
Such unnatural body postures put added pressure/stress on muscles and cause muscle soreness that led to severe back pain.
Overstress due to workload, family issues, or any sort of other concerns widely affected blood circulation/blood flow which leads to several chronic diseases. Several types of research and studies have shown that different massage therapies improve blood circulation which causes a healthy brain, heart, and other body organs. Not only this but improved blood flow also helps in glowing skin, stress relief, pleasant mood as well as prevents several fatal diseases.
Other than the health benefits, a massage chair is very advantageous in many other ways. Convenience and easy access are one of the top benefits that massage chair offers, also you can place them at home, office or workshop, etc. Besides, professional massage therapies required enough time and cost to spend although the massage chair is a one-time investment helping you save both time and money on expensive spas/parlors.
Most Suitable Massage Chair Features different Health Issues
Following are the best features to help with chronic back pain, including:
Zero gravity seating
Body stretching includes hip sway and waist twist
Deep tissue massage heat
Heat
Following are the best features to help with sciatica (hips & legs pain), including:
Deep tissue massage
Heat
Body stretching
Leg massage includes foot rollers, heat & airbags
Following are the best features to help with improved posture, including:
Body stretching
Zero gravity
Following are the best features to help with stress reduction, including:
Zero gravity seating
Chromotherapy or LED lightning
MP3 music support
Following are the best features to help with improved circulation, including:
Vibration
Heating
Deep tissue massage
Inversion
Following are the best features to help with post-workout pain reduction, including:
Vibrating massage
Deep tissue massage
Heat
Following are the best features to help with blood pressure and heart rate reduction includes:
Heat
Inversion
Deep tissue massage
Chromotherapy
What are those important things to look for in a Perfect Massage Chair?
We have piled up some important features one needs to look for while buying a massage chair to have an ultimate massage experience.
Price
Upholstery & Chair material
Zero-gravity
Airbags
Heat therapy
Air compression
Reflexology
Size & Weight capacity
Offered Massage programs
Types of Motor
Massage positions
Reclining options
Medically credible or not/Warranty
Final Verdict
If we see through the effects and advantages of using massage chairs it can be said these do not lie in the category of luxury at all. Massage chairs are the smart and ideal invention for all those who want to relax after a long tiring working day with all convenience without stepping out.
Whereas, you need to be a bit careful when you are going to buy a massage chair, do consider the factors and facts described above on what need to look for while buying massage chairs. All the mentioned massage chairs are best-rated and of premium grade which makes them worth investing in. You should take your decision wisely upon your requirement, place in-home/office, and types of massage needed.
Related Links: