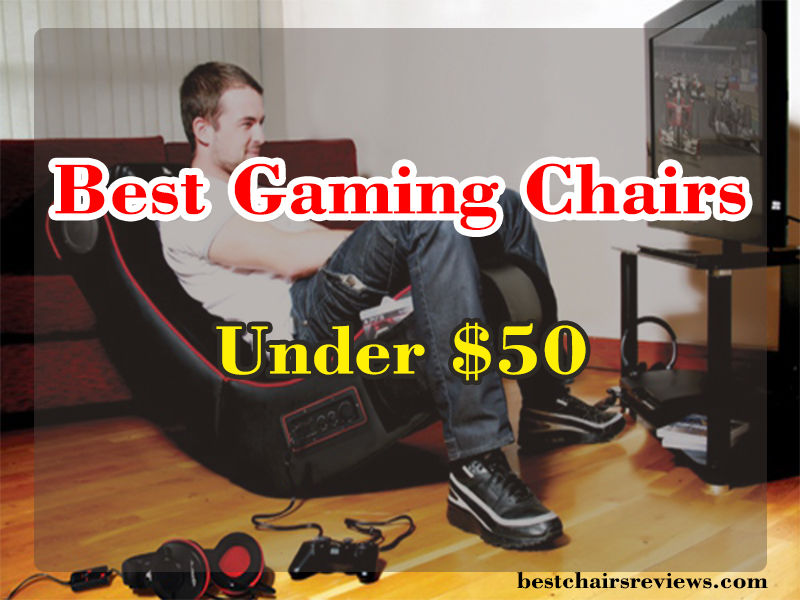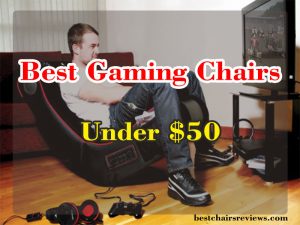 best gaming chairs under $50: According to general surveys, the experts succeeded to conclude that in an average a gamer eventually spends 8 to 10 long hours in gaming. You find it a bit weird but it's actually not usually if you are on video gaming you will hardly realize where the time went by. This is the same science with enthusiasts and intense gamers nowadays they are even more tend to spend more than 12 hours of gaming every day.
However, it is debatable that this habit is not at all good but with the saying went if you can't change habit change the stuff. Considerably an enthusiast gamer should use a fine quality gaming chair which prevents back pain and keep them healthy. Most often people think a fine quality gaming chair cost too high although it is fact with conditions.
But to resolve the problems of people with a limited budget we here presented the best cheap gaming chairs with some computer chairs. After intensive research, I handpicked every gaming chair in the list which is low in cost but high in quality. Let's check out the list of 5 best gaming chairs under $50.
5 Best Gaming Chairs under $50 (Even Less than that)
1- Crew Furniture Classic Video Rocker
Specs
Measurements: W 16″ x D 21.5″ x H 32″
Seat height & seat depth: 6 inches & 16 inches
Color: black & blue
Material: faux_leather, Vinyl
Description
On the top of the list we presented to you cheap but quality rocker gaming chair, Crew furniture classic video rocker is designed ergonomically with a perfect stylish blend. This feature makes it not just versatile and stylish enough to decorate your room but its overall padded seat and backrest make it more comfortable.
This versatile and attractive rocker chair can be used in any room of the house for watching TV, gaming, relaxing and reading. The modern and ergonomic style chair is crafted with the wooden frame while polyurethane foam padding used for maximum support and comfort.
This stable gaming chair is much more durable due to its heavy duty frame although looks beautiful with bold mesh racing stripe brogues. The gaming chair has the perfect blend of a classic rocker design with modernized style.
Extra features
It comes fully assembled
It is suitable for age groups between 3 years old and above
It is available in varieties of color options black-black, black-black-2, black & red & black & red2
Pros
Attractive design and lightweight chair
Easy to maintain high-quality material
Stable and very durable wood frame
The versatile chair can be used in video gaming, watching tv and other activities in the home
Cons
Not suitable for adult
New chairs have chemical factory smell which takes time to omit
2- Extreme X Rocker
Specs
Colour:
Dimension: 7 x 16.2 x 12.3 in
Material: Polyester & Polyester Blend
Weight: 18.89 pounds
Another perfect addition to seating solution required for floor activities, Extreme X Rocker Gaming Chair has all that you are looking for. The manufacturer has made a perfect rocker gaming chair with all special features that are highly needed by a gamer during intense gaming.
Description
This extreme rocker chair is designed ergonomically with overall back support and padded areas. With stable and long lasting frame the chair has covered with blend polyester and mesh to increase the content of comfort and durability both together. Also, the chair is crafted compact enough to move around while its foldable feature enables users to take away anywhere they want.
Around seating area, there is a control panel to control volume and bass of speakers which incorporated besides headrest area. Moreover, the chair has featured optional RCA cables in case of any usage.
Extra features
It comes pre-assembled
Best chair for PS4
It is suitable for ages of 3 years and above
Pros
Build-in high-quality speakers
The chair rocks back easily
It has a control panel and jack for easy connection and handling of audio
It is compact and portable as it folds down for storage
Cons
Lack of padding around the neck area and seat
3- AHD Floor Gaming Chair
Specs
Measurements: 49X49X49 cm
Colour: grey
Weight capacity: 300 lbs
Warranty: 1-year limited warranty
Description
A new type but simpler sofa looking gaming chair, Floor Gaming Chair by AHD is floor folding chair with some amazing features. However, it is designed and crafted for adults and children both and this high quality durable and adjustable sofa chair can stand up with the weight of 300 lbs easily.
If you are looking for comfort in a new style then this adjustable sofa gaming chair is all you need. This floor folding chair enables you to adjust least 6 backrest angle positions together with the lock mechanism.
So you can now perform several task or activities including gaming, resting, reading, napping and watching TV. The chair features 8 lattice one colour design with covering of soft brushed fabric along with zippered for easy maintenance.
Extra features
soft-brushed polyester with zipper is used as cover
best sofa & adjustable gaming chair
Pros
sofa style gaming chair
features 6 positions adjustable backrest angle with the lock mechanism
it has a removable cover with zippered for easy maintenance and cleaning stable, long-lasting and portable sofa chair
Cons
not suitable for 6 inches tall people
4- Crew Furniture Classic Video Rocker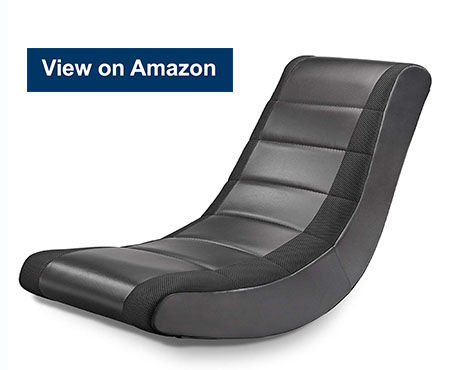 Specs
Dimension: 24 x 16 x 32 inches
Net weight: 13 pounds
Assembled height: 32 inches
Assembled length: 24 inches
Description
If you like faux leather then Crew Furniture Classic Video Rocker is the best option for you to consider. The gaming chair is a timeless favourite due to its simpler yet ergonomic design and fully padded backrest and seating area.
This rocker gaming chair not only looks attractive but it also provides top-notch comfort and back support throughout sitting. It comes pre-assembled so you can use this chair right after unboxing without any difficult assembling process.
It is compact and foldable for easy storage. Users will find it easier to maintain as its bold mesh upholstery and beautiful faux leather vinyl covering is easier to clean. At the same time, its durable structure is made up of solid wood to increase the life of the chair.
Extra features
Versatile, stylish computer/gaming chair
It comes fully assembled
Available in different color options including black & red, black & grey, black & blue
Pros
Ergonomically designed gaming chair
Perfect padding with polyurethane foam for comfort
Premium grade faux leather vinyl and bold mesh upholstery is used as covering
Attractive, stable and durable
Cons
Not perfect for plus size and plus height people
5- Crew Furniture Classic Video Rocker
Specs
Measurements: W 16" X D 21.5" X H 32".
Color: black & red
Seat height: 6 inches
Description
Lastly, on the list, we have bright coloured Crew Furniture Classic Video Rocker from the maker Musak. This rocker gaming chair offers competitive price but high quality.
Its sleek looks and simple yet ergonomic design, as well as padded backrest and seating area, will definitely make it most promising gaming chair on market. Being new in town this attractively designed gaming chair has got lots of attention and positive reviews.
These gaming chairs are very light in weight but highly durable and stable chairs. The ergonomic design and modernized style of this chair is highly inspired by classic video rocker.
Extra features
It features original classic video rocker style
Premium grade materials is used
Suitable for 4 years old and above
Pros
Attractive design, ergonomically structured for optimum comfort
Fully padded seat and backrest
Compact and easy to move around
Sturdy and attractive to use in a bedroom or living room
Cons
Limited information is available about the chair
FAQ
What is the cost of fine quality gaming chair?
An average cost of the gaming chairs varies in terms of company's name, build quality and high-end materials. In the market there are gaming chairs with the price ranges of $50 to $1400 and more although the trendy, stylish and popular brand name of gaming chairs are up to the peak of cost. Moreover, the fewer features in the gaming chairs will ultimately reduce the price.
Does mesh gaming chair offer complete comfort?
Considerably yes, if mesh gaming chair is made according to ergonomic design. Mesh seats with highly supportive design can be best for entire body support and comfort. Usually, people connect and desire for mesh seats with great comfort all because of ergonomic structure and upholstered seat. Therefore manufacturers are high on focus to better mesh chair designs to offer optimum comfort, health and support.
How quality gaming chair help posture?
A good quality gaming not just helps you in reducing the bad effect of long hours sitting on your health but also replace it with utter cosiness and comfort. Users do feel much more comfortable and supportive in the finest quality gaming chair even after long sitting. Additionally, well-adjusted gaming chairs enable users to get proper posture and desirable posture which help you with lasting comfort.
Which kind of benefits does gaming chairs provide?
Gaming chairs are designed ergonomically to help you provide proper posture so you will not end up with severe back, neck or lower back pain. Also, the incorporated lumbar support in gaming chairs keeps spine align or in a natural It also stimulates better blood flow throughout the body that leads to better heart health, improve muscles stiffness etc.
Which is the best cheap gaming chairs?
- Crew Furniture Classic Video Rocker-best classic rocker design
- Extreme X Rocker-best for PS4
- LIFOOST Floor Gaming Chair-best gaming chair
- Crew Furniture Video Rocker-best chair for Xbox
- Crew Furniture Classic Video Rocker- best video rocker
Conclusion
According to common perception, it is nearly impossible to find good quality and cheap gaming chairs. In this guide, we bring to you 5 cheap and best gaming chairs under $50 to help you choose your favourite one upon requirements.
Also, you can check our review of best chairs under $100 and best chairs under $150 to select your desired gaming chairs. Here you will find the best quality gaming chairs with some wonderful features which surely worth your money.
Related Articles: