Furmax Gaming Chair Review: Are you searching for a quality and low-budget gaming chair? I guarantee you this will be the most headache searching you have ever done. No one can deny the fact that most famous and loaded with features gaming chairs are way too costly. It is hard to find the best and low price gaming chairs in the market but not at all impossible.
Typically you get what exactly you spend, this is the major concern driving our attention to present a review of low-cost but a quality chair. While searching for a perfect quality gaming chair that is budget-friendly, we spend exhaustive time but have not compromised on factors like the finest performance, comfort, and durability.
Furmax Gaming Chair is one of the well-crafted gaming chairs enriched with a couple of top-notch features that together make it a worth buying chair for long-term use.
Furmax Gaming Chair Review (Read Before Buying)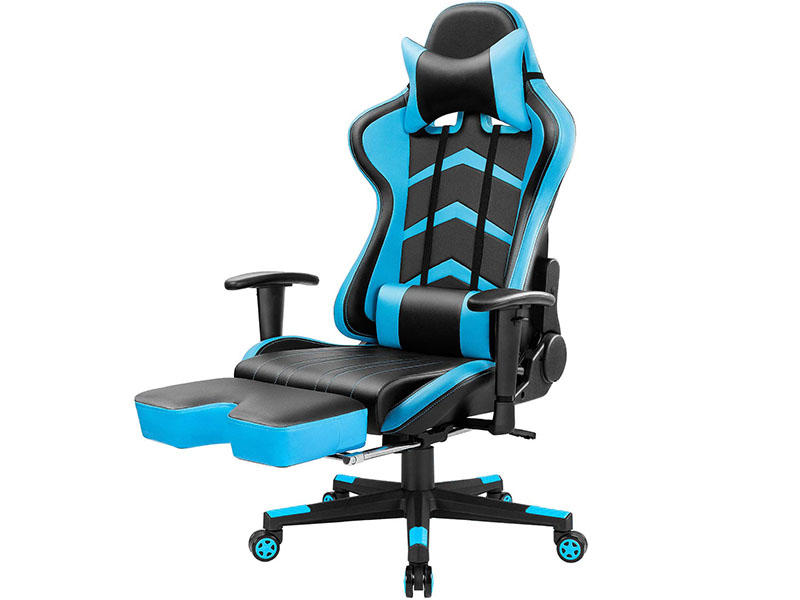 The ultimate or perfect gaming chair is not but a dream, yet you may find it good with the increasing ratio of features and cost. Similarly, low-budget gaming chairs are supposed to be enough challenges for companies to produce by maintaining quality. However, some manufacturers have pulled over this challenge well and produced some interesting models best fit commercial and residential use.
Honestly speaking Furmax gaming chair is a simple functional chair that deserves enough praise in comparison to its low cost. Its simple functionality counts as a plus point among its basics while its design and top quality are the reflections of smart crafting. Likewise, this affordable gaming chair won hearts due to its easy assembling processing. You will realize that the majority of the parts slot and slide in without creating any problems with little effort.
Whereas we found armrests are a bit tricky to fit in but with careful adjustment and heavy hand we got to fit in these correctly. Overall the time of 25 minutes was spent during the whole setup of this chair.
Furmax gaming chair has gained popularity majorly because of the surprisingly affordable cost. The Furmax gaming chair is available in red, blue, and black therefore you guys can select any of your favorite colors according to décor.
This low-cost gaming chair is literally hundreds of dollars cheaper than its competition, but do you get good for the price? This is what we are going to discuss about
Comparison with other Gaming Chairs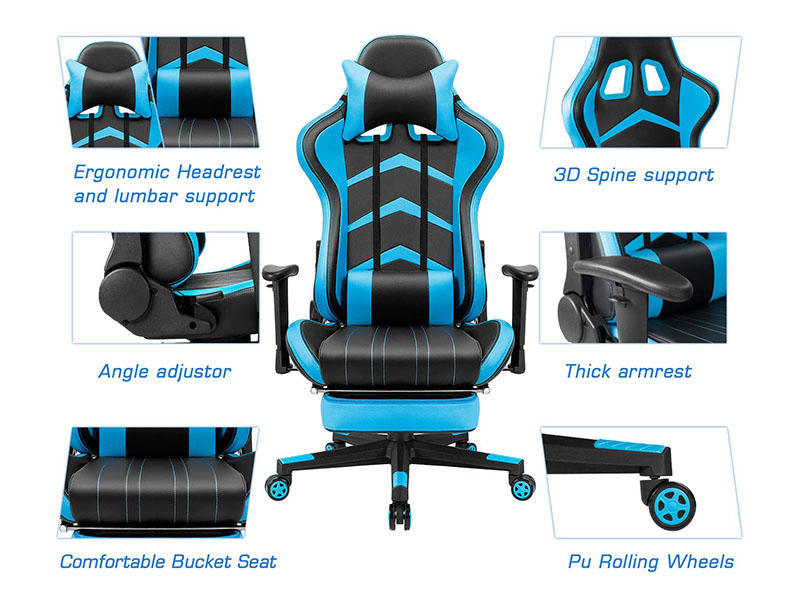 The hype related to Furmax gaming chair is not wrong by all means. This gaming chair got everything a person needed in the finest quality gaming chair. We do agree with the fact that the lack of features makes Furmax a little weaker but when you put its price on the comparison scale it weighs heavy. The rivals gaming chairs in the market is yet full of advanced features and sometimes overloaded with features but you should not skip the rate factor which is spicy high too.
You shall ask about the catch, so we have not found any. If we are talking about all bells in whistles in the most expensive gaming chairs so forget about Furmax because it is not even close to that. There are some factors you can find in competitors but not in furmax for example armrest adjustability although you can only remove secondly there are not many color options available to choose from.
Despite all such things furmax gaming chair is worthy enough to buy, let's discuss how.
Let's start with design, Furmax does not have an exceptionally unique design but its design is special in its own way. In fact, the chair carried a fair interesting design in idea from traditional office chair has been used to offer ease of use and comfort along. Similarly, a few parts of the racing style chair are well crafted and utilized in the chair like it was designed for prolonged use due to high-end materials, structure and improved back support.
This low-cost gaming chair has higher quality casters which are exceptional. Higher quality justified by its well coated PU rubber hence they work smooth hard floorings without marking together with casters is good and functional on the carpet as well. When you have this chair you do not need to spend further on surface-specific wheels.
Furmax is the type of gaming chair where you pay for comfort not for design. It is the best gaming chair for long sitting hours, offers you the same and quality comfort. The combo of mesh upholstery and PU leather makes it super comfortable. It uses the best quality faux leather which is easy to maintain and looks beautiful.
Whereas mesh upholstery stimulates better ventilation as well as helps to decrease sweating during long gaming sessions.
Most often with other low-budget gaming chairs there seem to have some compromises on quality and durability. But with Furmax chair there is not any compromise made in terms of durability and quality. This has been the major concern mostly with low-cost gaming chairs but Furmax does not cheat on these two major sectors.
It will not be wrong to say that we have reviewed gaming chairs for much higher prices than furmax but the comfort Furmax gaming chair offers is matchless. The frame of the chair is made of solid steel structure which is a highly durable construction. However, the strong base of this chair is constructed well with quality 5-star materials.
Features of Furmax Gaming Chair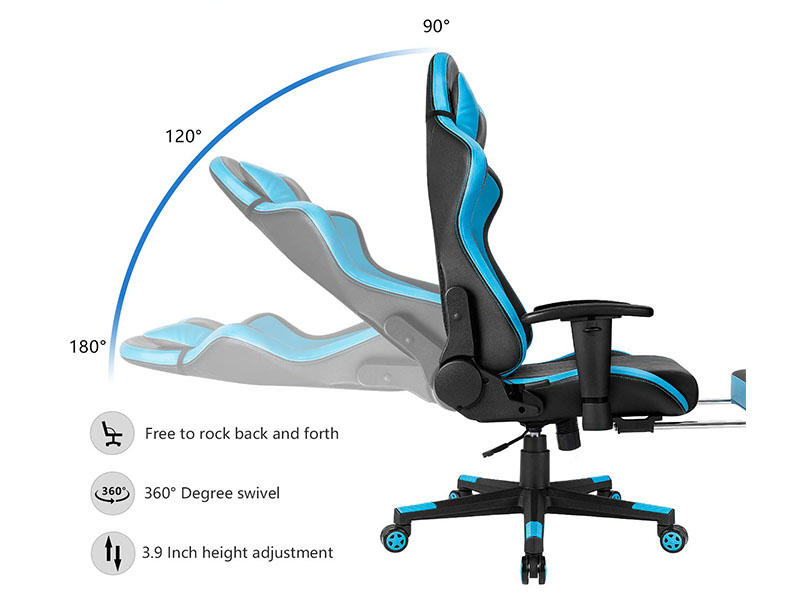 This incredibly reasonable-priced gaming chair may not fully load with features but a few of its features are very well functional and offer pure comfort and ease.
The gaming chair is equipped with pneumatic seat height adjustment which allows the user to adjust seat height somewhere between 20 inches to 24.4 inches. Even the seat height can be adjusted with just a touch of a button. The Furmax gaming chair review can rock back and forth using a simple knob and users can lock it at any angle.
It also features a 360-degree swiveling option so users can turn in any direction without leaving off the chair. Its solid base enables you to swivel at any angle easily.
This low-cost gaming chair features a wider seating area that can accommodate every person with variant weights. The seat dimension of furmax racing chair was measured as 20.5″X20.86″.
This well-crafted gaming chair required some assembly which is easy and just requires 20 to 30 minutes hardly. All the parts are well designed and slit seamlessly to make the setup procedure easier. However, the given manual instruction is a big help that guides you with the easiest way of assembling.
What can you expect padding in a low price gaming chair? But the Furmax gaming chair review is enriched with a lot of padding which makes it the best recommended low-price gaming chair. Moreover, this racing-style gaming chair got extra thick padding which ensures extra relaxation and comfort.
This is the feature that makes any gaming chair hit or flop, furmax got extra in this feature. The gaming chair's headrest is padded to offer you a comfortable headrest when you need it. It also features a wider bucket seat and thick padded armrest to make your long sitting hours super comfortable and relaxing.
This feature is alone making this gaming chair a worth purchase, well we leave it up to you.
Another feature that justifies the build quality and durable construction of Furmax racing chair is 30 days of free replacement. Yes if the user finds any problem with the chair within 30 days it can use the free replacement policy offered by the company.
Not only has this but the company also offered a free repair and refund policy. Furmax is the company known for its marvel products especially gaming chair models and customer service, therefore, they will not trouble you. What else a potential buyer can expect from this low price, quality construction, great policy, and great customer service?
Pros
Great value
Simple but interesting design inspired by racing style
It offers a high back and padded headrest which enable people to rest and support their back and head when they are tired
This gaming chair is rated 4.5 stars on the basis of smooth and extended functionality, comfort, and highest-grade materials used
This chair can rock back and forth very easily by using a simple knob
Cons
It comes with manual instruction which is not very clear
This chair offers a limited weight capacity
Final Words
The Furmax Racing Chair is an ergonomically designed racing chair that holds high-back, lumbar support, and headrest. However, there are some disadvantages like limited lean as compared to the competition and limited weight capacity associated with this gaming chair.
But if we look at it, on the whole, it includes most plus points than minus last but not least low price range makes it a great gaming chair recommendation for low-budget people.
Related Links: