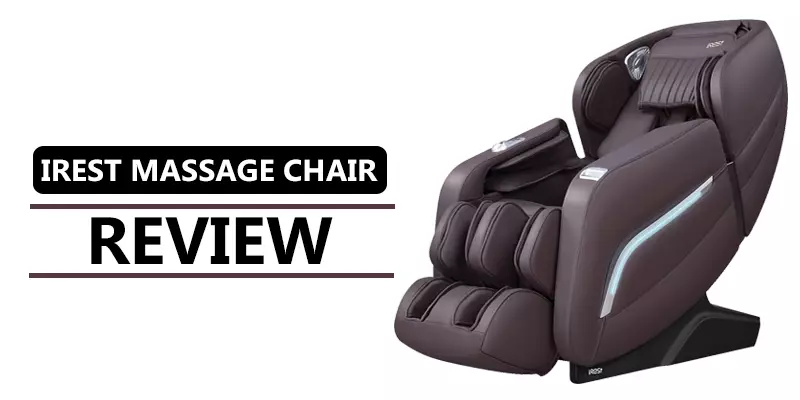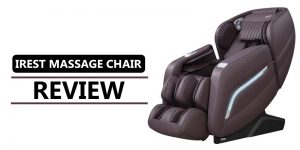 Some people do not want to compromise on quality and only want 'The Best when it comes to massage experience, though it's pretty obvious that high-end quality costs top-tier prices.
If you are the one willing to trade thick-envelop with trendsetting, modernistic technology?
Here we get you a new generation, inventive massage chair outfitted with bleeding-edge technologies, iRest A306-8 2021 Full-Body Massage Chair is the name of massage sciences. The company iRest is well-known as a pioneer of the best reliable health science and technology-related products.
What you should expect from the iRest Massage Chair? Is this chair aesthetically potential? Let's check out detailed features & benefits in this iRest massage chair review:
At first, take a quick peek at Key Features:
Full body massage
3D smart rollers
SL double track
AI voice control
The automatic body scan mechanism
Space capsule zero gravity
Auto massage functions
Body stretching function
Calf and foot massager (rollers & airbags)
iRest Full-Body Massage Chair
iRest A306-8 is a massage chair, ergonomically designed in a way that turns out so beautiful, with utmost comfort, and supportive. The chair belongs to the family of new generation iRest massage chairs, which are known to deliver a spa-like human-massage experience with all innovative convenient mechanisms in the comfort of home or office.
To be specific, the manufacturer delivers a fully assembled iRest massage Chair except for the footrest, however, it is very easy to assemble. The durability of the massage chair cannot be questioned as the solid construction has taken care of all quality standards.
There are two prominent color options are available including black & brown to opt for. Unlike others, the manufacturer has a great history of offering the finest after-sales services, the same goes with this model along with 3 years warranty.
It is a smart voice-controlled massage chair having long SL Track massage technology of 135 cm from neck to feet, while the highlight features include Demo fast massage and rocking massage.
Check out more details about the features and functions of the chair:
SL-Track Mechanical Massage System
The iRest Massage Chair is managed to fits in SL Track rollers integrates well with advanced 3D soft-touch rollers to offer a world-class massage experience every time. The chair introduced 4 build-in massage balls in the L-shape track from neck to back while the movement of balls follows natural spine shape or S shape.
The massage track mechanism of the chair is designed upon the natural curvature of the human body as it provides you full coverage from neck down to thighs. The mechanism certainly triggers acupuncture points.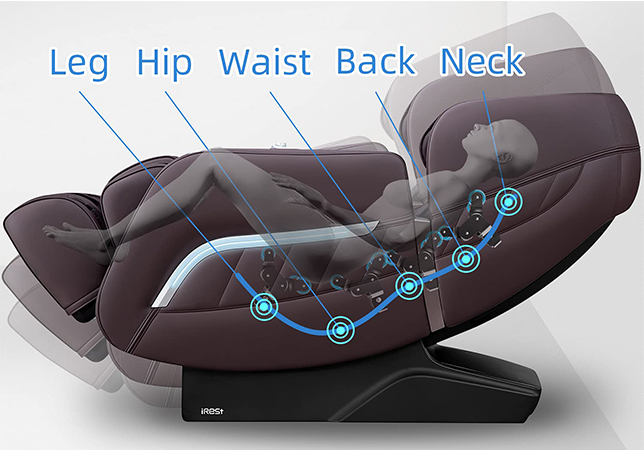 The new SL Track massage system of the iRest chair was purposely intended and designed to deliver the longest massage range. No doubt that's a pro feature of iRest that makes it unique in the competition.
AI Voice Control
This is the smart massage machine featured voice control feature in which you need to ask 'hi, Alice' and press the button on the right armrest to activate this function. When the massage chair replied you have 6 seconds to say entry words to control functions on the massage chair.
Full body massage
iRest is indeed a full-body massage chair, that integrates features like exclusive massage hand technology, 3D massage technology, and integral airbags along with 3D rollers & foot massage – all work together to massage each area of the body.
The intelligent mechanical hand massage technology is used to mimic the genuine massage actions of a professional masseuse. Therefore, the multiple massage functions of the chair such as pressing, kneading, pushing, squeezing, twisting, etc. – are designed with the same technology to deliver the most effective and deep massage on the lumbar vertebra, cervical and thoracic.
In addition, the airbag system of iRest chair is designed precisely to deliver exclusive and matchless massage sessions every time. In particular, a number of inbuilt airbags are used for the entire body while air pressure levels and massage intensities can be adjusted for a comfortable and soothing massage.
From shoulders, back, arms, calves to feet, airbags are tactically used to offer to customize air massage.
The iRest Massage Chair has taken a factor of personal massage to the new level therefore, they outfitted an automatic 3D mechanism with 4-wheels. The mechanism starts moving back and forth to adjust according to the shape and contours of the cervical of users so it can rejuvenate the human body through the best massage experience.
Also, the 3D massage technology work with the best mechanism of chair to offer various massage sessions of the utmost quality that aid to relax body parts and boast wellness and health of the body.
The iRest massage chair is well-found with quad-style soft rollers that give the feeling and effect of a human thumb and hence improving the massage session. The rolling handling originally helps in searching meridians on different parts of the body at which all acupuncture points exist.
The chair has mechanical rollers in a foot massage while calf massage is carried out by airbags. However, the massage device includes acupuncture and a combination of two technologies gouache massage and Thai rolling underfoot sole that relaxes the nerves in lower limbs.
3 Space Capsule Zero-Gravity
The iRest Full-Body Massage Chair is offering 3 stages of zero-gravity seating positions. These 3 reclining positions greatly impact the massage deepening and massage quality you get. When the seat is sliding into either of three Zero-G positions, the body gets in a horizontal position thereby the bodyweight distributes across the seat back to give you the feeling of weightlessness.
In the position when thighs are put slightly above the heart that helps the body-back firmly press against the rollers, resulting in better massage experience.
Automatic Body Scan
The iRest chair performs an automatic body detection to track the body's pressure points before the chair setting its rollers. The body scan mechanism takes measurements and then adjusts rollers in an accurate way to hit every point thereby the chair performs custom body-fit massage.
The chair uses a 3D point navigation sensing system to detect fine details of the body that are at the relatively complicated line and parts of the human body. The optical sensor of the chair works effectively to provide highly tailored massage sessions.
Massage Techniques, Auto-Modes & Functions
The advanced chair provides 5 different massage techniques ranging from kneading, finger pressing, and tapping, tapping & kneading as well as all 5 together.
Automatic Massage Functions
You can count on iRest Massage Chair for 12 different massage functions which is obviously a 'wow' factor for a massage chair. These massage functions are as follows:
| | | |
| --- | --- | --- |
| Comfortable massage | Relaxing massage | Traction massage |
| Back & waist massage | Shoulder & neck massage | Vertebral massage |
| Fatigue recovery | Whole-body massage | Muscles stretching |
| Sleep-inducing | Buttock shaping | Full air-pressure |
The massager chair fits in 6 auto massage modes for the extreme level of comfort, including full-body mode, neck & shoulder mode especially effective for people working in the office the entire day while relaxing mode, back & waist mode is ideal for everyone. Stretch and beauty mode is great for young people and the last comfort mode is best for elders.
Convenience at Its Best
The chair with several idyllic features cannot let your hopes down when it comes to ease of use and convenience.
The factor of convenience is the shortcut key on the right armrest lets you adjust every function on the handrail key. You can use on/off, voice wake-up, auto mode, pause as well as angle adjustment buttons. Even the zero gravity, air pressure, backrest lifting, heat, and foot lifting can also be adjusted.
The smart machine comes with a smart handy remote to control and adjust every function on the chair easily.
Pros
Eye-catching, innovative modern design
Minimal placement system
Air purification system
Yoga stretching
Massage storage capability
Heating therapy
Multiple adjustable options (for chair and massages)
3 years warranty
Great after-sale service
Cons
On a pricier side
AI voice command could be better
Not MP3 supported
Additional Features
Leg extension
Build-in heating
Inbuilt HD speakers
Bluetooth built-in
USB port
Phone holder
Final Thoughts
Be its modern design, substantial therapeutic massages, and new generation technologies, iRest is a good choice for a premium massage chair.
If you follow the superior massage experience the chair has to deliver then non-affordable price should not be a big issue as the benefits, in the long run, are relatively higher than the price.
However, in my view iRest Massage Chair is an underrated chair because the chair is newly released and not surely known by others, still, the global rating so far is quite impressive. If you suffer from chronic neck, back or body pain this massage chair can be a good promising option.
Related Links: