Are you facing hardships in finding a close-to-perfect backpacking chair or camping chair? Then you are at the right spot where you are welcomed with a perfect backpacking chair, Kijaro dual lock chair review. Camping is all about fun and pleasure therefore comfortable seating is more of a basic need which many people failed due to the wrong selection of backpacking chairs.
The camping or sports chair we have selected to review is not a perfect one but close to perfect. In this detailed review, let's check out the factors and features that make the Kijaro dual lock chair a well-worth option. You should know whether this chair holds everything you need for your next trip or lacks something.
The kijaro is a known brand famous for its high-end and super innovative outdoor gear line. The Kijaro camping and sports chair from the biggest collection not just carried unique design but premium features to increase the level of comfort. Also with many color options, the manufacturer used exclusive features as giving off unique names which are inspired by the most beautiful regions on earth.
Design Portability & Stability
Kijaro dual lock chair is great to call a masterpiece based on its exclusive design, portability, and stability. With the simplest seating design, the kijaro chair contains a seat back and armrest on a durable steel frame. However, the seating made by kijaro used a combination of ripstop polyester and mesh fabric for breathability.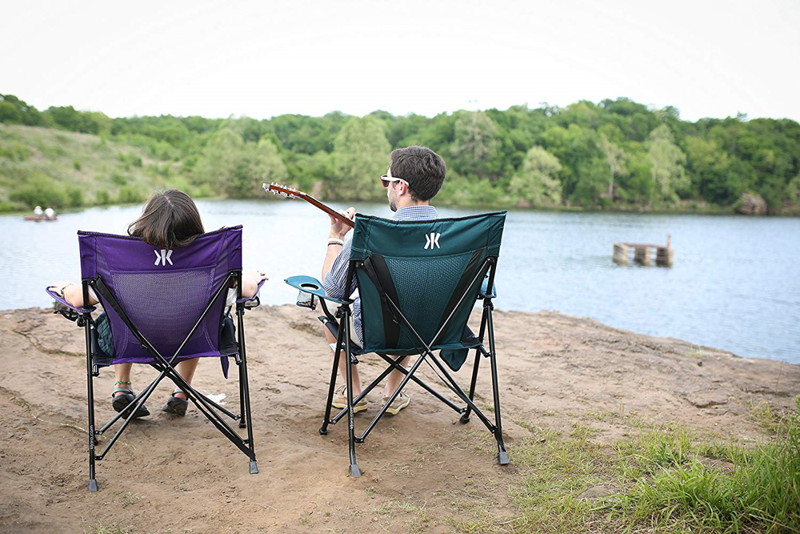 The chair uses durable material like steel to ensure the dual lock feature works great with the sturdiest structure. Likewise, it assures great stability with an easier way to lock joints by simply pressing on the lock to untie joints. Besides, the perfect innovative and well-thought design of the chair makes it super easy to break down and fold.
Whereas, the premium quality fabric materials are used especially to offer great ventilation which makes it perfect comfortable seating even in the hottest sunny weather. Its perfect design provides ultimate back support and comfort. This is the camping chair that fits well in sectors like stability, durable design, comfort, and portability.
Durability
The ideal backpacking chair should be cool in design, comfortable, and highly durable; this is the concise introduction of Kijaro dual lock chair, to be honest.
It is made to last longer, therefore, high-quality metal has been used to stand well with up to 300 lbs weight. This is the highest weight capacity claiming camping chair available on the market, all because of its outstanding manufacturing standards and best quality material.
However, the weight of the chair is somewhere under 10 pounds which is something not cool but overall not too heavy to carry.
Affordability
Along with lightweight, well-ventilated, supportive and compact factors this model of the chair by kijaro is available at a super affordable cost. Now you do not need to worry about the budget when you are in search of backpacking or camping chairs. Apart from premium quality and top-notch features, its affordable cost makes it a more incredible folding chair in the entire market.
Options Availability
What else one can wish for with the best quality and competitive price? I think it can only be verities of options, so here you go. Kijaro dual lock chair is available in a large variety of colors so everyone can now choose their favorite colored folding, camping chair.
Maker introduced various innovative names along with every color option to boost the interest of customers in traveling and outdoor activities. Such exciting and interesting names include Hallet Peak Grey, Hanami pink, Ireland Green, Ionian Turquoise, Maldives Blue, Kawachi Purple, etc.
Main Features
Let us consider the high-end features of this well-designed and well-crafted kijaro camping chair.
Once you are done finding the unlock/lock button which has to be pressed before you start assembling the chair, the assembling process will hardly take a couple of seconds then. Make sure you follow assembly instructions well, so you will be at ease.
To secure stability and portability of the frame the best feature of a dual lock is used which has been a flagship of kijaro camping chairs. Locking points not just offer greater stability while sitting but also can be easily disengaged using a button for easy folding.
This strong folding chair also holds a mesh ziplock organizer pouch at the side of the chair which is quite useful for keeping gadgets, stuff, snacks, etc. Likewise, there are two mesh cup holders towards the armrest of the chair, in this way you can keep your drink in the holder and set yourself with free hands.
Customers end up finding a chair along with a carry bag, the bag comes in full in size and helps you carry it more easily while moving towards the desired location.
Pros
Highly durable and best stable chair
It is light in weight that makes it easy to carry
It is easier to put together
Features armrest for added support
Offers high-end support and comfort
Available in varieties of color options
It has attached organizer and cup holders
Cons
The seat is too big for an average person but the best fit for plus size
The seat height may create some issues for normal height people
Conclusion
As a result, kijaro dual lock chair is enough compact, supportive, versatile, and good-quality camping, sports chair. This is the best value chair that carried every essential feature needed for additional support and comfort at outdoor trips, campsites, outdoor concerts, or sporting events.
Results based on testing make this chair worth buying and worth investing in. Moreover, the chair offers the best competitive price so everyone can have a similarly pleasing and comfortable experience with the chair. With all sorts of outdoor events, happenings, and trips, kijaro dual lock chairs are highly recommended.
Related Links: