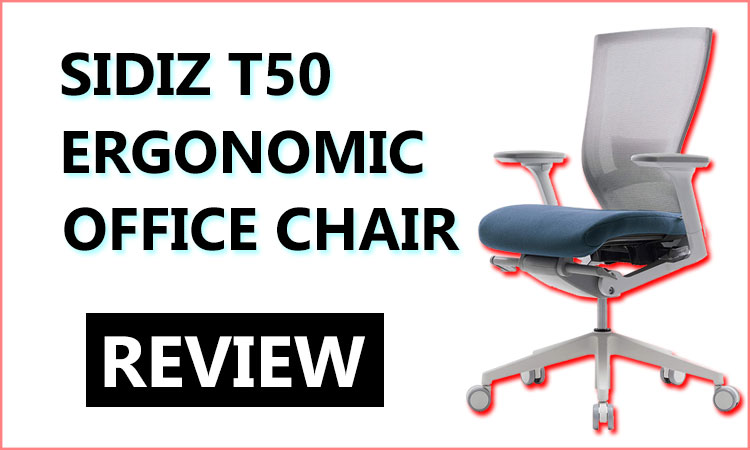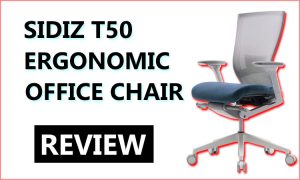 People are spending plenty of time sitting in a chair in homes and offices. This situation can lead to stress or even disordering in the bone structures of the spine. Hence, considering a good office chair is the only option to avoid this problem. These chairs promote good posture and support your lower back.
As regards the best office chair, my top pick is the SIDIZ office chair. SIDIZ is the leading brand in the Korean industry. They are determined to make high-quality products. It is essential to mention top brands like IBM, Toyota, and General Electric, like SIDIZ products in their offices.
If we further narrow down the choice, I will recommend the SIDIZ T50 office chair for various reasons. Let us discuss this in detail.
SIDIZ T50 Office Chair Review
SIDIZ T50 office chair is not only handsome in looks but also practical in S-Curve ergonomic design. The S-Curvy design is the latest technology used in the manufacturing of chairs. It helps you find the best sitting position for your body structure.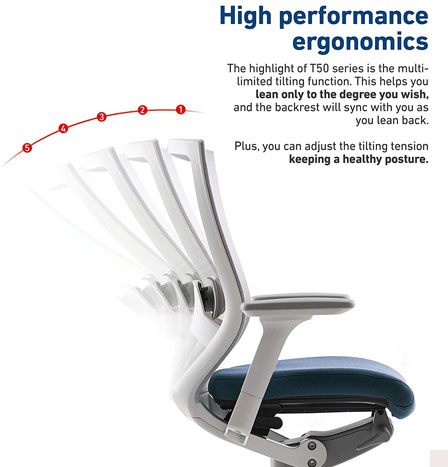 This chair incorporates a sturdy and robust structure that guarantees its durability. A fine quality polyester stripe mesh back enables you to sit comfortably with adequate ventilation to your back.
Another plus point is, that it comes with the facility of customization. It means you can set this chair at five tilting angles and find a suitable angle for your sitting. SIDIZ T50 comes in a blue seat and lumbar support.
When it comes to the chair's dimension, it is 38.1 x 22.4 x 26.3 (LxWxH) in inches. This chair weighs 18 Kgs and can handle your weight up to 120 kg. The description detailed earlier makes this chair the perfect match for your long-sitting needs in a chair.
Amazing Features
The risk of having a back problem is obvious when you have to spend eight or more hours daily sitting in a chair. Hence, a quality office chair is always recommended. The reason is these office chairs offer you some features that help you support your back.
As regards, the SIDIZ T50 office chair blends several features that make it stand among the top office chairs. Now we shall discuss these features in detail, one by one.
Offer Freedom To Your Body
SIDIZ T50 ideally supports the sitter's back. It helps them to sit comfortably for a more extended period. SIDIZ T50 remains in contact with your body movement because of ergonomic technology so that you can get your required sitting position.
The lower part of your back has a natural curve. You can cause unnatural strain on this curvy area while sitting in the same position for an extended period. This can even flatten the natural curve. Your weight requires to be equally spread on a slopy seat pan to avoid this problem.
The seat must also extend one inch or more from both sides to give the best comfort. It can also be adjusted for backward and forward tilt. It offers room for posture changes and lessens the pressure on your back.
This is why the latest office chairs are now integrating an S-Curve-shaped back design. SIDIZ T50 offers you the same design to give your body an S-shape. Additionally, it adds beauty to your domestic and official furniture.
SIDIZ T50 office chair gives the freedom of customization. It means you can change the seat slide and slope. You can adjust the headrest and armrests. You can even tilt your chair at five different angles to get the ideal position for you to sit. These customizations do not let you get tired to sit long in this chair.
Flexible and Strong Structure
SIDIZ T50 is based on an aluminum frame. Moreover, the parts that are supposed to touch your body are made of comfortable and soft materials. Its seat pad enables you to have a more comfortable sitting experience. All this manufacturing makes this chair flexible and strong.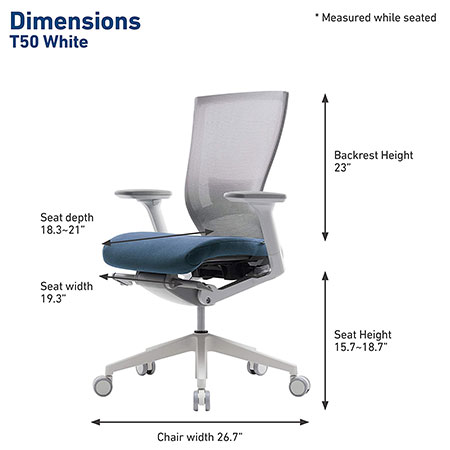 You can adjust the height of your SIDIZ T50 easily because it comes with a pneumatic adjustment lever. It is medically recommended that your feet must touch the ground with thighs parallel to the floor while sitting in a chair.
SIDIZ T50 enables you to set your chair's height from 16 to 21 inches from the ground. This height will allow you to sit in the recommended position.
Armrests help you to lessen the pressure on the lower part of the spine. These are even better if they have adjustable height and width to support your various tasks, i.e., reading and writing. It also eases your shoulders and neck to avoid carpal tunnel syndrome.
SIDIZ T50 offers you 3D armrests. You can settle these as per your need and get the innovative experience of working at your office.
Regarding a good office chair, the best is to help you avoid too much stretching and twisting of your own spine. A five-point wheel-based chair won't tip over when reclining.
SIDIZ T50 office chair comes in a five-point wheelbase that allows you to remain stable while moving here and there.
Pros
It is flexible in getting various angles of the backrest and seat.
It offers a gorgeous looking design for office use.
It comes with a comfortable ventilated mesh and support.
Its structure is robust and sturdy.
It is affordable.
Cons
It is a little noisier while reclining.
It is offered in limited colors.
Final Words
Simply purchasing a well-designed ergonomic office chair is not the solution to avoiding back pain altogether. You need more than it. Office chairs that support you in getting different sitting postures and support your back from different angles are the solution.
Therefore, you must keep in remember the SIDIZ T50 office chair while buying an office chair. It helps you to avoid various health issues associated with a longer sitting in a chair.
Related Links: