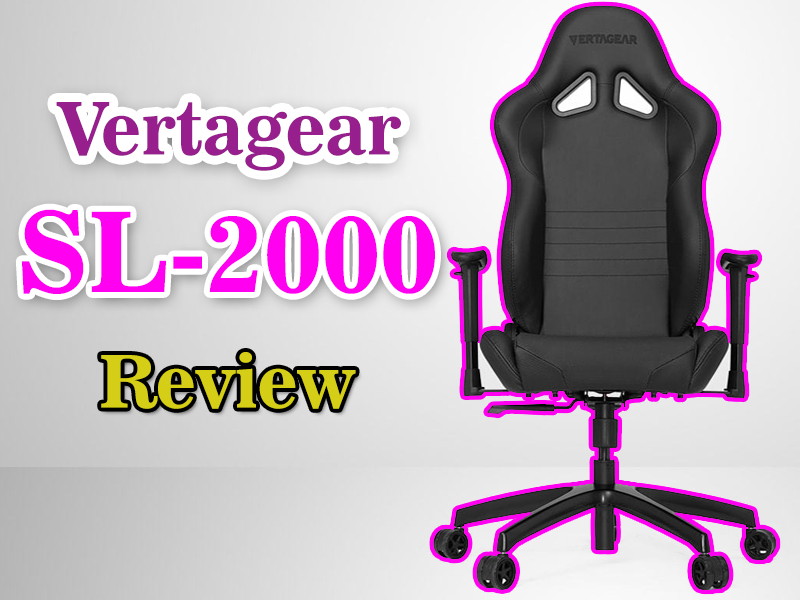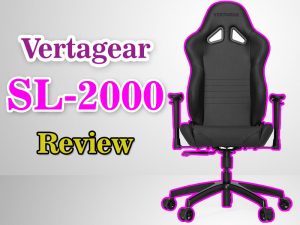 Comfortable seating is much more crucial than the beds we normally sleep on. Right posture while sitting can make a big difference in your life; you can feel great health benefits once you try.
Whether for office hours or gaming sessions or home office, a comfortable office/gaming chair is not truly luxury stuff but a necessity.
If you have to work and sit for a long time or are an enthusiast gamer, the most important stuff you should consider buying is a comfortable, reliable, and supportive chair. This Vertagear S-Line SL2000 review will give you in-depth knowledge and complete insight as well as provide you good selection when it comes to smart seating.
We have paid extra attention restraining from luxurious personify chairs review which usually based on biasness. We made sure to deliver you an honest and to-the-point vertagear SL2000 gaming chair review. If we talk about gaming/office chairs then luxurious comfort, ergonomic design, and style are the factors that matter. Let's dig out Vertagear SL2000 gaming chair from the Vertagear S-Line Racing gaming chair series has it all or not.
Introduction to Vertagear S-Line SL2000
Vertagear is not so known brand however it managed to gain a great reputation in a very short period. Vertagear Inc belongs to the USA and they launched their gaming chairs line known as Vertagear S-Line Racing Series. Here we are going to review the model from this newly launched series called VG-SL2000.
This model is described as the amalgamation of form and function at the same time. Furthermore, they stated the series of chairs manufactured with advanced mechanisms mainly focuses on top-notch functionality, perfect ergonomics, an elite design, and incredibly supportive comfort.
Vertagear S-Line SL2000 is a perfectly supportive and comfy gaming chair determined and designed to keep gamers in mind and their health. Vertagear SL2000 gaming chair is designed in a way to offer extreme adjustability for best support and comfort in even every position for having a wonderful gaming experience throughout.
This is the type of seating designed and crafted with modern engineering which makes the neck, shoulder, back, and knee support certainly.
However, there is nothing in the world like absolutely perfect but when it comes to comfort and long sitting you should choose what fit you best. Here we are going to check out whether the Vertagear SL2000 chair is worth buying and competent to provide lasting comfort throughout sitting.
All about Vertagear SL2000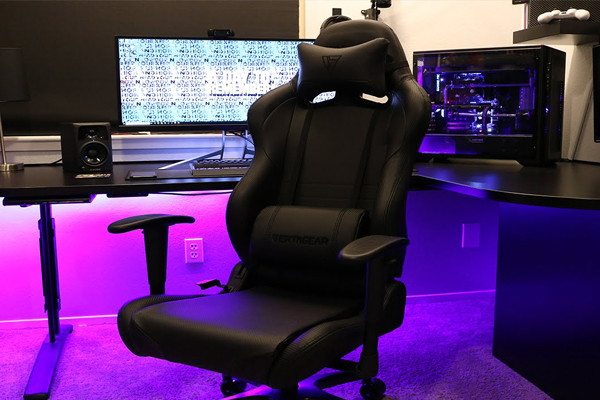 According to the manufacturer vertagear S-Line, SL2000 is a sleek design gaming chair, intended, designed, and crafted leveled up as compared to other brands' chairs. This is the chair ultra-premium constructed to offer maximum comfort, designed specifically to cater to pro gamers, beginners even enthusiasts.
This is an exceptional chair series that focuses on proper ergonomics, top-notch functionality combined with incredibly sleek designs. All these together make Vertagear listed among the best luxury and comfortable gaming chairs.
This is one of the best gaming chairs we have ever reviewed so far whereas, its budget-friendly cost and sleek looks make you fall in love with this seating. Ever since it is launched, vertagear SL2000 is being compared with DX Racer in terms of style, looks, functionality, however; with some contradiction, we also admire its soft-padded seat and best quality leather.
Here you can find out more comprehensively about Vertagear SL2000 gaming chair:
Anyone can easily put together this gaming chair in just 10 minutes without any kind of help and effort by another person. You will find three Allen wrenches when unbox, but you only need a screwdriver for side covers. There is a detailed instruction guide attached that helps you thoroughly during assembling. Even you can watch an easy assembling process video if you stuck somewhere.
Vertagear SL2000 is specially designed to keep gamers in mind, therefore, racing sleek design with perfect ergonomics and comfort were the major factors to spot on. As gamers love leveling up this is why Vertagear series this time has leveled up in almost every aspect from even looks to functionality. As for a brief introduction to the appearance of the gaming chair, they gave it two-toned coloring along with sleek lines for the perfect flavor of aerodynamics and speed. Moreover, the availability of varieties of color combinations enables you to select the right one that suits your area well in terms of design and color contrast.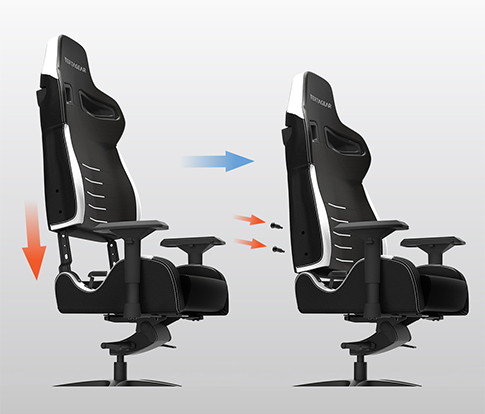 With jet black color you will get fine, sleek colored lines and proper racing, speed design which enhances the gaming experience from good to excellent. This gaming chair is not just attractive in looks but in utmost comfort and support due to dense foam padding.
Whereas the seat uses a racing-style bucket seat along with torso, the wings hugs design accommodates the user very well with wide coverage from the neck, shoulder to spine.
Along with vibrant colors, high-quality leather is also glossy while the padding is heavily lavish. This sleek-looking chair is not just a treat to watch but a treat to sit on.
Not just incredible looks make Vertagear S-Line SL2000 stand out but the use of the highest quality materials is a pro. The gaming chair is fully covered with the utmost quality and different colored PVC leather that gives chair a perfect attraction horizon. High-quality PUC synthetic faux-leather (PVC and PU faux leather) is comparatively durable as well as provides VG SL2000 a super deluxe looks.
The fabric used in the chair is open-cell which caused easy ventilation so that the user stays cool, comfortable and fresh. From solid steel frame, high-density foam to solid and smooth-rolling castors, VG S-Line SL2000 is packed with quality from top to bottom.
VG SL2000 is made with improved design and high-end materials in construction such as heavy-duty alloy and armor-plated 5-star base. Due to the hard rock steel frame this gaming chair includes durable and much stable structure covered up well with high-density resiliency foam. Even the maker paid special attention at small detail regarding the exterior to make the seating look more deluxe and reliable at the same time. However, the chair is not really light in weight but fortunately, it is not amongst heavier gaming chairs at all. Overall it's a durable, stable and easy maintainable chair.
Luckily, with VG SL2000 you are given a variety of colors option to choose according to your preference and sense of taste. Along with black color you have options to choose contrast colors which include red, green, blue, white, purple, grey, pink, etc. Some people prefer colors more than white due to low maintenance; it's the same case with me if you think the same way then colors availability is definitely a plus for you too.
Specifications of VG S-Line SL2000
Height (overall along the base): 50.4 – 53.5 inches
Backrest width: 21.9 inches
Seat width (overall): 14.6 inches
Backrest width (lumbar): 11.4 inches
Seat depth: 21.3 inches
Gross Weight: 53 lbs
Net weight: 44 lbs
Maximum Capacity: 330 lbs
Materials: Steel frame, PVC leather, High-density resilient foam, Aluminum alloy stand
Package dimension: 35 x 16 x 27 inches
Who is the best fit for this chair?
Those who want the best gaming chair at great affordable rates should not overlook VG SL2000. This gaming chair is really one of its kind that offers wonderful functionality, extra support, and additional comfort at a competitive market cost. Whereas this great model of the S-Line series is considered slim but it fits many body types.
From slim, average to heavy bodies this chair can easily accommodate people up to 6'3" height fits best for this chair. With a wider shoulder, (backrest) users with widebodies can find their utmost support and optimal comfort. This gaming chair from the S-Line series can stand with a maximum load of 330 lbs.
Features of Vertagear S-Line 2000 Chair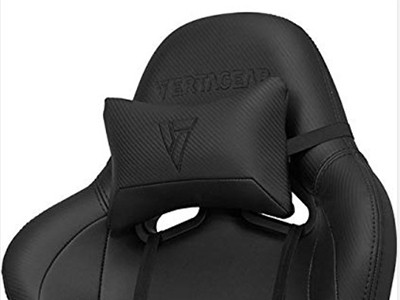 The VG SL2000 chair is thickly padded using high-density foam that not just adds on great comfort level but also increases support other than headrest pillow and lumbar cushion.
The wide seat of the chair is padded thickly using open-cell breathing structure fabric ensuring optimal ventilation. All these together enable the user to sit for an even longer time without feeling hot and uncomfortable on the chair.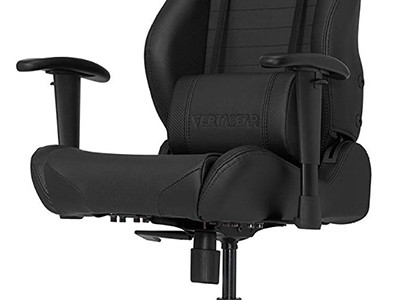 The SL2000 help you prevent stress and get proper ergonomic posture by offering a seat height adjustability feature. This user with different heights can adjust seat height accordingly which helps them get an unstressed sitting posture. This gaming chair offers a range of height adjustability to make sure everyone gets the optimum angle against the desk. This VG SL2000 also features 2D adjustable armrests that are already contoured and padded in the right arm shape. Using this feature you can adjust armrests according to your comfortable arms position to avoid additional stress during long gaming sessions.
This chair also reclines, with the high-back user can adjust backrest angle anywhere between 90 to 140 degrees to get the desired angle for reading, studying, napping, etc.
Maintenance-free elegant exterior
As mentioned earlier, the S-line series uses elegant exterior materials to make it more luxurious and durable. Furthermore, the exterior fabric is very easy to clean and requires less maintenance as it is water and stain-resistant.
Adjustable Tilt & locking system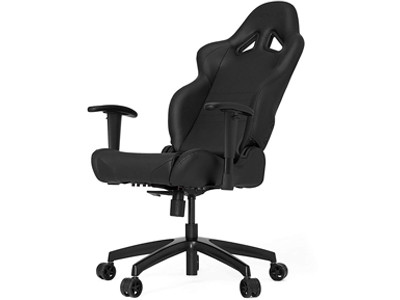 VG S-Line SL2000 also carried an adjustable tilt tension mechanism that helps users to decrease or increase tension using a simple knob beneath the seat. This feature help users to rock easily with all their weight without pushing heavily as it also helps in reducing muscle fatigue.
With a stable 5-star base, the attached wheels are quieter and soft to avoid any kind of voice on the floorings even scratches.
Pros
Luxurious and elegant racing style sleek looks
Available in varieties of contrast colors
High-quality materials used
Fully adjustable gaming chair
The backrest of the chair can be adjusted up to 140 degrees
Additionally supportive with plush headrest pillow and lumbar support cushion
2D adjustable armrest
330 max weight capacity
Cons
Limited reclining angle, could be improved
Closing Verdict
Based on the detailed review mentioned, it is right to describe Vertagear SL2000 as a wonderful gaming chair at such an affordable price. This incredible gaming chair from vertagear SL2000 series is not just a result of outclasses manufacturing but the usage of high-end materials.
Vertagear gaming chair is supposed to have competition with the top class DXRacer range in at least half of its cost while the exact level of comfort and design.
Even the market reputation of this gaming chair is quite well which clearly indicates the trust of customers who have used this same chair. Simply racing elegant design, highest quality, amazing features, and superior comfort basically cost hefty price in the market of chairs, therefore, Vertagear SL2000 is considered a breakthrough.
Related Links: