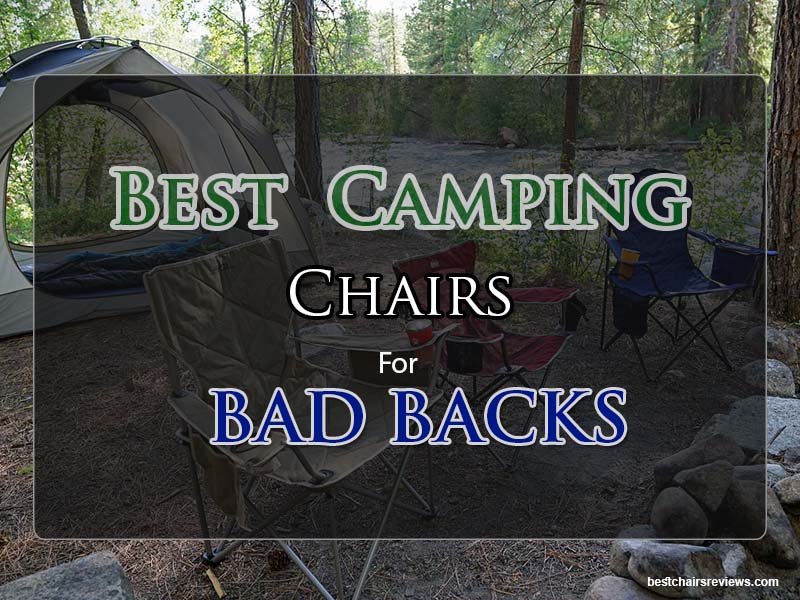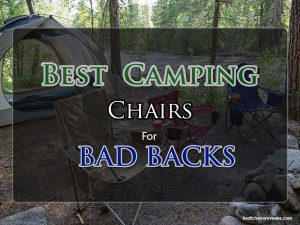 Do you have back pain, and because of this, you are not going camping along with your friends? Well, back pain is one of the severe issues that lead to many other health issues. But this is not the solution that you give up by not going camping. Having a comfortable camping chair for your bad back is a mandatory thing to carry when you are planning to go out camping.
Traditional camping chairs don't come with lumbar support that will provide tension on spinal discs. Finding a quality camping chair is sometimes a difficult task.
Let us help you to pick the right product for you. We have provided ten great options for you that will provide optimal support to your bad back during camping. Go and select the right one for you.
10 Best Camping Chairs for Bad Backs
1. Kijaro Dual Lock Portable Camping Chair
If you are suffering from bad back but want to go camping, then you should pack this chair with your other essential things. Kijaro dual lock chair is the best thing to carry when you are camping in the wild. No matter where you are roaming, this chair is an excellent pick to keep you supported. It is a bigger and oversized chair that can hold up the maximum weight of 300 pounds. It comes with a variety of features. Kijaro camping chair includes an organizer with zipping and mesh pockets. For easy transportation, it includes a carry bag and a carry strap attached to the chair that you can utilize to bring it with you.
Key benefit: This convenient Dual Lock chair gives you a top-notch seating experience with no-sag seating. It facilitates with dual locks that you can open to experience no-sag seating and close to carry it along with you.
Quick features:
Dual Lock: It comes with the feature of a dual lock that will provide the facility to open and close it whenever and wherever you want. It is made up of strong ripstop polyester, whereas its back seat is made from breathable mesh.
Cup holders: It also features 2 cup holders. One cup holder is a little larger than the other. The larger cup holder mesh can hold a wide smartphone, whereas the smaller cup holder mesh can fit 12 Oz cans.
Supportive: It provides lumbar support to people who are in continuous pain of bad back. It is highly supportive and reduces lower back pain and helps to relax your muscles.
Pros
Highly supportive
Versatile
Lightweight
Portable
Available in a variety of colors
Easy to setup
Reason to Choose:
I recommend this chair because of its tallest seat height and design. Its tallest seat heights are enough to support your bad back. Solid, sturdy, and seated well over all surfaces.
2. Coleman Portable Camping Quad Chair
Do you want to purchase a comfy chair for a campsite? Coleman represents a comfy and highly supportive camping chair for you. Coleman always serves you according to your needs and wants.
They always take care of product quality and durability. Coleman portable quad chair is an ideal option for your camping. It comes with various features. This chair has a built-in cooler, adjustable armrests, a fully cushioned back and seat, and side pockets for easy storage.
Key benefit: It comes with a built-in cooler that will facilitate you to hold four cans at a time. Now you don't need to hold a can in your hand at the campsite. Simultaneously it offers you quick access to cold beverages when the one in your cup holder is vacant.
Quick features:
Foldable: When you want to carry it along with you, it will provide you with the facility of the carry bag. It is easy to set up while camping, and after having fun, it is easily foldable, and you can store it in the carry bag.
Cup holder and side media pocket: You don't need to hold a drink in one hand and a phone in the other while camping. This chair has an attached mesh side media pockets and cup holders built into the armrest.
Strong steel frame: A sturdy frame made up of steel with a maximum weight of 7.75 pounds that makes it ideal for long hikes and backpacking trips on the campsites. It can hold up to the weight of 325 lbs.
Cushioned comfort: This is perfect for those who have severe back pain. Its padded seat and back provide you with lumbar support and comfort.
Pros
Built-in accessory pouch for easy storage
Easily foldable
Durable
Portable
Polyester material
Reason to Choose:
I prefer this chair because it has an inflatable design that you can easily pack and carry along with you.
3. Quik Chair Portable Folding Chair
If you are a person who loves to go fishing, camping, and spending most of the time by the lake or beach, then you must consider this camping chair. This chair will provide comfort to you instead of making you feel fatigued. Quick Shade, a well-known company, has presented a portable folding chair that will suit your outdoor needs.
It comes with the features of a single mesh cup holder attached to the armrest. The frame is made up of steel to provide you with support and comfort. Furthermore, this chair includes a carry bag for easy portability and storage. It is highly durable because it is made up of supreme fabric to resist water, stain, and moisture. Moreover, it contains a mesh cup holder on one side of its armrest.
Key feature: It is an easily foldable chair that you can use it virtually anywhere. It is made up of high-quality material that is stain, water, and moisture resistant.
Quick features:
Easy folding: Easy to set up and easy to fold. It provides an excellent quick folding feature. Now you don't need to get worried; it only takes a few seconds to get folded.
Quality fabric: It is constructed with high-quality 300 denier polyester fabric that designs to make it free from water, stain, and moisture.
Portable: It comes facilitated by an easy portability feature. It contains a carry strap and bag that provide you with the facility to carry and store it easily.
Pros
Decent design
Light in weight
Sturdy material
Stain, water, and moisture resistance
Cons
Not for heavier persons
Slightly small in size
Reason to Choose:
I suggest this purchase to those who want to carry lightweight and decent design chairs. This chair only weighs 6 lbs, so it is very easy to fold and carry.
4. Quik Shade MAX Shade Chair
Regardless of whether you are enjoying yourself with your friends at the beach, relaxing at the seashore, or sitting by the open-air campfire, picking the premium and top-quality outdoor chair is essential to your pleasure and your comfort.
This chair is another masterpiece represented by the Quik Shade Company. It is one of the best camping chairs for bad-backs people who are suffering from backbone pain. It will offer you high support and comfort.
Key feature: The best thing about this chair is that it includes a patented flexible canopy to protect you from sun rays. The adjustable canopy tilts easily to provide shade when you need it effectively.
Quick features:
Portable: An excellent chair provides the feature of easily folding. Whenever you want to go outside camping, you can carry it along with you by keeping it in a storage bag that comes along with this chair.
Steel frame: The frame of this chair is made from a sturdy steel material that provides support to you. It has a nice big seat with a perfectly angled back. It can hold weight up to 225 lbs.
Cup holding mesh: Its wide seat includes two mesh cup holders attached to the armrest. It added a bonus feature to your chair by holding two cups in it and free up your hands.
Extra-strong chair: It is an extra strong chair made up of top-quality fabric material. It contains a storage bag alongside its armrest, so you can easily store your accessories there. Moreover, it also includes a carry bag for easy storage and transportation.
Pros
Durable
Adjustable canopy for shaded seating
Easy to carry
Easy to store
Sturdy steel frame
Cons
Available in only one color
Reason to Choose:
I recommend this product because it comes with the feature of an adjustable canopy that is used to raise, lowers, and tilt it for providing maximum sun protection.
5. Browning Camping Strutter Hunting Chair
Are you a predator hunter and always love to do hunting? If yes, then you need a comfortable chair that you can easily carry with you. This chair is an ultimate option for die-hard hunters. After years of hard work, the ALPS Outdoor Turkey chair comes with the new feature of fold-up size. It is designed in a way that it can easily fold and fit into a small carry bag. This new chair is a masterpiece for hunters who are looking for a Strutter model.
Key feature: It has an added feature of rotating feet. The four rotating feet to the bottoms of the seat legs are added to ensure it will consistently sit firm and strong, even on rough terrain. In case, when you're in the forest for a long time, it's pleasant to have the option to recline and relax a bit.
Quick features:
Compact, Foldable design: It is easy to fold and pack into the carry bag. It includes a shoulder-padded strap attached to it that is perfect for hauling out into the field. Its easily foldable arms provide ultimate comfort and support.
Steel frame: It designs for high performance. The whole frame is made up of strong steel and coated with a powder that ensures high durability. This chair can bear weight up to 300 pounds.
Design: The real tree edge fabric that is specially designed for hunters. It contains a printed HD fabric real-tree design that attracts many hunters. The whole chair weighs only 8 lbs.
Pros
Compact
Easily foldable
Sturdy frame provides high durability
Padded shoulder strap to carry easily
Real-tree HD design
Reason to Choose:
It is highly preferred by those who want to carry a chair along with them on uneven terrains. Its four rotating feet help you to sit on rough terrains.
6. STRONGBACK Low Gravity Beach Chair
Are you continuously avoiding your campsite plans just because you don't have a comfy camping chair? So if you have a bad back and need to purchase a comfortable chair that will not irritate you during camping, then this chair is a perfect pick for you.
This flagship and award-winning product provide your bad back with high support and a comfy feel. It is perfect for the beach, camping, and other events where you need a chair for your bad back. This solid little seat not just has the exclusive strong back technology for comfort and lumbar support; however, it additionally has a double leaning back option for extra comfort support. It has a weight capacity of almost 300 lbs.
Key feature: The most important point to mention about this chair is that it has an ergonomic seat and back. It is designed to provide support to the hips and back for optimal comfort and relaxation.
Quick features:
Lightweight: People usually search for lightweight chairs so that they can be easy to carry and hold. The perfect portable chair includes double shoulder straps for backpack style and an easy freehand carrying facility.
Heavy-duty frame: The whole patented outstanding frame integrated lumbar support made up of supreme material to increase durability. Solid padded armrests for maximum conform and support.
Low gravity recliner: It is a low gravity recliner chair that provides high support to your back and hips. This strong back seat offers lumbar support that makes you feel like your back is floating with comfort.
Pros
Durable construction
Cupholder
Available in four colors
Easy to setup
Easy to carry
Cons
Some users find it difficult to open and close
Reason to Choose:
It is specially designed for all those individuals who have a small physique. It incorporates the patented support technique for the spine that makes this chair a small, convenient, agreeable, and stylish chair.
7. STRONGBACK Elite Folding Camping Chair
Are you facing with backbone issues and need to purchase a comfortable chair that will provide lumbar support to you during camping? This elite folding chair with high back support is the Strongback award-winning outdoors chair.
It accompanies some outstanding features that incorporate a medically verified patented, frame-integrated lumbar support along with an ergonomic seat to improve your sitting style that prevents leg squeeze.
Key feature: Its incredible lumbar support styles to adjust your body pose facilitating pressure; it supports your back, which gives helps to provide relief to your spine and muscles. It is specially designed for taller persons with a height of 5'8 or above.
Quick features:
Portability: It is specially designed to use in the backpack style. You can easily carry it on your shoulders by utilizing its padded dual shoulder straps, which makes the portability simple. It can hold up the weight limit capacity of 300 lbs.
Flexible armrest: It is made up of a high-quality solid pad to promote easiness. It measures about 12 pounds in weight. A mesh cup holder is also attached with one armrest to easily put your drink there.
Lumbar support: This chair was awarded for its supportive lumbar design to provide comfort to your back and spine.
Comfortable: It guarantees comfort and relaxation with its roomy ergonomic sear. It developed to be light in weight and easy to use so any individual can utilize this outdoor camping chair easily.
Pros
Lumbar supportive
Durable
Attractive design
Foldable
Backpack styled
Heavy-duty frame to ensure durability
Reason to Choose:
It is preferable because of its ergonomic seat and back style that helps to support your hips and back. It is a heavy-duty 600D polyester chair that is torn and wear-resistant. The sturdy frame solidly sits on all surfaces.
8. KingCamp Camping Chair with Cooler Armrest
A decent quad chair is fundamental in case you are arranging any family picnics, outdoor camping, or game watch. So if you are planning a picnic or camping with your friends and family, then you should pack a comfy chair with you.
KingCamp manufactured a durable and portable heavy-duty lumbar support chair that is incredible in its features. It is one of the best camping chairs for a bad back. It is best used for hiking, camping, picnic, and other outdoor activities.
Key feature: It has an excellent feature of a cooler armrest cup holder. Now you don't need to worry about your chilled beverages in hot summer; this chair will keep your drinks chilled for a long time in its cooler armrest storage. It also accompanies a head storage bag.
Quick features:
Eye-catchy design: This beautiful design chair highlights a solid powder-covered steel frame with 600D polyester textures along with the high-quality steel tubes bracket structure and metal material designs to uniformly distribute your weight.
Top-quality material: It is made up of premium quality material. The sturdy steel frame is strong enough to hold a weight of up to 353 lbs. This chair accompanies a shoulder carry bag that can easily store this chair in it.
Lightweight and portable: It only weighs 11.3 lbs, and the stuffed size has 38 x 9 x 8 inches of total measurements. It is versatile and light enough to carry like luggage on a drive. Its compact size fits in most vehicle trunks to meet your outdoor needs.
Pros
Luxurious comfort
Quickly folds and unfolds
Three cans of coke capacity in a side pocket
High strength frame
Cons
The carry strap is a little short
Reason to Choose:
People with a backbone problem should purchase this chair while camping. Its large seat area is made up of Oxford fabric that provides lumbar support. The Lumbar support system helps to relieve your spine and muscles and provides you with luxurious comfort during camping.
9. Kamp-Rite Padded Folding Chair
Do you want to buy a perfect camping chair that will provide relief for your bad back? You have come to the right place. The Kamp-Rite folding chair comes with the facility of an integrated-lumbar support system that will enhance your sitting position.
It will provide your back, hips, and neck a relaxing and comfy feel with the benefit of adjusting lumbar support so you can easily adjust it according to your needs. Moreover, it includes a cup holder that makes it easy to put your drink there and relax for a while.
Key feature: A comfortable chair that provides extra support and a level of comfort to you. It accompanies by a built-in lumbar support system in the chair back for individuals facing severe backbone issues.
Quick features:
Cup holders: This beautifully designed camping chair contains two mesh cup holders on its armrests. These cup holders facilitate you not to hold your drinks in your hands anymore. Keep your drinks in the cup holder and give rest to your body while sitting on this chair.
Heavy-duty folding chair: A fantastic chair that supports easy portability. Very easy to fold and unfold it. You can quickly fold it in just a few seconds; likewise, unfold it in less than 10 seconds. You can carry this chair with you wherever you go.
Durable frame: A sturdy material frame made up of premium quality steel that helps to support weight up to 300 lbs. Furthermore, its two-tone design works for both a practical and stylish chair.
Pros
Adjustable lumbar support
It is easy to carry and hold
Easily foldable
Compact
Classy look
Reason to Choose:
It also comes with lumbar support which makes this chair on the top priority list. I prefer to purchase this chair for all those who are suffering from back pain during camping or other events.
10. ALPHA CAMP Oversized Camping Folding Chair
Are you willing to go camping along with a portable chair? If you have not found a comfortable camping chair yet, we are here to help you. ALPHA CAMP manufactured an oversized amazing camping chair for you that will provide lumbar support for you. It is a heavy-duty chair that comes with several useful features. Its large size seat offers maximum comfort — the armrests constructed with top-quality polyester provide your arms with an easy and soft feel.
Key feature: The important feature of this chair is that it contains Oxford fabric that is supreme in its quality and support. For a great experience during camping, this chair offers supreme comfort to your back, hips, neck, and arm.
Quick features:
Maximum loading capacity: Its powdered coated sturdy steel frame is specially designed to hold weight up to 350 lbs. It ensures a long-lasting chair that supports high durability.
Additional storage spaces: People usually face issues storing their accessories here and there during camping. This chair solved their problem. While sitting on this chair and enjoying yourself with your friends, you can put your things inside or back stash pockets.
Portable and easy storage: You can easily carry all things in storage carrying bags. Whenever you want to go on a picnic or other outside events, this chair is very easy to carry, and you can store it anywhere easily. This outstanding folding chair only weighs 9.7 lbs.
Pros
Side storage pocket with zipping to hold the phone
Larger seat to provide comfort
Best for camping or hiking
Highly stable
Highly durable
Cons
Armrests are a little stiff
Reason to Choose:
This product recommends to all those people who need to buy a wide seated chair with lumbar support. This chair comes with a large seat area for easy and comfy sitting, whereas its embedded lumbar support technique provides you with luxurious comfort.
Buyer's Guide
If you have a backbone problem and you need to buy a comfy chair for camping, beach, or outside parties, then you should purchase a reliable and comfortable chair. These camping chairs are perfect when you normally continue outdoor trips, and you need to feel comfortable while away from home. If you really want to purchase the best camping chair for a bad back, then you should pay some attention to these points mentioned below.
There are many reasons you may consider before starting comparing with other chairs. The features include:
Padded support: This chair is the most important reason to consider while buying a comfortable camping chair. If you have bad back pain and you want to get rid of it during your camping journey, then before buying a portable chair, you should pay attention to it. Always make sure that the chair you are going to purchase has padded support in it or not. The traditional and old-styled chairs are empty from the backside, which isn't beneficial for you. But in the outdoor chairs, you ought to get cushioned support at the back for giving relief to the spine and neck. They should pad with the help of soft foam materials.
Premium material: People who do not know of camping chair material they usually purchase any chair by its design. There are various sorts of materials from which the outdoor chairs are made. The camping chairs made with aluminum legs have an entirely steady base. The chair produced using the nylon material is considerably more perfect as it is water-safe, durable, and easy to maintain. So, make sure before any purchase that the chair you are going to buy is made up of either aluminum or nylon.
Armrest: This point is also important to consider for older people who need to provide complete relaxation and relief to their whole body. The outdoors seats for bad backs likewise accompany armrest. They help you to feel increasingly loose and relaxed while sitting on it during any event held outside your home. They are considerably more useful for those individuals who need more comfort and relaxation during camping. Although, the camping chairs come with additional side pockets; and cup holders that add more benefits to these chairs.
Weight capacity: The camping chairs come in various sizes and styles. Some are big, whereas some are small in size. Likewise, some chairs have wider seats, although some have narrower seats. Consider your weight capacity before purchasing a camping chair. So, whenever you need to buy a camping chair, you should remember who is going to utilize this. Like, if you are going to purchase a portable camping chair for yourself, at that point, pick a lightweight seat that can hold your weight effectively with full comfort.
Cost-effective: This point is sometimes considered to be the most important point for some people. If you have a small budget, but you want quality and style both together in one product, then there you pay some time and attention while finding a cost-effective product. The camping chairs are usually cheap and quality products. We have provided you with the list of best products that you might find helpful for your camping journey.
Conclusion:
Picking the correct and comfy camping chair from different manufacturers and items accessible in the market is tedious. To make your work simpler and easier, we have reviewed the best 10 top picks of camping chairs for your lousy and bad back. These chairs are based on quality, performance, client reviews, features, and specifications.
There are many manufacturers and companies available in markets that are selling fake products by the same names. So always be careful before making any purchase. For your convenience, we gather the data on the best-camping chairs for a bad back that will make it easy for you to find a perfect chair.
Related Links: