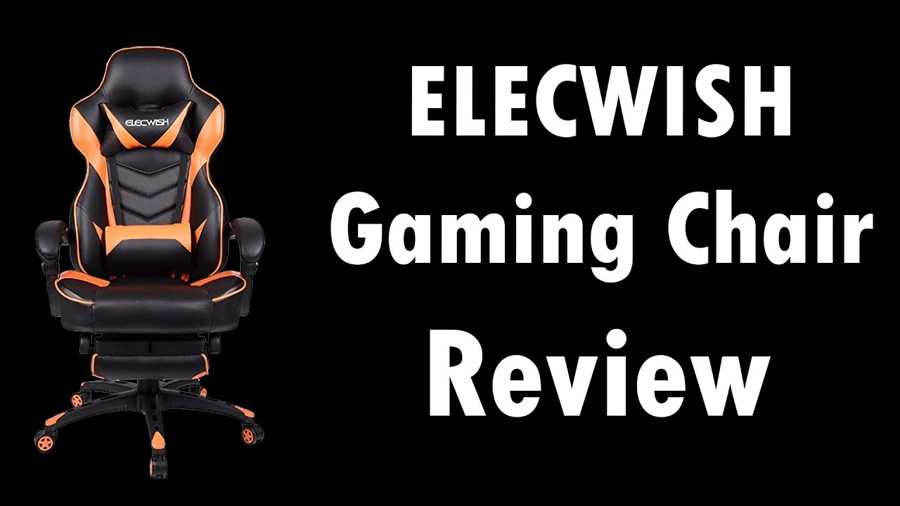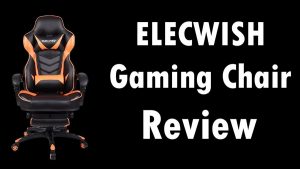 Who does not want a twin-in-one working & gaming chair at the best cheap price with an extravagant racing design? With the intention of cutting off your time and effort, we are here presenting you the Elecwish Gaming Chair Review, the perfect computer, gaming chair that fits well in all such criteria.
I think there is no one on earth exists who do not want this elegant package deal. However, it's not as easy, too much searching and long hours of researching can help you with this.
Most hardcore, enthusiast gamer requires sitting comfortably as well as they have a great preference for the racing car-style chair. Besides, people working generally need an extremely supportive and comfy chair.
Elecwish is the gaming/working chair designed intentionally to cater to people at working and gaming with long-lasting comfort and ultimate support.
Elecwish Gaming Chair Review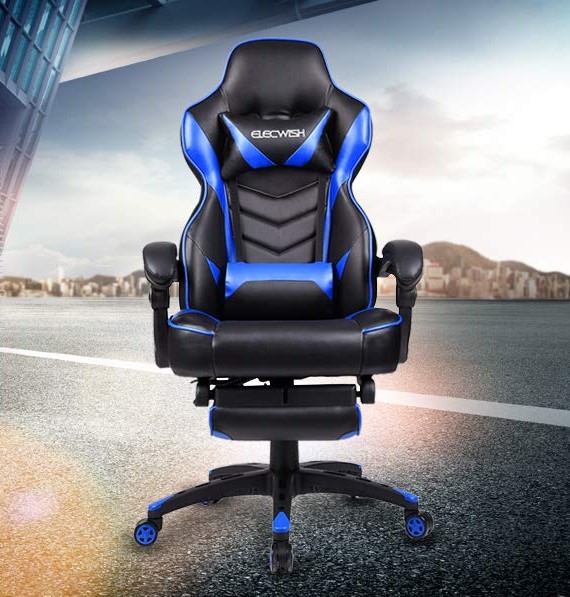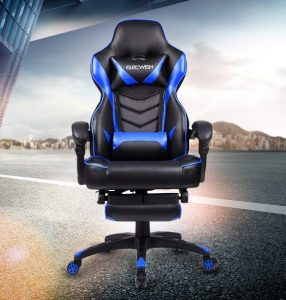 Elecwish Computer Gaming Chair is manufactured and produced by the China-based emerging company, known for its high-quality furniture. One of the best things about this multi-purpose chair that fascinates and attracts a larger audience is its inexpensive cost. Moreover, the perfectly crafted racing car style and ergonomic design make it a super reliable chair for great comfort throughout the day.
This model of gaming chair is associated with the line of ergonomic computer chairs, designed and crafted for long hours sitting in mind. Apart from its competitive price range, this versatile gaming chair got many high-quality features that altogether make it most desirable.
This model of the chair can stand up to 330 pounds weight which makes it the best fit for all sizes from slim to fat. Furthermore, this versatile gaming chair comes with a La-Z-Boy style footrest together with bringing up several reclining modes for studying, working, gaming, napping, etc. In short all the features of this working/gaming chair back proper posture well even during long hours of sitting.
Application: specially intended computer gaming chair best for all gamers to increase gaming experience as well as it is suitable for working even in-home or office. Moreover, this is the chair that can be used in the kid's room, study room, living room even offices.
Additional Features: Elecwish Gaming chairs are available in varieties of colors for instance blue, black, grey, green, orange, red, sky blue, etc. With these so many color options, people can choose their favorite color with the contrast black color.
Features of Elecwish Gaming Chair
From astonishing racing car style to a wide, fully padded seat, the Elecwish gaming chair has got all modern features that make it a super comfy, supportive, luxuriously looking adaptable chair. Why waste any further time looking at its great features and what makes it the most desirable, comfortable chair?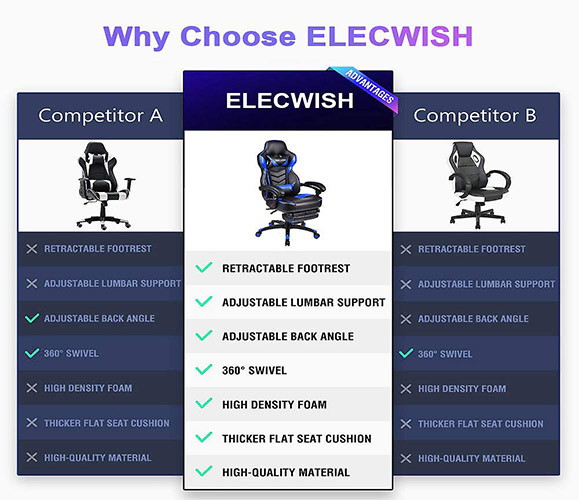 The Elecwish gaming chair is an ergonomic racing style chair, that helped to stimulate better posture throughout sitting due to the wide, ergonomic structured backrest. The beautiful, attractive looks of the chair will instantly grab your attention, although its style and design are made to keep young gamers and youngsters in mind.
Whereas the racing style of the chair is not at all too flashy to distract working people at the office/work. That is why it can be used as a gaming chair and working chair at the same time.
The computer gaming chair is crafted very well under standard measures in order to increase stability, durability, and comfort. Likewise, it includes a thick wider seat with a high-end thick sponge inside covered with premium quality soft PU leather which is not just stained resistant but scratch resistant as well.
In addition, the Elecwish Computer Chair is well equipped with a foldable, solid 5-star base which is as well approved by BIFMA. Similarly, the rock-solid, stable base is attached with smooth-rolling caster wheels which are non-slippery, scratch-free, and floor friendly. These all factors added more stability and life to this chair while providing proper support and comfort to the user.
Thickly Padded for Ultimate Comfort
Elecwish computer chair is among the best model which is thickly padded all over to offer comfy even after hours. The chair brings a well-padded high-back, thickly padded seat, and a thicker padded armrest to increase the most possible softness all over.
Factors make it Multi-Functional
With a thicker, wider seat this computer chair offers great accommodation to all sizes people along with proper support and comfort. Similarly, for additional comfort, this chair brings a smooth and great reclining function which can be adjusted somewhere between 170 degrees. With perfect gaming and a working chair, this is a comfortable recliner as well.
In contrast to added comfort, this chair offers a retractable footrest to ease your nerves when you feel tired. Additionally, it also featured seat height adjustment so you can adjust the seat of this chair according to your working table height.
With so many features gathered in a chair, you also have the option to customize every feature accordingly. It includes an adjustable neck rest pillow and lumbar support pillow which can be adjusted at any angle for optimum comfort. While leaning on the recliner of this chair you can ever extend the footrest to place your feet and have some rest anywhere you want.
You can even place hands on the ergonomic streamline parallel adjustable armrest, these can be angled descendent. With this fully customizable computer gaming chair, what else can you think of as comfort? This Elecwish gaming chair is absolute comfort, stability, and support.
Pros
Eye-catching style
The ergonomic design of the chair improves circulation and body posture
Fully adjustable chair
It can hold up to 330 pounds
360-degrees swiveling
Features retractable footrest
Ideal for larger size people
Cons
Armrests are little wobbly and a bit narrow
Verdict
If someone is looking for a multi-purpose, affordable chair for both men and women even for all sizes, then Elecwish Gaming Chair is a worthy recommendation. Certainly, there are hundreds of gaming chairs available in the market that give you the same or more than this but eventually, you need to pay a heavy cost for them.
Honestly, Elecwish is the gaming chair not so perfect but it got every quality feature that supports and provides a high level of comfort at its end. This versatile chair includes a wider seat than the competition, a thickly padded back, seat even armrest, and a rock solid frame and base that last longer. This version of the gaming chair also offers various ergonomic benefits.
Elecwish Computer Gaming Chair is a good option for the cheap, comfortable, durable, stylish, and versatile chair.
Related Top Rated Chairs: