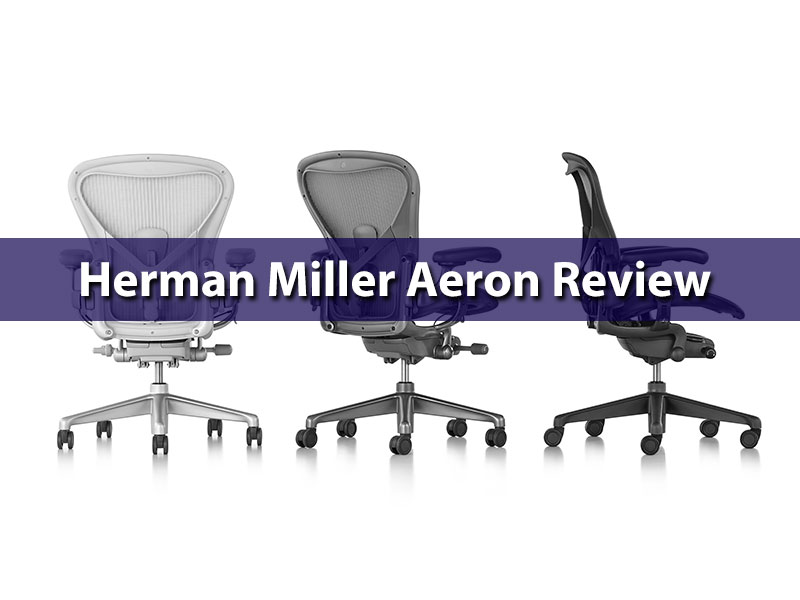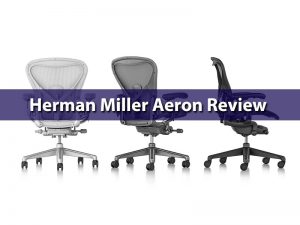 If you have to spend plenty of time in front of your computer screen, a quality chair is your big necessity. Because uncomfortable chairs can certainly be dangerous for your back, it can also be the reason for other health issues as well.
This is why you must choose the right chair, and here Herman Miller Aeron chair gets in. This chair is among the most renowned office chairs with a nice mesh back.
Although it is considered pricier, you will realize that your improved well-being can offset its higher initial cost.
Thus, we are going to discuss the Herman Miller Aeron chair today. It is one of the most iconic office chairs in the previous three decades.
Quick Overview
| | |
| --- | --- |
| Weight Limit | 350lb |
| Warranty | 12 years |
| Height | 38.5" to 43" |
| Seat Height | 14.7" to 20.5" |
| Width | 25.7" to 28.2" |
| Depth | 16" to 18.5" |
| Adjustable Lumbar Support? | Yes |
| Can Relieve Backpain? | Yes |
The Herman Miller Aeron chair offers you the freedom to select from 17 colors. These colors are relatively neutral. It means the Aeron chair is not flashy. Hence, you can make this chair a perfect match for your room decor.
As regards its functions, this chair comes with a limiter and tilt. The arms can be adjusted, i.e., heightened or lowered. Arms can also be angled up to 30°. Finally, you can also remove these arms. It means you can find every function related to the arms of a chair.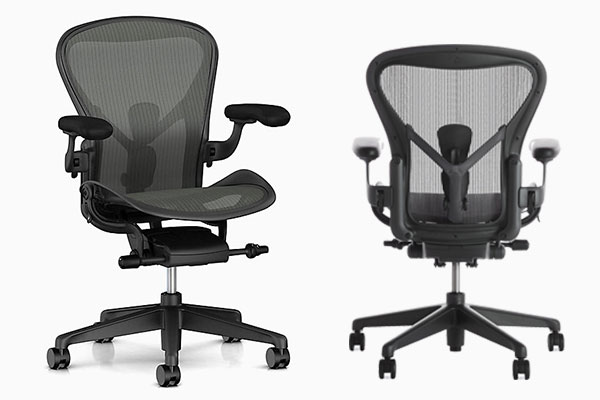 Herman Miller Aeron chair ensures a perfect posture fit to your body. The reason is its shape conforms to your spine's natural curvature. Hence, it helps you to lower the strain on your back and provides you with comfortable support.
The best thing about this chair is it comes in three different sizes; Small (A), Medium (B), and Large (C). Therefore, various specifications like height, width, depth, weight capacity, and more are dependent on these sizes.
For example, if it is about the chair's height; small, medium, and large come in the height 38.5", 41", and 43", respectively.
Features Of Herman Miller Aeron Chair
If you require all features of a top-quality chair, the Herman Miller Aeron chair is the perfect match. Moreover, the company also allows you to customize your chair as per your need. This way, you can make an affordable chair. Let us discuss the features of this chair.
If you opt for the Herman Miller Aeron chair's basic version, you can buy it for $920. This chair incorporates a graphite base and frame, standard tilt, basic back support, stationary arms, 2.5" carpet casters, and standard arm pads.
However, the best thing is you can customize your selection. It means you can upgrade your Aeron chair. For example, if you want to add adjustable lumbar support, you have to pay an additional $75. Similarly, you will pay $80 for leather arm pads, and $60 for fully adjustable arms, and so on.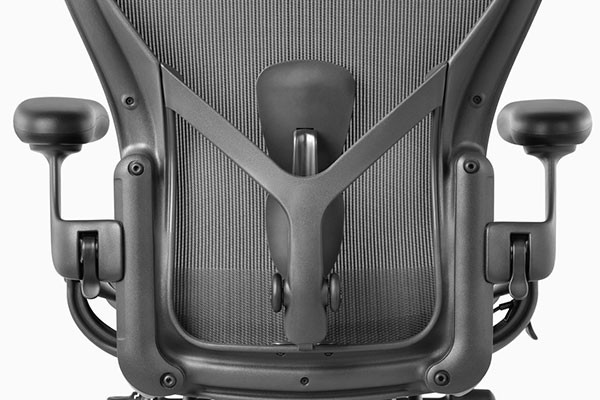 As regards lumbar support, this chair incorporates a well-configured lumbar support system. This way, the Herman Miller Aeron chair can sort out every stress associated with sitting. Although the basic version includes good lumbar support, however, you can upgrade it.
The basic health issue related to prolonged sitting is slouching. Mostly we place our back in a C shape. This shape does not follow your curve in the lower back. Consequently, your back is vulnerable to encountering a problem.
Herman Miller Aeron chair follows the mechanism of the S shape. This way, this chair helps you regain your natural curve to reduce the health issues associated with extended sitting.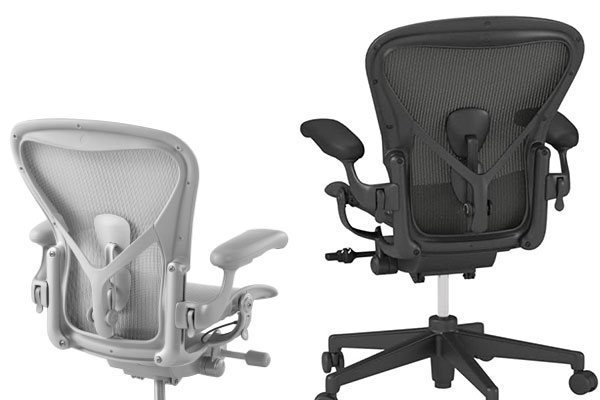 The Herman Miller Aeron chair helps you adjust lumbar support and backrest with increased flexibility. There are two pads in the lumbar support that should connect with your body and support your lower spine area. You can adjust these pads to the curve in your back.
This chair is 27" wide and 16" deep. This chair is 42" tall at its lowest configuration, and indeed it can be increased to the most comfortable height of yours. As regards weighing capacity, it can efficiently work up to 136 kg.
Sitting in a chair during office hours can initiate various health issues. The reason is office chairs usually come with a design that can disturb your blood flow. Herman Miller Aeron chair includes a waterfall design that is helpful in improving blood circulation in your body.
A good circulation of blood helps you bring more oxygen to your brain. That will help you to concentrate and increase your productivity.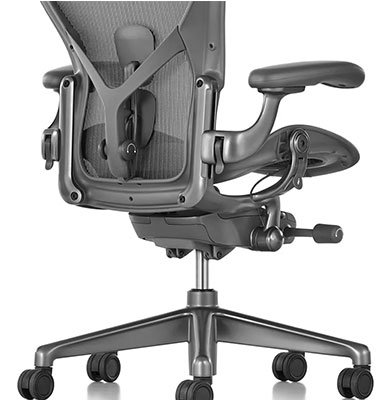 The traditional Herman Miller chairs contained a spring coil. Nonetheless, the Aeron chair comes with a tilting mechanism that lets supports your body while reclining. Moreover, five-wheeled bases also save you from falling down during this recline.
The Aeron chair is the only chair that comes with a return policy. Once you have purchased this chair and are not entirely satisfied, you can return it within 30 days. And Herman Miller will also cover the cost of shipment for return. Cheers!
You will be surprised to know Herman Miller give you a 12-year warranty on this chair. And this warranty covers almost every part of it.
Last but not least good thing is that this chair is environment-friendly. Because half of its manufacturing is done with recycled materials, it means when you will eventually want to replace it, Herman Miller can recycle more than 80% of it.
Pros
Various colors with quality material
Forward/backward seat tilt
Improved recline function
Fully assembled shipment
Comfortable armrests
Long-term warranty
Cons
Users can feel the frame in the back and seat
Conclusion
The Herman Miller Aeron chair is a good office chair that will not disappoint you. It provides plenty of ventilation to your back. It is designed in a modern way that guarantees your comfort and adds beauty to your furniture décor.
The slight flaws and drawbacks are compensated by the other great features offered by the chair. Hence, for those on a budget, Herman Miller Aeron Chair is still a great deal.
Related Links: