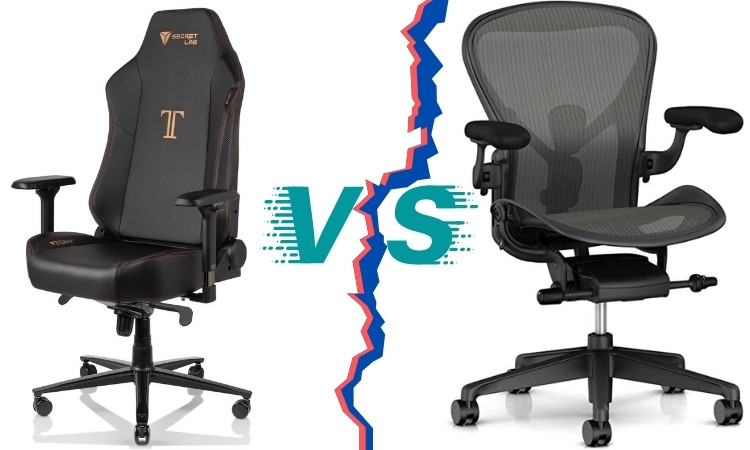 What do you think is the major difference between office chairs & gaming chairs other than names? Is there any chair you can use for both desk work and gaming?
If these two questions have ever hit your mind then you are at the right place. This hard time when the whole world is facing financial problems pushes people to make a reasonably versatile purchase while saving some money, which is a smart idea though.
So let's begin with the topic of discussion about gaming chairs & ergonomic office chairs. Even though, both chair types are specifically designed for pretty much similar reasons of delivering ergonomic support and comfort in the long run. That is why their ergonomic design spurs better posture while adjustable features are vital aesthetic of these chairs.
Yet, the difference is inevitable as one is made to use in commercial or home offices whereas the other is dedicated to providing an optimal gaming experience.
Office chairs are supposed to make you more active and productive by keeping you in an upright seating position for easy desk work. Gaming chairs, on the other side, offer flexibility and are ergonomically adjustable, enabling you to rest for a while in between gaming session breaks.
In this post, we are going to compare two top-grade chairs in which one is from a very recognized brand, known as the top dog of producing office furniture while the other one is the most admired company in the market of gaming chairs.
Secretlab Titan & Herman Miller Aeron, both are best-selling models, so let's start the review, analysis, and comparison of these premier seating.
Herman Miller Aeron Chair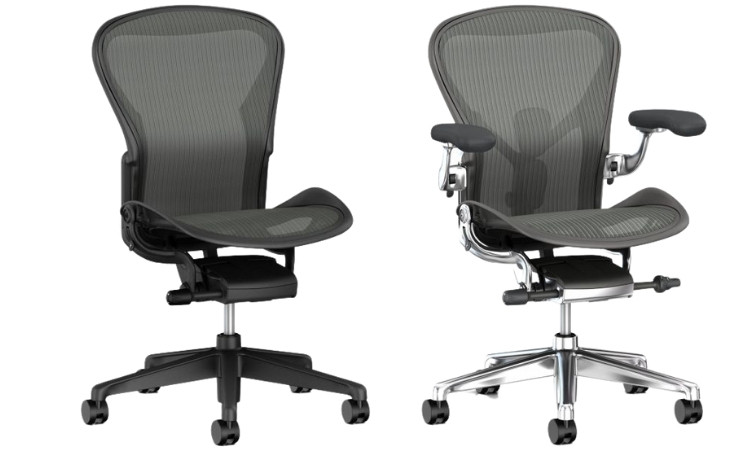 Herman Miller is a USA-based company, known to produce equipment and all kinds of furniture including office furniture. The brand is dedicated and enjoyed an immense reputation to take comfort to whole new levels. Although the brand status is a positive point for Aeron the chair is popular for some foreseeable reasons.
To be exact the Herman Miller Aeron now has the office chair upgrade, earlier, the ergonomic design of the chair is a great contribution to the health of the sitter.
From 1994 to 2016, the technologies and industrial design faculty have drastically evolved so they thought of upgrading this master model and turning it into an icon. Then they make it more Aeron-like, which means extra configurable, stronger, more comfortable, and makes it way healthier than ever.
New technologies and materials combined very well with the innovative, outstanding look while the ergonomic comfort in Aeron illustrates quality comfort for various user types involved in different sorts of desk work possible.
The addition of premium-grade pellicle mesh material was a brave attempt in the seat and back which, however, turned out to be a breakthrough in the whole industrial design. Aside from permitting fresh air ventilation it also provides 8 different parallel areas of tension.
The solid build chair is backed by 12 years of warranty. Herman Miller made it available in different shades to the customer such as carbon (grey), mineral (light grey) & graphite (darker grey).
Secretlab Titan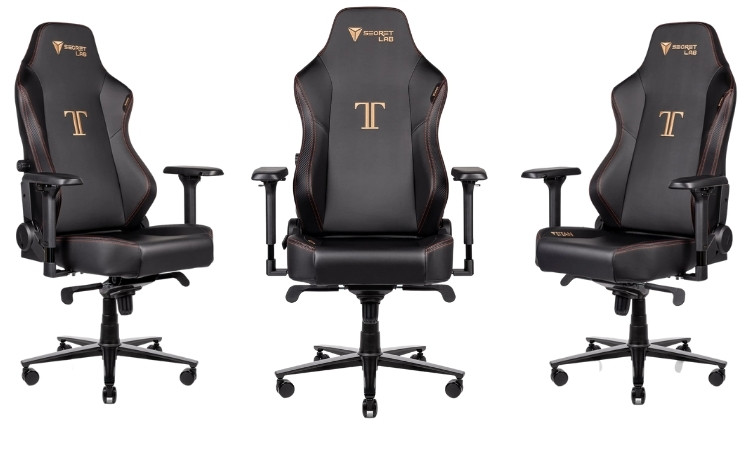 The brand should be one of the fastest-growing companies in the industry as it gained popularity in leaps and bounds and dominated the big gamers of the international marketplace. Besides, the company has successfully earned multiple excellence awards as many of their top-line gaming chairs are listed among the top best gaming chairs in their respective categories.
Secretlab Titan is certainly an impressive production, already won several hearts, and claimed the place in highly ranked gaming chairs. Titan is a chair made out of durable materials & breathable fabric as well as it gives great back support along with ergonomic adjustability features.
The manufacturer does offer you an upgrade option in terms of upholstery, plenty of color options & a special esports edition at quite a reasonable cost. Titan is one of the best gaming chairs you can get, and offer you easy customization, so if you are considering restyling your chair on your own it seems a pretty good chance.
Even though Secretlab has given a slight update to the chair in 2020, which does not show any significant changes but feels in better material and improved arm mechanism, also offers a longer warranty time of around 5 years.
Comparison Chart – Herman Miller Aeron vs Secretlab Titan
| | | |
| --- | --- | --- |
| | Secretlab Titan | Herman Miller Aeron |
| Model | Titan 2022 series | Aeron |
| Dimension | 51.7 to 55.4 H 27.5 D 26 to 29.1 W | 27"D x 27"W x 36.5-41"H |
| Seat Height | 18.7 to 22.4 inches | 16 to 20.5 inches |
| Seat Dimension | 19.7 inches D 20.5 inches W | 20" W x 17.5"-19.5" D |
| Armrests | 4D adjustable | 3D adjustable |
| Seat Tilt forward angle | 16 degrees | 17.5 degrees |
| Lumbar adjustment | Yes | Yes |
| Recline angle (Max) | 85 to 165 degrees | 110 degrees |
| Weight | 77 pounds | 41 – 43 lbs (A,B & C) |
| Weight Capacity | 290 lbs | 350 lbs |
Herman Miller Aeron vs. Secretlab Titan
These two different chairs are among the best furniture we know offering three various sizes to accommodate customers of almost all sizes.
Herman Miller developed Aeron in three different sizes to accommodate as many people as possible with varied sizes e.g. size A, size B & size C. These three varied sizes offer different weight limits, where size A chair can stand up to a load of 300 pounds whereas rest two (size B & size C) are the ones that can easily bear the weight of around 350 lbs.
Secretlab Titan, on the other way, takes a step forward and propose small, regular, and extra-large sizes for customers with different shapes, sizes, and weight. Similarly, the small chair is recommended for 240 pounds weight, the regular chair goes a little up with 290s lbs while the XL offers the most weight limit of around 390 lbs.
Titan is known as an optimal-grade, high-back gaming chair suitable for tall and big people whereas the Aeron is basically the mid-back chair absolutely not suitable for taller customers. One thing that is common in both the chairs is a sturdy material, well-made frame, and solid & big casters, although there is a huge difference in warranty same like price range both certainly worth the price, I think.
Keeping the fact in mind that both are designed and engineered according to the different applications so with Aeron mainly focused on innovative ergonomic technologies, however, Titan seems to have more fancy features of customization to live up to gamer's requirements.
The level of comfort you get with Aeron is matchless, the unique lumbar support design is extremely supportive for the lower back while the tilt forward option keeps your spine aligned and makes you much more active towards work.
Titan, however, offers a fine ergonomic design with a high back but the lack of lumbar support makes sitting a bit uneasy although the feature of lumbar adjustment is there but does not work well.
Pricing
Speaking of the price range, the starting price for the Titan 2022 series goes like $449, although its update cost includes individually.
Aeron task chair is known as the gold standard for years because of the comfort level it offers and secondly due to the extortionate cost of $1395.
Warranty & Return Policy
As we know that Herman Miller Aeron is backed by solid 12 years warranty while the Secretlab Titan comes with 5 years extended warranty. Also, Herman Miller offers an impressive refund and return policy, 30 days return policy goes with Aeron whereas they charge a return shipping cost that is completely understandable thus providing a full refund.
Additionally, the return and refund policy on Secretlab Titan is way beyond expectations, 49 days refund & return policy increases the reputation of the brand in the market.
Seat Comfort & Back Support
The highest quality pellicle mesh is made out of unique elastomeric material 8Z pellicle that makes it more soft & flexible. With the Aeron task chair, you will feel a floating experience sitting on the mesh which makes sitting fatigue-free and firm.
However, the frame designed and made of hard plastic is fine overall but with the seat pan's front edge it may be a bit uneasy, thanks to the waterfall seat edge design you will not be uncomfortable. Aeron is comprised of a unique PostureFit SL lumbar support mechanism even though Aeron without this lumbar mechanism keeps the natural curve of the spine aligned and also offers great support.
Titan comes with a flat seat pan with memory thick foam cushioning to offer as much comfort as possible. The firm seat can help you with easy movement and ergonomic posture.
Titan offers adjustable lumbar support in terms of depth and height but it cannot be compared with the level of backrest support offered by Aeron.
Upholstery & Other Options
If you are looking for the best customizable chair Aeron is not a player, for the highest quality mesh chair to date in the market Aeron is the one with all mesh fabric.
Titan can be your right choice for a highly customizable gaming chair as the Secretlab offers 2.0 PU leather, premium Napa leather, and soft weave fabric for upholstery (extra charges required for the update). Not only this but there are varieties of color combinations available to opt from.
You can even go with licensed editions of special themes such as Cyberpunk 2077, League of legends: Akali, Overwatch, and much more, also esports editions: Team Secret chairs, worlds 2020, Evil Geniuses, etc.
Build Quality
The build quality rank of Aeron is surprisingly highest as compared to Secretlab Titan. This USA-made chair has noticeable quality components although some criticize Aeron for its hard plastic structure they logically use the best quality material to extend the life of the chair and keep it lightweight.
Despite the less score in build quality, Titan is not an ordinary gaming chair, due to quality components and materials the chair is known among the best gaming chairs in the marketplace. The heavy-duty aluminum base feels stable and sturdy while the premium quality PU leather upholstery is 4 times better than regular faux leather.
The solid build gaming chair can easily last 5 to 10 years approx.
Ergonomic Adjustment
Unlike Aeron, Secretlab Titan is operational through various ergonomic adjustment features for optimal comfort. The smart gaming chair comes with lumbar adjustment in which depth and height can be adjusted using a knob, fixed at the side of the backrest. The arms are 4D adjustable while the multiple tilt mechanism is the highlight feature in which you can recline the backrest to 165 degrees. It also supports a tilt lock feature.
Aeron, at the same time, supports adjustable lumbar and 3D armrest adjustments in which arm depth, height, and pivot are included. The mesh chair is dedicated to offering seat tilt forwards, multiple tilt-lock positions, and seat height adjustment as well.
Final Words
At last, it is crystal clear that both chairs are the real gems of the industry and it would be an injustice to pick one as both belong to different fields of furniture.
Still, if I am asked to choose one, I will rather go with Secretlab Titan for optimal and lasting comfort while gaming & working.
If back pain is the problem that troubled you much so then you should go for Herman Miller Aeron for top-notch lumbar support and prime comfortable seating all through the day.
Related Links: