Have you already marked the two best chairs and want to choose one from them? We're going to do a details comparison of Steelcase gesture vs Steelcase Leap V2.
Out of these two chairs which is the best suitable for office seating requirements? How to pick one when both chairs are from the most recognized brand in the market?
Questions like these can be a big hassle when you are all set to buy an office chair therefore, we moot this comparison post to give you an unbiased and explicit idea about the Steelcase Gesture & Steelcase Leap V2. In this context, we will draw a clear picture of the top-level chairs in terms of ergonomics, designs, aesthetics, performance, quality, and much more.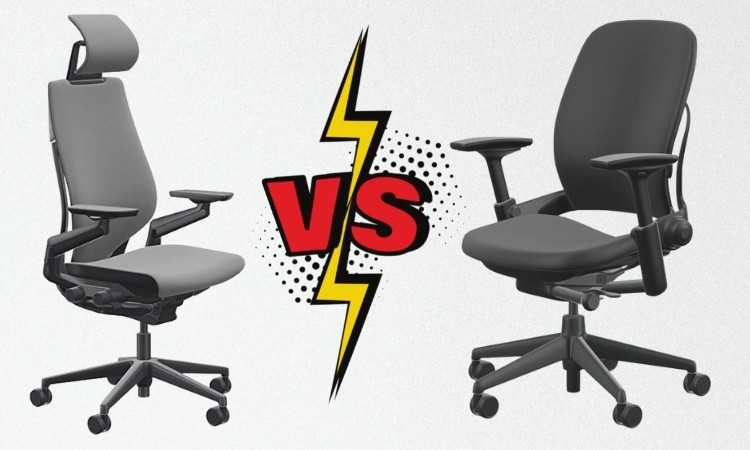 This content is about comparing the two top-ranked office chairs from a very reputed company in the whole faculty of office furniture. Steelcase is one of the most renowned brands in the market due to its attention to product detailing. They produce chairs with some unique state-of-the-art evolutions in technologies and ergonomics.
Although Steelcase is supposed to be a luxury brand, in context to Steelcase Leap V2 and Steelcase Gesture comparison you can save some money with Leap V2 also it outperforms in some areas than Gesture.
Overall, the chairs are intended for ergonomic comfort all through the day similarly these are very well-crafted in different ways. Both chairs are engineered with top-of-the-line, modern technology mechanisms to offer optimal comfort together with adjustability.
So, let's check out all the key elements of both chairs which include price, ergonomics, design, dimensions, features, and ergonomic adjustments to propose you a clear idea of which one is best suitable for the office or home office.
Steelcase Gesture vs. Steelcase Leap V2 – Quick Comparison
Even though both office chairs are incredibly well-crafted with some absolutely innovative and advanced technology and mechanism in many ways. The super-stylish Steelcase Gesture is designed with a new pioneering design to match well with its premium aesthetics, making it best suitable for deluxe corporate offices.
On the other hand, the cause of Steelcase Leap's popularity is not its design to be obvious but the model holds progressive features and high-tier adjustments to serve people of different heights, sizes, and weights. The significance of cutting-edge adjustable backrest and armrest mechanisms is worth mentioning when it comes to an improved and new design of Steelcase Gesture. Also, the attractive look of the Steelcase Gesture makes it a whole new style statement of a perfect ergonomic chair.
Whilst the Steelcase Leap is one of the office chairs in such a price range that proposes maximum adjustable ergonomic features with depth and variety of customization for components.
Although both office chairs are different in design, style, and mechanism they do share some similarities – Steelcase offers a variety of color options for both chairs, chairs offer add-ons headrests, as well as the great build quality of chairs, makes them able to support 400 lbs of load capacity.
Luckily, both the chairs come fully assembled as the high price can give this much leniency.
In terms of weight, Steelcase Gesture is a bit on the heavier side with 72.8 pounds of weight, however, Steelcase Leap is indeed a light chair measured at 45.8 lbs of weight. Steelcase is a company that manages its reputation by offering support and comfort as top priority similarly they are known for their well-thought engineering both the chairs are equipped with carpet casters and available with an optional upgrade of hard floor casters.
By comparing both the chairs on different aspects and aesthetics, let's dig out which office chair is fitter to use in the offices, let's go through the comparison chart first:
Comparison Chart
| | Steelcase Gesture | Steelcase Leap |
| --- | --- | --- |
| Dimensions | 24.75" D x 27" W x 38.5" – 43.5" H | 24.75" D x 27" W x 38.5" – 43.5" H |
| Seat height | 16″ – 21″ | 15.5″ – 20.5″ |
| Seat width | 20" | 19.25″ |
| Seat depth | 15.75″ – 18.5″ | 15.75″ – 18.75″ |
| Back dimension | 16.25" W x 24.0625" H | 18" W x 23.5" H |
| Seat dimension | 19.25" W x 15.75"-18.5" D | 19.25" W x 15.75"-18.75" D |
| Base Dimension | 26.5" Diameter | 26.5" Diameter |
| Chair Weight | 73 pounds | 45.8 pounds |
| Frame Material | Aluminum | Aluminum |
| Seat Fabric/Material | 3D knit fabric | 3D knit fabric |
| Weight Capacity | 400 lbs | 400 lbs |
| Lumbar support | Add on | Yes |
| Adjustable Seat Depth | Yes | Yes |
| Recline | Yes | Yes |
| Recline tension adjustment | Yes | Yes |
| Recline backstop | Yes | Yes |
| Adjustable 4-way Arms | Yes | Add-on |
| Armrest height adjustment | Yes | Add-on |
| Assembly Needed | No | No |
| Forward Seat Tilt | No | No |
| Warranty | 12 Years | 12 Years |
Steelcase Gesture vs. Steelcase Leap
In terms of warranty, Steelcase Gesture and Leap V2 are nowhere close to any other office chairs on market. With these two, Steelcase provides the best warranties possible for instance the frame of chairs is supported with the owner's lifetime warranty. Whereas, gas cylinders, mechanisms, foam padding, casters, and arms are backed by 12 years warranty.
Also, they offer an easy repair or replace policy on parts or products or components that are affected during normal use, in case the replacement or repairing is not possible due to some reasons Steelcase would give you a refund.
Steelcase offers a money-back guarantee of 14 days with both Gesture and Leap V2. Also, you do not need to pay for restocking and return shipping charges, it's completely free.
However, both the Steelcase chairs come in an only standard size, as Leap V2 and Gesture are all packed with every facet of the ergonomic seat and lumbar adjustment you could have ever imagined. By all means, these office chairs are aimed to put up 90% of users.
Since the Gesture shares a longer back so those who prefer a high back feel extra comfortable with it. As well the Steelcase Gesture dominates with a bit extra adjustment option whereas the chair is rather the best option for individuals who need much flexibility in the seating adjustments.
Steelcase Leap and Gesture are both the top-rated chairs in the matter of build quality. Also, both chairs are very well crafted to make them usable 24/7. These office chairs are manufactured in Mexico to be the perfect durability and finishing of overall chairs.
Though lots of plastic are used in both Gesture and Leap V2 by design they used some premium quality plastic enabling backrests and seats to flex and assist in easy movement all through the day.
Leap and Gesture share another similarity which is an aluminum-made base, however, for the chair's back highest-grade plastic is used for some right reasons. The manufacturer opts for materials that offer flexible support therefore both the seats bend naturally by the user's pressure.
Similarly, Steelcase picked high-end 3D knit fabric for Gesture and Leap office chairs. Whereas both the chairs are available with the option of leather for extra charges. In regards to upholsteries both the chairs put forward a wide range of standard upholsteries options. Both the chairs offer 6 leather upgrades and 80 fabric upholstery for an additional cost.
With Gesture, you have around 10 options of upholstery color available while Leap V2 offers three choices which include Leap WorkLounge, Leap 3D Knit, and Leap Plus.
Supportive Backrest
Even though backrest support preference can vary from person to person, lumbar support in the chair is indeed a category of concern. In terms of overall backrest support, Steelcase Leap is undoubtedly high-ranked as the LiveBack technology provides great flexibility to move easily on the chair. Although the upper portion of the backrest is flexible enough to adjust to different sitting positions the lower portion is kept stationary to offer optimal lumbar support.
Besides, with the lower backrest portion users can adjust the tension and lumbar bar height for better or lower lumbar support respectively.
Gesture, on the other side, lacks adjustable lumbar support and tension still the chair offers you a comfortable backrest as the backrest is as flexible as Leap.
Seat Comfort
In this category, both Steelcase Leap V2 and Gesture are equally amazing and offer a premium level of seat comfort. Although both chairs are fitted with 2 inches-thick seat pads the comfort these seat pads provide is peerless. In addition to this, chairs are incorporated with a flexible seat pan that enables easy posture change all day.
Steelcase Gesture and Steelcase Leap are office chairs packed with almost all ergonomic adjustments while the backrest height adjustment is the only missing ergonomic feature.
However, both chairs feature seat depth adjustability but Gesture holds the most advanced mechanism for this ergonomic adjustment than Leap.
Steelcase Leap comes with ergonomic adjustments including seat height, seat depth, arms (depth, width, height & pivot), 5 tilting positions, and adjustable lumbar.
With Steelcase Gesture you can adjust seat height & depth, 360-degree armrest, 3 reclining positions as well as lumbar support.
Bottom Line
In the long run, whether it is Steelcase Gesture or Steelcase Leap V2 majorly depends on personal choice and varied from person to person. But considering all the factors, I would rather pick Steelcase Leap as the best choice of office chair for the price.
As both chairs are highly customizable, comfortable, and great quality chairs, indeed you will not regret any of the chairs at your disposal. Notably, the fully upgraded Leap V2 model comes clearly without any major drawback and will be even less costly than Steelcase Gesture. The potential points of Leap include a great comfortable seat pan, upgraded lumbar support, amazing ergonomic adjustments, and an unbelievably wide range of upholstery options that make this chair worth the price and top spot.
Related Links: