The gaming chair's demand is on the rise. Physical attractiveness is not the only cause since these are made with some fundamental objectives. If you have to sit in front of your computer for a long, the gaming chair can help avoid various health issues.
It fits with your body and gives you comfortable sitting. That is why I would recommend it to game lovers. Now, which gaming chair can suit your gaming or other needs? Von Racer Gaming Chair is the best. Why?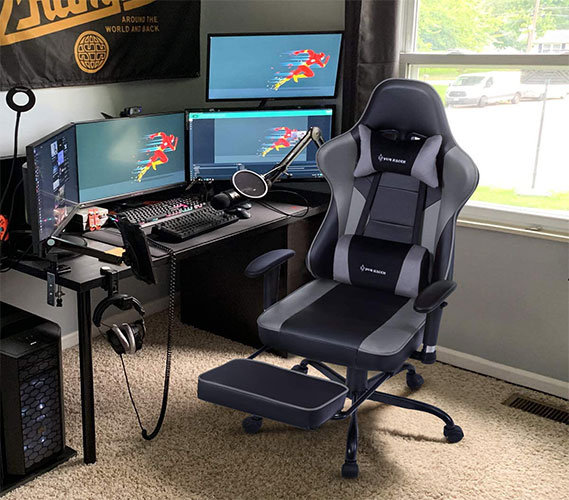 Von Racer Chairs are comfortable to your back with various features like integrated control panels, input/output jacks, more sitting space, and more. For more information about this chair, proceed to read this article.
Quick Overview of Von Racer Gaming Chair Review
As discussed earlier, gaming chairs are made for multiple purposes. Therefore, comfort and an attractive physical look are equally important. It must also add to your room's beauty. Hence, the Von Racer Gamer Chair incorporates various materials that fulfill these objectives.
Von Racer Gaming Chair contains PU leather. However, in a few places, PVC leather is also used where PVC leather can give you optimized benefits. Regarding colors, currently, you can find this chair in a grey color.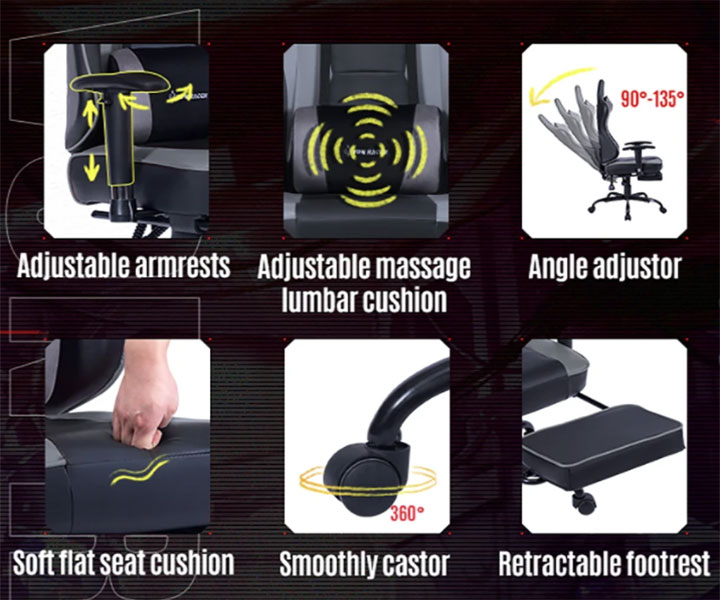 When it comes to style, the chair disseminates the latest style of sitting. Von Racer Gaming chair incorporates almost everything adjustable. You can adjust the footrest as per your need. And all these come with a dimension of 26.77 lengths, 26.77 width x 51.97 height in inches.
This is not the end. Von Racer Gaming Chairs come with excellent after-sale services. You can get one year warranty on parts. Hence, you also get peace of mind this way.
Amazing Features
To this, you will definitely be impatient to know about the various features you can find in Von Racer Gaming Chair. We also know it is an essential part of your product selection. So, below are the various features discussed in this perspective.
The Von Racer Gaming Chair comes with the latest design. Its revolving and swivel parts with various built-in adjustable features give it the look of a racing car. Hence, you can enjoy various health protection features in a stylish look.
In my opinion, the durability of the gaming chair must be at the core of its manufacturing. The reason it is not less than a nightmare for a gamer to replace or change the seats. Von Racer Gaming Chair is durable.
The frame of Von Racer Gaming Chairs is made of steel which makes this chair strong and sturdy. Hence, these can support gamers for even rough and tough use. Additionally, these chairs are padded well to help these chairs maintain their shape for a longer time.
Compatibility With Various Devices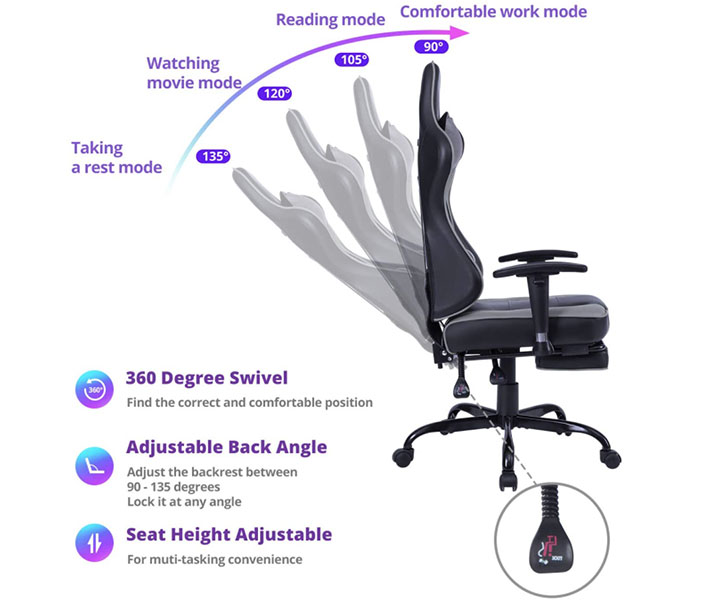 You cannot bear to discover that your chair is not compatible with your console or monitor after buying it. To get an innovative gaming experience, the Von Racer Gaming Chair can connect to different gaming devices. It gives you easy interaction with gaming.
Von Racer Gaming Chair comes with innovative adjustable settings. Implanted USB electric massager in the chair enables the lumbar cushion to relieve your fatigue effectively. You can adjust the chair's back, height, and recline locking system at any angle up to 135°.
Moreover, these chairs come with a retractable padded footrest with a 360-degree swivel. These specifications meet the various preferences of gamers. Gamers can switch their positions and meet various gaming demands innovatively.
The best gaming chairs must support varying weighing capacities. Von Racer Gaming Chair has a weighing capacity of 250lbs. Thus, the chair blends the adjustable features and weighing features and outcomes as the most suitable gaming chairs for even heavy-weight gamers.
This chair offers a wide flat seat. So, you can get additional space for a relaxed sitting. Premium PU leather and soft padding provide you comfortable with superb stability. PU leather is fade resistant and can also be cleaned easily.
Von Racer Gaming Chair rotates quickly and smoothly, even while containing maximum weight capacity. Hence, you can approach the mouse and keyboard without straining. The wheels are perfected to deliver the ultimate stability of the gaming chair experience.
Von Racer Gaming Chair offers you a backrest dimension of 20.9'' x 32.2'' (W x H). These dimensions are almost 8 inches wider than the standard gaming seats on average. Hence, you can adjust your back according to your situational settings as per your need.
Pros
Its revolving and swivel chair gives a racing car seat experience, i.e., comfort in a stylish look.
These are ergonomic gaming chair with wider backrest and other adjustable settings. Thus, it becomes a favorite piece of furniture at your home.
Durable material with a year warranty makes this chair a premium choice, among others.
The Integrated frame of the chair incorporates an explosion-proof gas spring, metal base, and smooth-rolling casters.
It offers a tilt locking mechanism that enables you a 90-135 degree adjustment.
Cons
The armrest of the chair could offer a little more movement freedom.
It comes without roller locks on wheels.
Final Words
A best racer gaming chair must be able to transform a gamer's experience. Conversely, a lower-quality gaming chair can affect your back and give birth to other health issues. To get an efficient gaming experience from a chair, the features mentioned above are essential.
There are various good options in the market when it comes to a racer gaming chair. Von Racer Gaming Chair is one of the best among these options. It comes with innovative and exciting features that can transform your experience of long-sitting.
Related reviews: