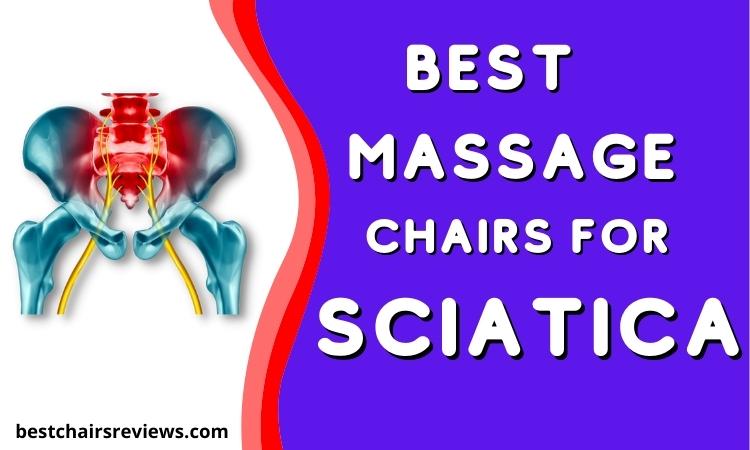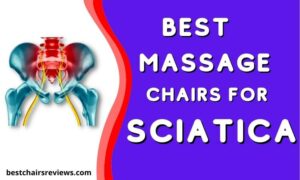 If you're one of the millions of people suffering from sciatica pain, you know how debilitating it can be. Fortunately, there are various treatment options available, including massage therapy. And the good news is that you don't need to book regular appointments with a massage therapist to get relief. Instead, you can invest in one of the best massage chairs for sciatica, which can provide regular massage therapy at home.
In this article, we'll review some of the best massage chairs for sciatica, so you can make an informed decision and find relief from your sciatica pain.
Best Massage Chairs for Sciatica At a Glance
Luraco i7 PLUS Massage Chair

Item Weight:

265lb

Track type:

S-track

Weight Limit:

280lb

Voice Control:

Yes

Warranty:

Yes




Check Price

Kahuna Massage Chair LM-6800

Item Weight:

200lb

Track type:

SL-track

Weight Limit:

280lb

Voice Control:

No

Warranty:

Yes




Check Price

iRest SL Track Massage Chair Recliner




Item Weight:

134lb

Track type:

SL-track

Weight Limit:

260lb

Voice Control:

No

Warranty:

Yes




Check Price

BOSSCARE Massage Chair




Item Weight:

225lb

Track type:

SL-track

Weight Limit:

260lb

Voice Control:

No

Warranty:

Yes




Check Price

Mynta 3D Massage Chair




Item Weight:

199lb

Track type:

SL-track

Weight Limit:

260lb

Voice Control:

No

Warranty:

Yes




Check Price

Osaki 3D Massage Chair

Item Weight:

200lb

Track type:

L-track

Weight Limit:

260lb

Voice Control:

No

Warranty:

No




Check Price

YITAHOME Zero Gravity Massage Chair




Item Weight:

286lb

Track type:

SL-track

Weight Limit:

260lb

Voice Control:

No

Warranty:

No




Check Price

Osaki OS-4000T Massage Chair




Item Weight:

213lb

Track type:

S-track

Weight Limit:

260lb

Voice Control:

No

Warranty:

No




Check Price
Top 8 Best massage chairs for sciatica
1. The Luraco i7 PLUS Medical Massage Chair – Best Chair for Sciatica Pain
The Luraco i7 plus is the first US-certified medical massage chair designed with user comfort and health in check. With its ergonomic and customizable user experience features, this unit is rated one of the best massage recliners that offer an overall technically up-to-date, responsive, heavy-duty, and smart handheld touchscreen control, giving you full control of your massaging experience.
The 3D high-end quality designed massage chair allows up to 5 personal user memory settings, thus allowing different personal use. This product also supports a customizable intensity level and an in-use pause and resume button that allows you to put your message session on hold at any chosen time.
Features
Ergonomic and zero gravity reclining design.
Fully customizable user experience.
Integrated human voice system that supports up to seven different languages
Manual setting for speed control,
Full-body heat option
Massage pinpointing option for a specific body part.
Bluetooth speaker.
Pros
Noise reduction technology that allows you to enjoy a quiet massage experience.
Customizable massaging and heating function
Voice command compatible
Easy to use
Cons
Not pocket friendly
Space consuming
2. Kahuna Massage Chair LM-6800 – Budget Friendly
The Kahuna LM6800 is an aesthetically pleasing, budget-friendly, and well-constructed massage chair model with a great remarkable feature. This item gives an overall enhanced massage experience with an extended natural curve of the spine reaching down from the neck section down to the thigh and glute.
With the added quad roller, simulating massage hands which work on either side of the spine. Compared to other massage chairs of the same budget, the item comes with an incredible 3 Zero-G gravity position, elevating your knees, improving your massaging experience, and allowing you to experience a deep tissue massage which helps boost your quality of sleep and reduce your stress level.
Features:
Space-saving.
3D body scan.
Support computer scan technology.
Zero gravity position.
Air massage.
Vast massage option.
Extendable ottoman heat therapy
Remote control.
Pros
Affordable
Sturdy and durable
Body stretch feature provides instant relief, calf, and foot massage,
Cons
Does not support massage intensity adjuster
Massage time can not be adjusted
3. iRest SL Track Massage Chair Recliner – Best for Blood Circulation
The iRest SL Track massage chair is designed in such a way it envelopes the user's body in a pillow-like, leather padding helping you suit yourself in the utmost comfort of use. It comes with the SL track engineered with a shape space curved rail technology serving a massage distance of 135cm, offering the user the pleasure of a balanced massage experience.
This unit supports five simulation massaging techniques, serving also a comfortable upper body manual massage function. An extra added advantage includes a 3-level adjustable zero gravity angle which helps improve blood circulation and reduce heart pressure. The AI voice control features also allow you to enjoy your massage without moving a finger to control your message option.
Features:
Adjustable massage width
Extendable footrest
Full body airbag massage
Voice control
Thai stretching function
Wireless Bluetooth speaker
Automatic body scan
8 auto massage mode.
Pros
Space-saving
High-quality build material
Offers lower back heating
Comes with an extendable calf rest.
Multiple leg massage experience
Cons
The Head section is small in size
4. BOSSCARE Massage Chair – Most User-Friendly
If you are thinking of an easy-to-install, affordable yet quality massaging chair, then the Bosscare massage chair might be your best shot. This zero-gravity, functional, aesthetically pleasing, and easy-to-assemble massage chair comes with a full body massage option that gives you a quick, personalized, and different level of massage strength, providing you the best massage solution you deserve.
With its faux leather design, the massage chair gives a pleasant, round, comfortable, and reliable sitting experience aided with lower back heat therapy and full body massage. With its height-adjustable feature, you can tend to worry less about it being just a proper gift for a taller person.
The manufacturer recommends a user weight capacity of 260lbs, which we think is average and should do for a massage chair of its price range. The foot roller comes with an extendable option, helping to relieve fatigue after the day's work. It also has a back heat therapy that functions well in enhancing the massage experience during winter.
Features:
Easy installation
Full body airbag coverage
Zero gravity technique
Back heating
Foot rollers
Built-in remote
Personalized massage setting
Bluetooth speaker,
Pros
Easy to assemble
Convenient to use
Supports Zero gravity
Support multiple users of different heights.
Cons
Not ideal for children under 3 years old
5. Mynta Massage Chair 3D SL-Track – Best for Intense Massage Experience
With an already established brand name, Mynta focuses on designing affordable and portable massage products aimed at satisfying their customer wants and needs, thus, the Mynta massage chair 3D SL-track is also known for the quality comfort it provides.
With its featured Extended SL track and 3D massage roller, the chair is designed to provide you an assured deeper intense massage experience, a 7-automatic massage program that aims basically at helping increase physical vigor and stretching both waist and leg.
The user-comfort-designed ergonomic massage chair also comes with an adjustable roller width, aiding the massage chair performance and supplying a precise and unique massage experience. The sleep mode also helps soothe the ideally tired body, supplying quality and thorough relaxation.
The zero gravity recliner supports up to 3 gravity angles that function with just a button push. It helps improve massage efficiency, reducing heart pressure and stimulating blood circulation in the body.
Features:
Customizable body and foot massage experience
3D massage roller
Extended SL track
Deep zero gravity
Thai stretch option
Senior mode option
Front and rear swing function.
Pros
Customizable body massager and foot rollers
Space-saving
Easy to move
Fast heating
Good customer service
Comes with a 1-year warranty
Cons
The foot massage is stationary
6. Osaki Zero Gravity 3D L-Track Chair – Best for Users of all Size
Equipped with a next-generation 3D massage roller, the Osaki zero 3D L-track chair performs outstandingly, giving a flexible and exceptional user experience. This chair allows an adjustment to the roller length, thereby adjusting the backrest in the case of multiple users of different heights.
The roller massage functions from the neck section, down to the lower back through the L track, thereby massaging the glutes and spine. With an awesome zero gravity positioning, the Osaki 3D allows users to enjoy a whole new relative massaging position. This helps virtually push the entire body weight back and maximize the massage intensity.
The in-built powerful speaker also allows you to tune in and listen to different music of choice while massaging.
Features:
Multi-language support
Unique foot roller
Comes with a 3D massage roller
USB connector
Extendable footrest
Built-in Bluetooth speaker
Pros
Support multiple users of different heights
Excellent quality
Cons
Assembling can be stressful
7. YITAHOME Zero Gravity Massage Chair – Best for Family
The ergonomic designed massaging chair comes with 6 different auto massaging modes and auto-stretch leg rest that extend way down 5.9 inches long, suiting and accommodating varying leg length.
This means the chair is purposely designed to serve family needs. Just a perfect fit for your aesthetic and comfort use, the chair comes uniquely designed with a wear-resistant crocodile pattern material, giving it a stylish and luxurious feel and look.
It features an SL track system that provides an all-back to upper thigh massage. Massaging tired muscles with the help of the dual linear electric actuators which help adjust leg and back separately, providing you a luxury-like massaging experience. The air massage bag of the YITAHOME Zero varies in strength at the different massage contact points, since they are specifically designed for various body parts.
The chair also comes with a 3-level zero gravity angle, allowing the user to choose which suits his/her massaging needs keeping the heart pressure reduced and steady blood circulation in check, a 12 massage selection mode, and a Bluetooth speaker that allows you to listen to music while relaxing and enjoying the comfort at its peak.
Features:
Automatic body scan option
Double electric Linear actuator
Wireless Bluetooth speaker
Different massage mode
Pros
Space-saving design
Comes with a 2-year warranty
Delivered in pre-assembled condition
Cons
Does not include a vibration system
8. Osaki OS-4000T Zero Gravity Massage Chair – Best for Reducing Spine Pressure
The Osaki OS4000TA features an automatic body scan system and an auto height body adjustment system that improves the relaxation and massage experience.
This unit also comes with an adjustable roller that aids muscle massaging, helping to soothe and relieve tissue and muscle pain, giving you a more relaxed massage experience targeting all the pressure points around your back.
The zero gravity option features two different gravity positions which will help reduce spine pressure, and muscle tension and help improve blood circulation.
Features:
Automatic body scan system
6 different massage types
38 airbags
Heat therapy
Air compression
Zero gravity
Pros
Wireless control
The personalized body massage experience
Comes with 6 preset auto programs
Cons
Not suitable for large bodyweight
Buying Guide
Sciatica has been referred to as any pain affecting the lower part of the body, basically the hip section of the body and the leg. Although there are different causes of sciatica, most cases of Sciatica have been traced to be Influenced by different factors contributing to the development of either injury or damage to the sciatic nerves. Some of these factors might include; Old age, inflammation in the sciatic nerve, diabetes, obesity, and likes.
Sciatica can cause pain, making it difficult to walk, stand, or sit. Traditional painkillers and self-care have been suggested for managing and treating Sciatica, but one effective way of treating and relieving oneself of Sciatica pain is the use of massage therapy.
Massage therapy is best applied using a massage chair. With users' experience and comfortability in mind, massage chairs are constructed to provide users with massage-like effects for relaxation and relief.
In this guide, we have highlighted factors and things to consider before selecting a massage chair, with a review of the top 8 massage chairs for Sciatica.
Ready to learn more? Let's dive right in.
Factors to consider before choosing a massage chair.
Massage therapy is an effective way of relieving sciatica pain as it helps alleviate pains associated with the lower back. The use of a massage chair helps trigger and apply pressure around the nerves, helping to soothe tense muscles and relieving contracting pressure.
Picking a massage chair of choice can be complicated and stressful. Since the market is filled with thousands, if not even hundreds of thousands of massage chairs from different brands, selecting a massage chair that suits your needs can be challenging.
Worry less, here are a few pointers on things to do and consider when choosing the best massage chair for sciatica.
Consult a doctor: Consulting a doctor allows you to know if it is your best option to get a massage chair. Doing this allows you to ascertain if getting a massage chair is the best option for you or otherwise. Your doctor can also help suggest what type of massage chair will fit your need, your use rate, and the best time to start avoiding using the massage chair.
Craft out your budget: Massage chairs can be expensive, and understanding your budget is one thing to also keep in check, this will help aid your quick selection of what type of massage chair to settle for.
Massage chair design: Since there are tons of brands out there offering different aesthetic pleasing and high-quality design massage chairs, understanding which design to settle for is crucial. You might want to settle for a high-quality zero gravity massaging chair, or a 3D top tier model designed.
Arrive at a decision for which you'd be settling before trying to get one.
Massage chair user flexibility: Checking for user flexibility of a massage chair deals with how accommodating a massage chair can be for people of varying weights and heights. Some massage chair user flexibility varies due to their design and practical use, check out for highlighted height and weight manufacturer suggestions for your desired chair before buying.
Check for the massage option of the massaging chair: Massaging chairs offer either roller or airbag or in some cases both options. Although both offer good therapeutic effects, there are some factors associated with both. Some of which include; cost differences and variations in massage intensity. Zero gravity massage chairs are also good buys, you can consider buying one if it meets your buying option.
Check for the shape or track system of the massage chair: This is also an important factor to consider when selecting a massage chair. The track system of a massaging chair helps determine how effectively the massage rollers or nodes will work on your back.
There are basically three options to consider: The S-Track, the L-Track, and the SL-track.
You are just as good as ready to get your first massage chair. Well, to help narrow your search, we have helped comb the internet for a list of the best massage chairs with good ratings you can get.
FAQs
Is a massage chair good for sciatica?
Deep tissue massage has been identified to help reduce lower back pain and also relax stiffness and tight back muscles, thus, can help reduce sciatica. Massage chairs are known to supply high-intensity massage sessions, thus they are considered one of the effective means of managing and reducing sciatica pain.
How should I sit to relieve sciatica?
Here are a couple of ways to sit when trying to relieve sciatica. When trying to relieve oneself of sciatica, sitting up straight with your back and buttock supported, rather than leaning upfront is recommended.

Also, sit with the two feet settling flat on the floor and not on the toes, or sitting straight with the shoulder rolled back while the shoulder blades are down.
How often should you use a massage chair with sciatica?
According to a 2014 clinical study, it has been discovered that a maximum of 15-30-minute sessions of deep tissue massage daily, five days a week over a period of two weeks is effective for the treatment of sciatica. The suggested effective time for massage therapy is proposed to be in the evening after work or before sleeping at night.
Conclusion
Sciatica has been known to affect 10% to 40% of the world's population, thus the need for treating it has arisen. With common cases of sciatica recorded among adults between the age of 40-50, young people in their 20s can also suffer from sciatic nerve pains.
When it comes to treating sciatica, massage therapy has been figured out to be one of the effective ways of alleviating and reducing sciatica pain. Thus, most medical practitioners also advise the use of one. Massage chairs provide soothing relief to tensed muscles. thus relieving the pressure focused around the particular nerves, helping to alleviate the pain centered around there.
Massage therapies offer a more promising way of reducing pains caused by sciatica by relaxing tight muscles, reducing stress, stimulating and creating a better environment for healing up, and also improving and boosting blood circulation. The massage type in most massage chairs varies and depending on personal preferences, most massage chairs come with customizable massage options.
Related Links: