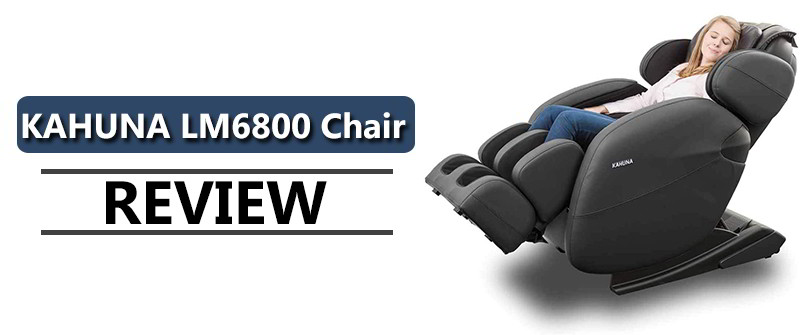 You might think a massage chair is a luxury that costs heavy bucks though you are not wrong completely. Still, there are a few massage chairs highly ranked and super popular due to their affordable rates and top-of-the-line features, one of the most famous chairs is Kahuna LM6800.
If you are in search of an affordable, high-quality massage chair, in this context Kahuna LM-6800 is a quite decent option available in the market with some extraordinary features and aesthetics. According to many customers, the massage chair does provide relief and comfort from lower back pain or sciatica.
Glaring at the Key Features of Kahuna LM6800
L-Track full-body massage technique
3 zero gravity positions
Space-saving mechanism
Built-in heating technique
Computerized body scan technology
Numerous auto massage programs
Multiple manual massage programs
Air cell massage and roller massage
Yoga stretching
Let's unfold the features and factors comprehensively that make Kahuna LM6800 one of the top seller massager chairs on Amazon. Hopefully, this in-depth Kahuna LM6800 massage chair review will guide you in making your decision on whether this massage chair is the one you need or not.
What makes the Kahuna LM6800 Best?
Like any other top-rated massage chairs, kahuna massage chairs are also approved by the FDA making them reliable, quality, and professional high-tech medical devices.
Although the engineers have not done much kinds of effort to design the exterior extraordinarily great still modern ergonomic design, solid build, and faux leather exterior give it a decent look. It is available in two color choices brown or black.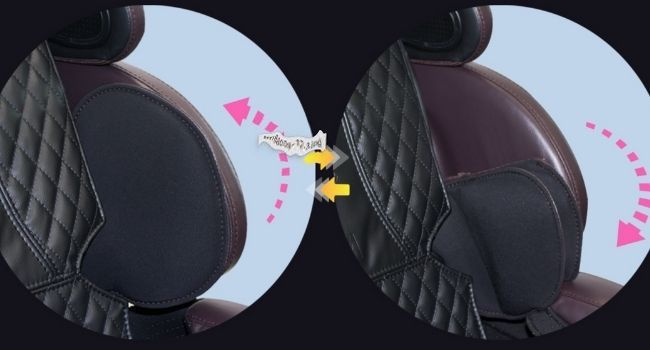 I expect it to offer more weight capacity as 220 lbs is just an okay type but not ideal the same case with the height it can accommodate people under 6 inches tall.
What I like is that Kahuna LM6800 comes almost pre-assembled except for a few side parts of the massage chair that also hold a valid reason. The massage machine may look bulky but truly it is not, with attached side parts the chair needs approx. 32-inches door to go through, in another way 25-inches door fits well.
Let's dig into the mechanism and features of the Kahuna massage chair LM6800, first take a look at quick specs of this chair:
Specification
Weight: 200 pounds
Dimension: 48 x 31 x 46 inches
Material: cotton, synthetic leather

Style: Modern

Voltage: 110-120V
Power: Max 230 W
Detailed Features
1. Hybrid S/L-Track Massage Technique
The significance of the feature is pretty obvious as the S-Track makes quad rollers track the natural curve of the spine all the way to the back. Similarly, the L-Track follows the glutes and thighs, collectively both offering comprehensive and superior massage which ends up with relief and comfort.
Although it is not a rare feature with expensive best massage chairs it is almost impossible to find the chair at such a reasonable cost having a hybrid track. That in my view is the concrete attractive point that gives Kahuna L6800 such popularity and hype.
2. Multiple Zero Gravity Seating Positions
In modern massage chairs zero gravity technology is very common but there is no other massage chair in the market offering three zero gravity positions. Kahuna massage chair LM6800 enjoys the privilege although they offered two zero gravity positions when the chair was first released however, later in the upgrade it received three Zero-G seating positions.
The technology works great with the hybrid track and the duo surges the overall quality of massage to the highest. It helps to relieve stress and pressure from the body and also lets you enjoy a more intense and deeper massage experience.
It offers three stages of Zero-G or recline, offering users a sense of weightlessness by evenly dispersing the body weight across the backrest.
3. Space-Saving Design
This bulky and heavy massage chair is constructed with space-saving technology therefore it only requires four inches of space from the wall to fully recline.
If you recline back in the chair for massage, the chair stays at its base, thus you need only a few inches of space behind the chair. Since space is a big issue nowadays, why not get a good space saver like Kahuna massage chairs?
4. 3D Computerized Body-Scan Technology
This massage machine is outfitted with an automatic mechanism of body scanning to keenly scan all the pressure points of the body back. This pre-massage scanning measures body type, shape, and height using rollers to adjust the range of massage targeting the accurate points.
It can be further simplified as the hybrid track completely tracks and mark the curve and spine of the body.
But here Kahuna LM6800 takes a step ahead and featured rollers' fine-tuning position using the remote control. In case the auto-scan overlooks the pressure point so you can dominate and make sure that rollers do not miss the areas you choose.
Even you can adjust the measurement of the massage field manually or using the remote control.
5. Heating Technique
Heat therapy feature is typically used for the lower back and lumbar but very few are offered for the calf. This Kahuna massage chair model is supplied with lower back and calf heat. You may hardly get such an extensive heating system at the same price range as kahuna lm6800.
The lumbar and calf heat therapy offers so many benefits like muscles relaxing and an increase in the flow of oxygen but the drawback is that you cannot control heat.
6. Air Massage Mechanism
The LM6800 is equipped with air massage technology for full-body air massage. The chair has used 36 airbags first-generation although it is a cost-saving move by the manufacturer nevertheless air massage quality will not disappoint users.
With so many air massage spots on the kahuna massage chair, users are given the option to customize any of the three intensity levels using the remote control.
Air massage positions on the chair include:
Shoulder: squeezing the sides and top of the shoulder on both sides through inflating and deflating technique
Arms or Hand: based on the sides of the seat, massaging hands and forearms
Hip: at the lower back and side of the seat, targeting the pelvic area
Calf & Feet: the ottoman line squeezes the feet and legs as well as inflates for stretching programs
Massage Options (Programs & Techniques)
Kahuna massage recliner LM6800 features a list of options when it comes to massage techniques, massage programs, signature programs (SH-Chiro & Yoga), and manual mode & customization options. Even makers also presented a small but significant feature zone massage option.
Massage Techniques:
Tapping
Kneading
Rolling
Kneading and tapping combination
Shiatsu
The basic techniques involve a variety of pre-programmed massages based on precise body areas like:
Neck to waist

Neck to glutes
Lower back to waist

Mid-back to glutes
Back, glutes and thighs
The intensity and speed of these massages can be adjusted to three levels using a hand remote and manual mode.
Similarly, Kahuna massage chair proposes 6 massage programs in total of which 4 considered auto massage programs while two of them are categorized as signature programs, which include:
Deep tissue
Yoga
SH-Chiro

Relax
Stretching
Rejuvenate
Massage zone is a feature like cherry-on-top, it simply includes the button 'Fixed Spot' you need to press this button when you want rollers to continue massaging at any specific area or spot. The simplest feature of customization makes this chair the all-inclusive professional massager ever.
LCD Remote Control
What else can you expect from a modern massage chair along with comfort, state-of-the-art features, modern technologies, and a variety of massage techniques and programs? Convenience is the factor fully justified by the LCD handheld remote control offered with Kahuna 6800.
It gives you peace of mind when you have a number of features available to adjust from so many options and you have the simple and all-logical remote in your hand.
With so many options, techniques, and features, that's quite a perk.
Pros
Hybrid L/S Track Design
3 zero-gravity seating positions
Space-saving technology (3-4'' from wall)
Offer varieties of massage programs and techniques

Calf and foot massager

Lumbar and leg heat therapy

Multiple massage customization options are available

Extendable ottoman

Easy to use remote control
Backed by 3 years limited warranty

Excellent customer and after-sale service
Cons
The massage timer option is missing
Weight accommodation could be better
No MP3 support
Conclusion
To say you the truth, Kahuna LM6800 may not be the 'best' massage chair but the chair has gained immense population due to its functioning and advanced technology and features at such a competitive price range. You may hardly get such an affordable massage chair having some notable aesthetics at its end.
With a full-body yoga stretching program, foot massager, L-Track heating therapy, air massage and so much more, the kahuna massage chair certainly live up to my expectation as I consider it a most reliable option when one has a weak pocket.
Related links: