Out of the various types of chairs that exist in the market, massage chairs are the most complex purchase not exactly in terms of value but for technology/functions, quality, features, etc.
For the best functional, modern massage chair/recliner, the Osaki OS-Pro Admiral massage chair is a solid option you can consider buying.
Osaki earned a great reputation as a furniture brand in the industry, specifically, they have a history of producing a collection of state-of-the-art and optimum quality massage chair models that dominated the entire market with absolutely innovative designs and advanced technologies.
Pro Admiral AS by Osaki is a middle-range massage chair with the latest design that offers pretty impressive massage quality for its price.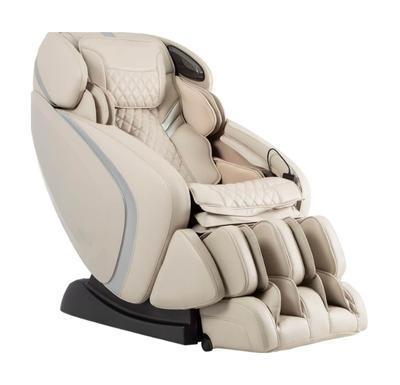 In a Hurry?
Here we will be discussing a good bargain, premium quality Osaki OS Admiral massage chair and dig into its features & functions to help you decide if it is worth investing in.
This modern design massage recliner is a great package of value, massage quality, top-notch features, therapeutic benefits, build quality & easy controls that take it up to the level of a luxury massage chair.
We have come across this massage chair lately and decided to conduct a test of its performance/functionality and massage quality, which we are about to address in the Osaki OS-Pro admiral massage chair review.
Quick Overview
This Osaki model is a well-thought and very well-engineered model with 3D massage technology that provides full body massage with ultimate control and customization functions.
Its luxury design finishes beautifully with faux leather and sleek cut lines. The Admiral chair is claimed to be crafted well for different body types and heights, during the test it has been proved the claim was half right, however, the heavy weight of the chair can be a big issue handling it.
Sadly, the huge design of the massage recliner does not fit heavy-weight people as its maximum weight limit is as low as 220 lbs. The chair can be a good fit for a person with a height of 5' to 6'4".
Pros
Good build quality
3D rollers with L-Track
Auto Body scan technology
Variety of massage styles, programs & techniques
NASA-inspired zero-gravity positions
3 years warranty (parts & labor)
Cons
Delivered unassembled
Heavyweight chair
Osaki OS-Pro Admiral Massage Chair vs. Others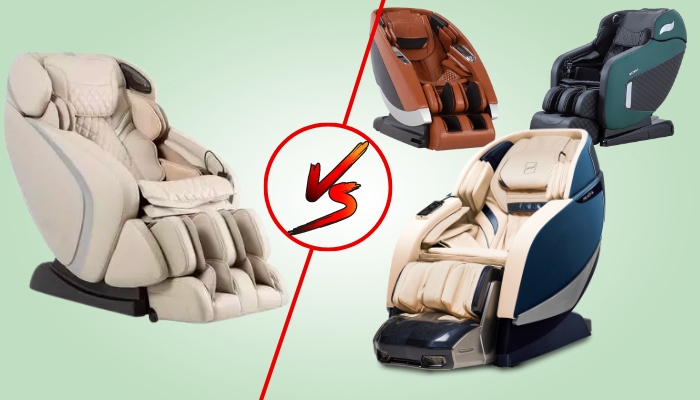 The top-selling model Osaki Admiral is also compared with models under the same brand and sometimes it causes great confusion for customers.
Pro Admiral is usually compared with Osaki Admiral II & Osaki Pro First Class, in reality, all three models incorporated more or less similar advanced high-tech functions and avant-garde features with a big difference in pricing.
You can go for Osaki Admiral II which proposes nearly all similar functions to Pro Admiral, however, it is backed by 1-year warranty cover at a relatively higher price range than Pro Admiral. Osaki Pro First-Class, on the other side, is a luxury massage chair that has some other useful features with a comparatively low user height range and a hefty price tag.
Experimental-Based Review
For about 3 weeks we have experimented with an Admiral massage chair to test its ability in terms of ease to use, massage functionality, comfort, etc. This massage chair will set the bar high for comfort, massage quality, easy controls, and therapeutic value.
We wanted to know the personal experiences/opinions of customers who have used Osaki Admiral so we contacted many of them to record their reviews. Customers seemed more than satisfied with the overall performance of the recliner, however, we expected complaints respecting unassembled delivery but there were none. Many of them are happy with deep tissue massage therapy and dual-positioned zero gravity, in short, there were no criticisms regarding any massage mode/therapy/style.
Although some showed their concerns about delayed customer support reply but eventually loved the warranty-covered services.
Features
L Track with Modern Massage Technology
Osaki Pro Admiral is crafted with a 49" long massage roller L-Track although it is not as good as the SL hybrid track but much better than the S-track. The ultra-long track of rollers is still of good value for the price, extended through the neck comes down to the shoulder, and further down to cover the complete spine then goes underneath to reach out to the buttocks & upper hamstrings area.
It has offered additional 40% roller coverage for great effective results at stretching, decompressing, and an invigorating gluteal massage. Further, Admiral is equipped with true 3D rollers technology that provides three-dimensional massage quality with the ability to control rollers' depth and movement (back & forth). Besides, the roller's massage intensity can be adjusted from 6 levels of intensity.
Thus, the intense kneading therapeutic value by lengthy rollers track in this massager is the most impressive factor, especially for people with chronic back aches.
The ultra-smart massage chair scan the user's body automatically with a 3D navigation mechanism that maps the neck to the back area and accordingly adjusts the massage rollers. This system instantly identifies pressure points on the body as well as ensures every body part gets massage done Once the mechanism is done with scanning and placement of rollers users can then manually adjust rollers to get massage started.
This Osaki recliner also features a zero gravity position that offers an effect of weightlessness, leaning back on the chair, with legs slightly lifted from the level of the heart, it stimulates deep/intense massage and optimal comfort.
Osaki Admiral offers only a single position of zero gravity which is a drawback as there are many mid-range and even some low-range massage chair options that offer at least dual zero gravity angles.
Massage Style/Program/Techniques
Osaki has included most of its best massage modes, styles, techniques, and programs in this model. Admiral administers auto and manual massage programs with great variation,
Auto massage programs are embedded and preset in the chair which covers different and almost all aspects of the body, 16 auto programs are as follows:
Office Pro
Lady
Traveler
Middy nap
Elderly Health
Relax
Men's Fitness
Rejuvenate
Reenergize
Stretch
Gentle relief
Recover
Am routine
Thai
Text Neck
Shape n Tone
However, manual massage programs available in the Pro Admiral chair are Tapping & kneading, tapping, rolling, kneading, clapping, and shiatsu. Massage styles, speed (slow-fast), and intensity (6 levels) can be easily controlled, user can even select any part of the body to work on or choose massage for a particular zone.
Admiral's foot/calf massage is one of the big highlights of this chair. It has heating, three levels of reflexology foot massage, airbags for the best therapeutic benefits, and professional foot massage. As well as the ankle grip in the chair is something very outstanding in that users can firmly keep their feet for deep tissue massage.
The massage chair has 24 airbags spread around the shoulder, arms, back, calves & feet for optimal and super comfortable compression massage. Users are enabled to adjust the intensity of air massage from 5 intensity levels, it not only increases blood flow but also relieves muscle fatigue/tension.
Normally massage chairs propose heating only for the lumbar area but Osaki included dual heating in OS Pro Admiral that takes massage to a completely new level. Admiral is featuring a heating function for the lumbar area and footwells, this adds great value to the chair.
The Pro Admiral has used an automatic system in the ottoman that easily adjusts to the user's height of a max of 7.1″. The special technology used in the footrest scans the legs of users and automatically adjusts the ottoman as per the user's height.
Due to the beast-like size of the Admiral, incorporating space-saving technology has been inevitable and thanks to Osaki, they did it. The massage recliner seamlessly slides forward when it leans backward and only leaves 2 inches distance between the wall and the backrest.
Osaki OS-Pro Admiral is furnished with smart & easy controls like an LCD remote with the screen (supports multiple languages) along with various comfort features like a USB charging panel, Bluetooth sound system, and LED illumination.
FAQs
What Makes Osaki a Good Brand for Recliners/Massage Chairs?
Osaki is quite a known brand all around the world, especially for massage chairs plus recliners. They usually produce models with advanced features such as a full body massage track, a modern body scan, space-saving technology, zero gravity reclining, and wireless device compatibility. 
How Often we can use a Massage Chair?
Normally it is our body that tells us how much we should use a massage chair. There is a misconception that using a massage chair is somewhat like exercising, it is utter nonsense. Taking common recommendations into account so it is fine to use regular massage seating 2 to three times a week with the time duration of one hour per session.
Is Osaki OS-Pro Admiral a 3d Massage Chair?
Osaki OS-Pro Admiral massage chair has used modern 3D technology through which users can control of length/width of rollers spread out throughout the L-track by users.
The roller's mechanism of this massage technology starts from the neck area, and shoulders and reaches out to the lumbar and lower back fields as well as further proceeds to the glutes & upper hamstrings for massaging.
Round Off
Lastly, it can be determined that Osaki Pro Admiral is considerably the best massage chair option out there that may not be a luxury massage setup but certainly a massage chair provides the finest quality therapeutic massage for a great affordable price.
You will hardly find options in massage chairs to administer deep tissue massage at such a price tag, for the cost Osaki Admiral massage chair is surely an upright deal.
Even though the chair lacks in a few areas if it is compared with luxury massage chairs but compared to the price range Admiral offered much more than expected.
Related Links: