What do you think the real premium massage chair should be like? Do share your thoughts about it, also name an excellent massage chair you have used so far.
Technically speaking, the best massage chair must be equipped with modern technologies, plenty of massage styles, techniques & programs fixed with top-end mechanisms that make control easier.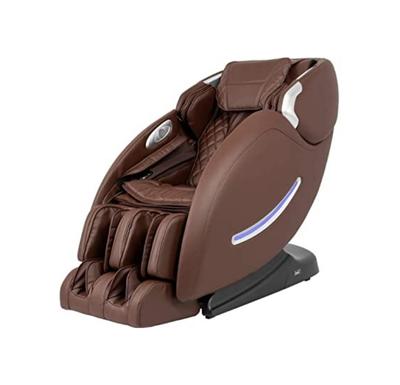 In a Hurry?
Here you will get to know every detail regarding real experience with the exclusive Osaki OS 4000XT massage chair. Though the luxury massage seating is seriously expensive, the functionality, up-to-the-minute technological mechanism, and massage therapies don't go anywhere wrong – even it can be used regularly as a massager, or recliner, and as the most comfortable seating to sleep on.
Recently, we tested an Osaki massage chair and the results are quite impressive, unlike other chairs that are not as functional as claimed.
In this Osaki OS-4000XT massage chair review, we are going to share our completely practical approach to this seating, which will be purely based on our experience with this massage chair.
Osaki is a renowned company known for producing some great furniture products, some Osaki models have been super successful in the massage chairs industry and OS-4000XT is one among them.
Osaki OS 4000XT Massage Chair
It is a full-body massage chair with L-track, engineered with some outclass features, which you usually get in a luxury-level massage chair. this Osaki massage chair model is designed for all body types and heights, however, during the experiment, we found the chair is not a good fit for people with a height of 6'5" or more.
Osaki is offering a completely assembled OS-4000XT B massage chair so those who think assembling is the hardest part can opt for this version, simply unbox the chair and start using it right away. The design of the massage seating is kept pretty simple and sleek so that it goes well with any décor or interior, further its non-tech look can be a great fit in any part of the home.
Apart from incredible features and advanced mechanism the OS 4000XT massage chair is as well heavy on cost which might be a big turn off but comfort comes with a price like any other thing in life.
Pros
Good build quality (Japanese engineering)
Amazing ache sensors detect painful areas
Designed for every size, height & weight
Extendable footrests and adjustable foot rollers target acupuncture points
3 years warranty
Cons
Body stretching missing
No calf & knee heating
Limited standard massage programs
What's the difference between Osaki OS 4000XT & OS 4000T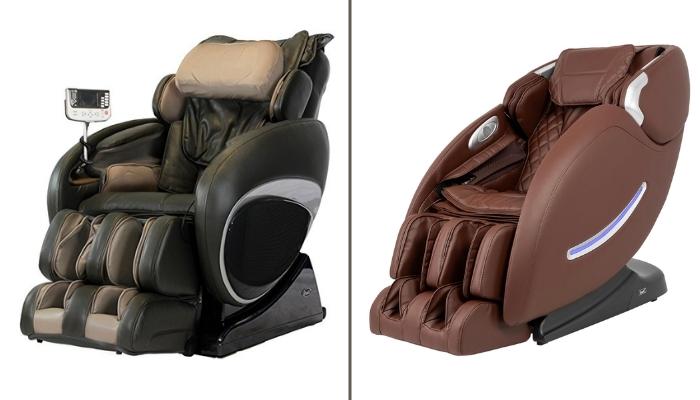 Although customers can go for another model from the same series Osaki OS-4000T at a comparatively low price of about $2400 you have to compromise on diversification and great therapy experience by OS 4000XT. Unlike the 4000T, the Osaki 4000XT proposes a better finish and simplest design with comfortable faux leather and plush padding.
The functioning and performance of both models in their respective zones are up-to-the-mark. It's just that those who are seeking something notably exceptional with perfect restorative massage should go with OS 4000XT.
Experimental-Based Review
We have tested Osaki 4000XT chair for about 25 days and carefully inspected the massage chair on parameters like safety, quality, massage performance, ease of functions, and comfort. Osaki has tailored various top-notch and latest mechanisms in this OS model, which will be a fruitful surprise for users. It is rare and wicked to explore major parts of massage chairs working in fine sync.
Also, we made contact with customers to know their experience with OS 4000XT massage and it was rather positive. Customers liked the massage chair deliver fully assembled however, they said the heavy weight of the chair is problematic while moving it from one place to another. The majority of them found the massage seating most comfortable also the chair wonderfully serves the purpose whereas they feel the company should have included deep massage therapy, more massage pre-set modes, and a timer set function for such a high cost.
Features
Ache Sensor Mechanism (Body Scanner)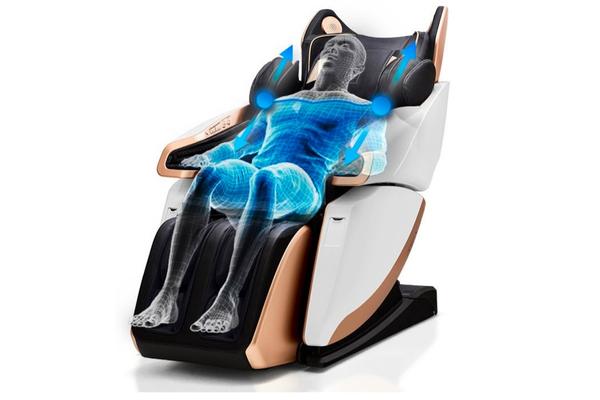 In general, massage chairs come with computerized body scan technology but the technology that can sense the fields of extreme pain in the body is rarely used in massage chairs, Osaki 4000XT is crafted with this edge of massage technology.
As soon as the user touches the sensors fixed on the armrest the smart aching point system activates and start scanning the source of pain in the body. Thus, the mechanism adjusts massage rollers accordingly that then communally focus on multiple painful regions of the body.
The entire 43 inches of L-Track massage mechanism work in smooth sync with the ache sensor system in this OS model, the massage therapy provides relief to muscle knots all through the neck up to the glutes.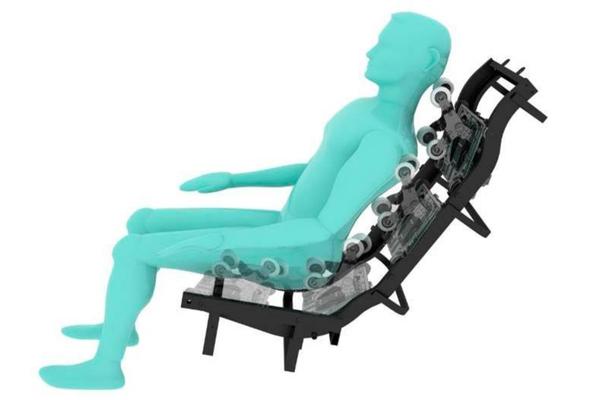 The laser-tailored steel L-track of OS 4000XT enables a wide-ranging roller system to seamlessly reach out to the verge of the user's body from the hamstrings to the neck and the shoulder. The roller system of the massage chair put equal and controlled pressure on the body at a time to fix all such problems as stress, fatigue, muscle soreness, and body pain.
Even though the 4000xt massage chair features refreshing, full-body massage but we truly felt the lacking of customization of massage rollers in the L-track region.
Zero Gravity Technology (Reclining)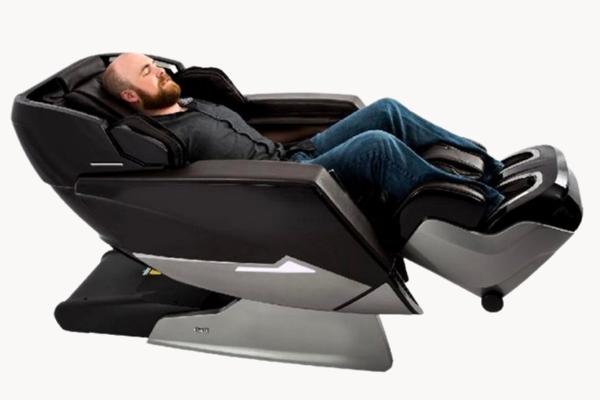 The inspiration of NASA technology is used as zero gravity positions by Osaki in which users can enjoy massage in a reclining position with their back aligning at the same level as the thigh for ideal comfort. OS 4000XT offers two stages of zero gravity reclining in which the user's back being the pivot of whole-body weight pushed against a curved backrest actually maximizes massage intensity.
The two stages of zero gravity function increase the massage experience to the fullest, stage two raises the user's legs to the heart level and the posture releases pressure on the back as well as improves blood circulation.
Full Body Massage Coverage & Multiple Techniques
In terms of massage techniques and styles, OS-4000XT is worth praising massage chair, which offers six standard pre-programmed massage and six manual massage styles.
Osaki 4000xt is brilliantly designed with six different auto massage programs for the best level of massage therapy for the entire body, this includes:
Neck/Shoulder (relief ache and knots in upper body)
Relax (for relaxation and freshen up)
Thai (Intense Thai massage for body healing)
Strengthen (effective for muscles and joints)
Sleeping (gentle massage)
Recover (good for regaining strength in the lower body)
Whereas, massage styles you will get in this OS version are as follows:
Swedish
Kneading
Tapping
Rolling
Shiatsu
Clapping
Every one of these styles has a specific purpose, Tapping & clapping involve precise, pointed, and patting motions while for intense massage Shiatsu, Swedish kneading is best.
OS 4000XT massage chair is built with 24 airbags for compressed massage: fixed shoulders, arms, calf area, and feet.
Equipped with TECH Features
The foot massager of this OS chair is excellent, the bottom of the feet has one reflexology massage roller for the most soothing massage.
The space-saving technology of this massage chair allows users to place the chair only 2 inches away from the wall so that people with narrow space at home can easily have this massage chair. This technology makes this chair occupy a very small space and leaves the rest of the house clean.
Manual, LCD Remote Control & LED Illumination
Osaki 4000XT holds manual massage control to adjust massage area, mode, massage strength, and massage rollers' width. Furthermore, the addition of an LCD remote feels lavish as you can see the specific activated function on the display screen, user can easily customize massage type, position, and intensity.
Automatic LED lights of the massager illuminated as soon as the night breaks, these lights help the user to operate the massage chair manually even in darkness.
OS 4000XT also has a heating mechanism in the lumbar area, although two infrared heating pads are located on both sides to ease pain in the back. But we barely felt lumbar heating during the experiment, it has to be strong heating to calm back ache.
Talk about, the best entertainment features of Osaki OS 4000XT so premium quality integrated Bluetooth speakers allow the user to connect speakers with any device and enjoy music with a soothing massage. Smart 4D surround sound mechanism is featured with the chair having a total of 4 speakers fixed in side panels and headrest.
FAQ's
Is Osaki a good brand?
Osaki is one of the popular brands of massage chairs and other products. Most of their massage chairs are equipped with extraordinary features such as zero gravity recline, auto-scan technology, wireless device correspondence, full-length massage track, and advanced controls.
Is Osaki OS 4000XT massage chair 2D or 3d or 4d?
The all-new OS 4000XT is a 2D massage chair featuring 43 inches long L-track as well as a very rare ache Area/Point sensor mechanism that automatically finds the area where you need a massage to relieve the pain the most. 
Is Osaki a Chinese company?
Yes, Osaki is an excellent Chinese company, it is more like the brand's human touch, and Titan has all the business from the US. The brand produced massage chairs in China and later import manufactured products to the United States for sale. Osaki also manufactured portable massagers for the eyes, neck, hands, and feet.
Our Opinion
That's all for the Osaki OS 4000XT massage chair review, we hope it helps you clear all the doubts in your minds.
Despite all its odds and bits, we think this massage chair offers you good value for money as the sound engineering, great build quality, and most importantly comfort massage are the prominent reasons to invest in it.
If you can afford the price, you should consider investing in a reliable massage chair that is durable and capable of efficient massage functioning to provide full-body relief and cosiness.
Related Links: