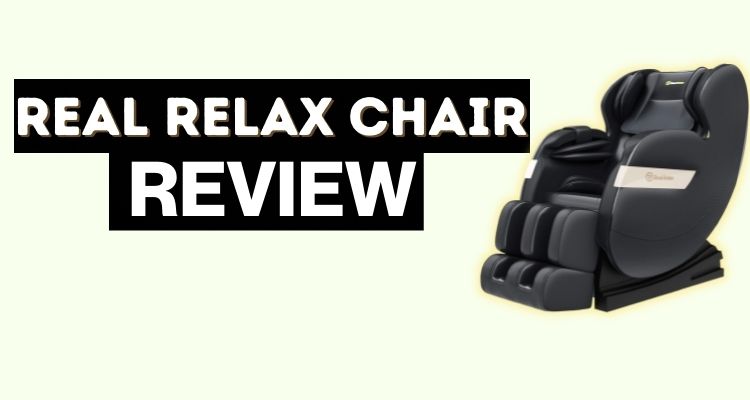 If you are a hobbyist and low budget is your issue so you have a reliable option of the Real Relax Favour-03 PLUS Massage Chair. This entry-level massage chair at an affordable price may serve you fairly well.
Noted that it's not a proper massage chair but a typical automatic massage chair though if you don't mind the limitations, quality and other perks make it a good catch.
Although Real relax is a new company in town but most of the massage chairs they produced are FDA, ROHS and CE certified with years of warranty.
In a Hurry? Read a Quick Overview
The Real Relax Massage Chair is a high-quality, affordable and functional massage chair that will make you feel like you're floating on air with its zero gravity design. It has 8 neck back rollers, 50 airbags for your shoulders, arms, hips, calves and feet as well as a lower back heating system to keep you warm while getting your massage.
With Bluetooth audio play and changing LED light features this chair is more than just an amazing product but also an incredible experience that can be yours every day of your life.
The best things in life are simply worth waiting for. Real Relax is one of those products that once you experience it, will make all the patience finally pay off with a whole new level of relaxation and comfort.
Their models range from Favor 03 to REAL03 PLUS which uses advanced technology like a fixed massage point mechanism instead of roller mechanisms so users can feel as if they're receiving an expert back rub. without any sliding across their backs or feeling tired after prolonged periods on the chair thanks to its updated features such as improved ergonomics design, reclining function up to 130 degrees tilting angle plus more!
Don't jump to a conclusion yet, and take your time getting to know all the details, and features of the chair through the Real Relax massage chair review.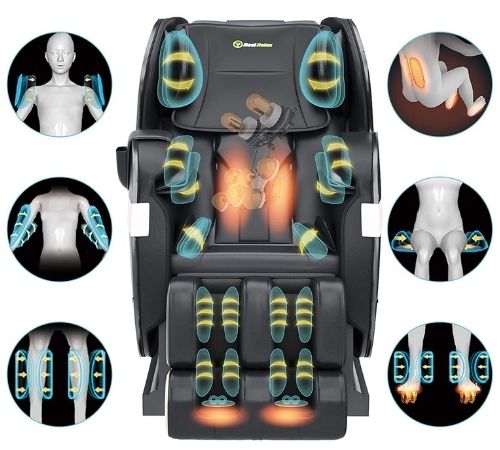 Specifications:
Weight: 217 pounds
Dimension: 43 x 25 x 24 inches
Style: modern
Height limit: 6.1 feet
Weight capacity: 400 lbs
Power: 20-230 watt
Real Relax PLUS Massage Chair
This Favor-03 PLUS is a full body zero gravity massage recliner, an updated version uses some fancy and quality features to make it more productive and functional as a massage chair. You can choose your favorite colored chair from the given three different color options brown, black and blue.
However, the limited features of the massage chair go against it still the designers have added some great features for the enduring relaxation and comfort of users. The massage chair is backed by 3-year limited warranty whereas unexpectedly the chair gets good ratings on amazon as the trust of customers.
As compared to the massage chairs in such a price range the Real Relax has been designed thoughtfully to support and comfort while a few features made this chair a good home or office addition.
Functions & Features
The massage chair without a massage track is surprisingly offering zero-gravity seating positions. This welcome addition is no wonder considering a solid feature of real relax. It is indeed useful and triggers a better massage experience similarly convenient as only one button can adjust three comfortable reclining angles.
When you are reclining in a relaxing position the massage intensity will feel slightly high, this is a good thing about the chair.
As we all know machine works and perform in synchronization the same applied to a massage chair, due to the lacking of a massage track and rollers, zero gravity positioning will not be as effective as it could have been.
Fixed Rollers Massage (Shiatsu)
The Real relax used a range of 8 fixed massage rollers as fixed massage points across the chair's back. Unlike other massage points, they move in a rotation around the same spot to relieve muscle stress and fatigue. The chair's backrest has at least six massage points in the lower and mid-back area although these are stationary points and cannot be customized with the timer of 15-30 minutes.
However, it will certainly be a fine massage in case the massage head aligns well with your pressure points otherwise that will be an average massage. Although the quality mechanism mainly targeted the spine area while it provides wide back coverage. Basic customization could do best in this scenario, I think.
The rest two massage points are for the upper back, the massage points motor provides the effect of rubbing and kneading and is limited to a single-massage technique just.
The Real Relax massage chair has a total of 50 first-generation airbags all over the chair. This chair has an impressive yet comprehensive air massage technology in which 8 of them offer pressure massage for arms whereas four ensure shoulders massage. Twenty-four airbags are used to offer leg massage while the remaining are used for thighs, hips even feet, and calf areas.
These airbags pump up & pump out to provide gentle pressure massage all over the body as well as provide relief and relaxation.
Also, there are 4 pre-programmed massages available and are bound with slight moderations in strength and speed.
Overall the air massage is far better than one can expect it to be from a budget-limited chair.
Sadly, it is the factor of disappointment related to Favor PLUS. There is no such pleasing feature of customization but limited levels of intensity and speed in which you hardly tell the difference from one to another, so eventually no precise option is available.
Along with 3 levels of speed and intensity adjustment, users can opt for waist and back mode by simply adjusting the positions of rollers up and down using the remote control.
However, these limited customizations are not good enough for a massage chair but still, something is better than nothing and we should not expect more than this for a chair under $1000.
In addition, the Real Relax massage chair featured 2 automatic massage programs, however, no specified description is given apart from time-duration that is 15 minutes and cannot be adjusted.
These massage programs are varied as the combination of air massage and fixed points massage.
Calf and Foot Roller Massage
The additional rollers for feet and calves are one of the highlights of the updated feature, which provides stress and pain relief.
The Real Relax is outfitted with rollers and airbags for calves while rollers are located at the feet soles. It helps to reduce pressure, fatigue, and stress.
Incredibly, the calf and foot massage works far better than what we typically expect from an entry-level massage chair.
Armrest Linkage Mechanism
The arms of the chair move in sync no matter whether you recline back or get it to its straight position. The armrest linkage mechanism is a rare feature added to the chair as the arms maintain the pace with the chair's rest by keeping your arms in place. Even users can adjust the positions of a chair while enjoying an arm massage.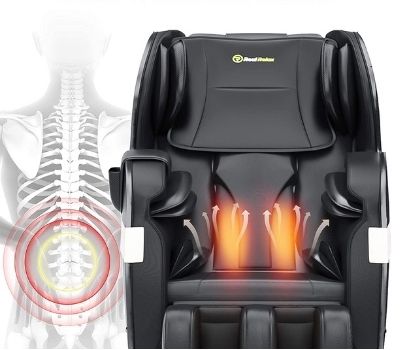 The Favor 03 PLUS is equipped with a built-in lumbar heater to make your massage experience more soothing and warm which helps to reduce lower back pain as well as stimulate blood circulation. The Real Relax massage chair also offers vibration for the lower back and hips.
Favor 03 has a benefit factor of remote control with an advanced high definition VFD screen. The hand remote is easy to use as it carries some buttons while the screen displays functioning. The hand remote can be placed on a specific spot of the right armrest when not in use.
Additional Benefits
Extendable Leg Ottoman: the extendable ottoman is used for people of different heights, and the chair is fit for people with a height ranging from 5.2 to 6.1 ft.
Bluetooth: the additional feature of Bluetooth in the real relax chair is most convenient and useful as a user just needs to turn on the Bluetooth of the chair and then connect it to your device or phone, enjoy a pleasant massage time listening to your favorite songs or shows, etc.
LED Light: it has a built-in color-changing LED light, indicating charging and other functioning.

Easy to Move: the chair is well-constructed with two 2 wheels for easy mobility. However, we are not happy with the size and durability of the wheels, maybe an innovative update could do some good.
Pros
Zero gravity positioning

8 fixed massage points (neck to back)
50 airbags for air massage
3 levels of intensity & speed
Enough weight capacity
Easy to put together
3 yrs. Limited warranty

Good customer support and after-sale service policies
Good foot and calf massage
Cons
No space-saving mechanism
No massage track technology

Lack of message customization options
Verdict
With all the merits and demerits of the chair, it can be concluded that the latest revamp of the chair makes it a much better option as a notably reasonable massage chair.
Related Links: