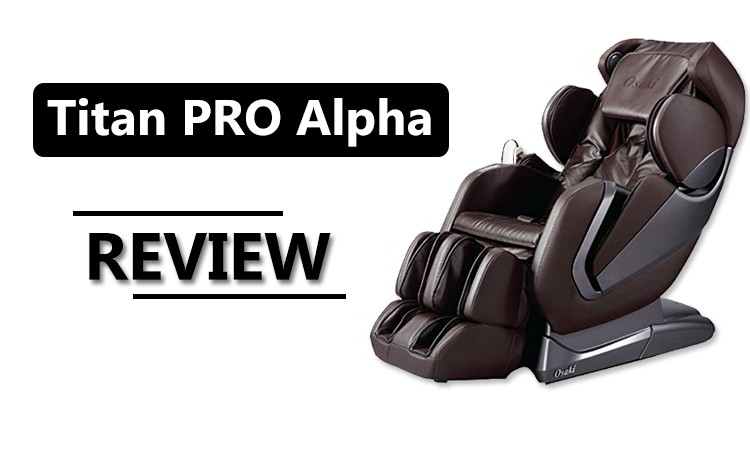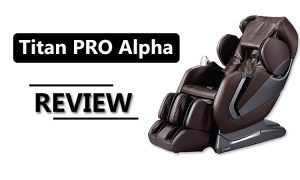 You will find outstanding full-body massage chairs available at a hefty price out there but if you are looking for a moderated price-range massage chair so why not settle for the best. 
Speaking of the best, Titan Pro Alpha is one of the best therapeutic massage chairs that used super-advanced technologies to cure chronic body pain and offer calm sleep. 
Since the titan pro alpha is part of a most exceptional line of titan models including titan apex, Pro Executive, TP Pro 8400, TI-8700, etc. that's why pro alpha shared many attributes from the brotherly versions. 
In this titan pro massage chair review, we highlighted every detail of the massage chair so that you can decide whether this massage chair suits your need or not.
Titan Pro Alpha Massage Chair Review
This all-new massage chair is enriched with several ultra-tech, high-end features. Titan TP-Alpha is comfy as it is considerately engineered to offers comfy, adjustable features such as adjustable shoulders (width) and back pad pillow.
The engineers of titan developed a massage chair full of innovations and amazing titans' features therefore, in terms of functioning and design this chair does stand out. It is stylish and best functional, perfectly suitable for bedroom or living room décor. 
The heavy-duty metal frame of TP-Alpha makes it enough durable and sturdy while its comfortable, supportive, and cozy design is one of its kind. Also, it comes in three different colors (black, beige & brown) to choose from upon personal taste. 
The massage chair sports L-Track massage for full-body extending all the way neck to hamstrings. The 'support' of this innovative chair is 10-on-10 as the adjustable back pillow aid to lessen massage intensity.
Features of Titan Pro Alpha
L-Track Technology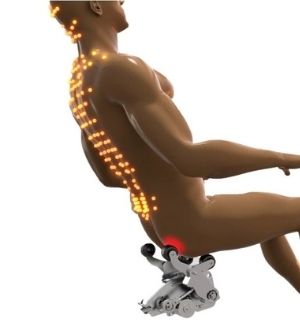 The advanced L-Track technology is used in TP-Alpha in which the roller system massages multiple spots simultaneously, massage areas include neck area, lower back then glutes to all the way to top of hamstrings. With the accumulative range of 50'' of L-shaped track, the maximum height and weight capacity fall within 6''4' and 235 lbs respectively. 
Back Pad Pillow
Titan TP-Alpha is introduced with a unique feature that is indeed worth mentioning, an adjustment mechanism of intensity. Simply saying, this feature enables users to control the intensity of the back massage.
This feature is most needed especially with L-Track chairs that carry deep tissue massage without having the feature of controlling the massage intensity. 
The simple but effective way of reducing intensity requires opening head pillow folds and make it a full back pad pillow to decrease the intensity to medium. It is very easy to separate the Velcro and drape down the pillow to its full back pad size. 
Computerized Body Scan

 
TP-Alpha massage chair is equipped with a smart, automatic body scanning mechanism. The mechanism starts right away when the chair is activated and the computerized body scanning system starts rolling over from head to toe to measure the back areas as well as the height of the user.
Users are advised to sit in a position in which the backrest is being pressed by your back, it helps with the most accurate reading then users will be surely enjoying an extremely effective massage. 
Ergonomic Straight Arm Design & Arm Massager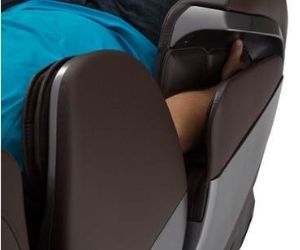 The new innovative massage chair from the titan collection introduced an ergonomic armrest which includes a side panel cavity to slide hands in the straight arm panel. This arm massager stays stable whether you lean on the chair or raise the backrest.
Zero Gravity
Here comes another highlight of titan Pro-Alpha, which is fitted with 2 stages of zero gravity designed based on the inspiration taken from NASA technology. With every zero gravity positioning, practically the backrest supports the entire weight of the user's back that eventually increases the massage intensity. 
In my view, it is the utmost comfortable massaging position we can ever get but with Pro-Alpha we are given 2 stages, in first stage user being reclined parallel to the thigh and with the legs higher to its heart level in the second stage, I wonder how does second stage feel? 
Space Saving Technology
You may be wondering such a huge massage chair requires enough space, so hold on and check out. The innovative design team of titan has engineered a chair with the technology of space-saving as the chair is super easy to slide straight as it reclines. 
For tilting the backrest of the chair fully you need to make space of just 3 feet behind.
28 Airbags

 
Titan Alpha has a total of 28 airbags, however, the factor cannot be considered as a pro feature as many airbags affect the life of the chair. Recently, some new models have decreased the airbags count although increase the coverage. 
Nonetheless, high-quality latest material is used for airbags that let airbags shape the body through even pressure distribution. 
Massage Programs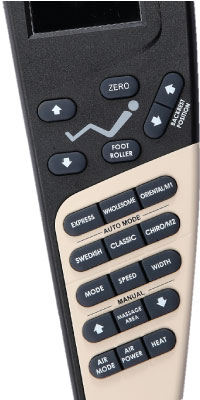 Titan TP-Alpha features 6 different pre-set massage programs to choose upon preferences, which include: 
Swedish: a blend of different massage styles mainly deep tissue kneading (massage for back)
Chiro: it precisely focuses on roller movement top to bottom along the spine (stretching)
Classic: chair offers all massage styles (complete massage experience)
Express: instant massage for the whole body
Oriental: whole-body massage with back rollers with a combination of oriental massage and other techniques
Wholesome: slow pace massage with less emphasis on tapping and knocking
Additional Features
LCD Monitor
TP-Alpha has featured easy to use remote control with LCD screen display, guide you to select different massage or other functions of the massage chair. It is highly intuitive and yet easy to operate as it gives you access to have specific control of massage such as time, intensity, speed, etc. 
Dual Action Foot Massager
The foot massager at the bottom has two massage alternatives, in which the first massage enhancement works in forward and backward motion while the second has to offer roller having bumps. 
The foot massager offers a great soothing feeling especially to aching feet, I think it is a good addition as a reliable foot massager.
Side Panel Control
Titan has taken convenience, comfort to a whole new level like it does with Titan Pro Alpha. The chair has installed side panel control on the top with 5 buttons to operate functions such as leg rest, reclining, and pause functioning of the chair. 
Lumbar Heated Back
Heating pads on each side of the lumbar area are installed in the Alpha massage chair, heating therapy goes very well with a back massage. 
Speakers & Bluetooth

 
Titan offered comfort, support, and convenience so how can they overlook the entertainment factor. It is right there with Titan TP-Alpha, its Bluetooth technology enabling you to communicate on calls and listen to the songs on build-in high-quality speakers fixed on the headrest.
Manual Mode & Massage Memory
With manual mode you have options of 5 different massage styles to opt, named shiatsu, flapping, kneading, knocking as well as kneading, and tapping.
The memory function of this titan model enables the user to store 2 massage programs. Firstly choose your favorite massage and simply save massage functions by selecting the M1 or M2 button.
Pros
Stylish design
Genius engineering for convenience, comfort, and support
Decent back and foot massager
Therapeutic massage chair (best neck massage)
The updated new arm design
Offers 5 adjustable speed and intensity levels
Remote control with LCD screen and side panel control
Space-saving technology
Cons
Calf massage could have been better
Limited manual massage techniques but overall good options
Verdict
It is hence proven that the pro alpha massage chair is feature-rich as it is intended and made to offer relaxation, comfort, and all the advantages of a therapeutic massage chair you can't even imagine. Titan pro alpha is a successful massage chair that offers an array of healthy body benefits through advanced & soothing massage also aid to improve the quality of sleep. 
To be frank, the massage chair holds an impressive range of features that are certainly worth the price. Similarly, 3 years warranty by the manufacturer is a great factor of convenience for users whereas the covering for any sort of issue & technical help along with parts is a lot appreciating aspect.
Related Links: