Joseph James Rogan is better known as Joe Rogan. He is an actor, comedian, podcaster, UFC commentator, and former TV presenter. When he hosted the TV show Fear Factor, he gained an enormous fan following.
Currently, Joe Rogan is using the finest ergonomic HAG Capisco saddle/office chair available.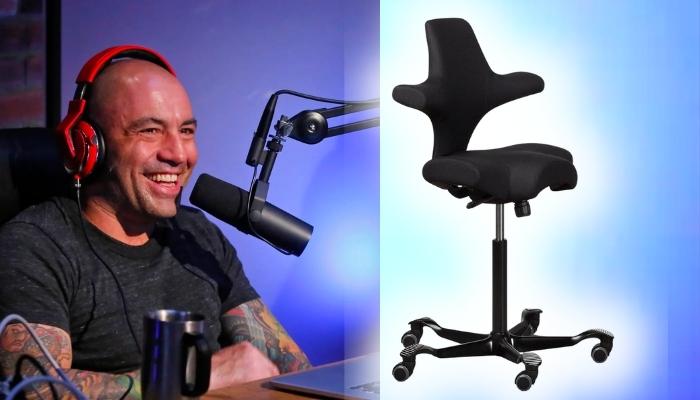 Additionally, he hosts a podcast called "The Joe Rogan Experience" where guests discuss current events, science, politics, comedy, philosophy, relevant hobbies, etc. His significant appearances on television shows such as 'NewsRadio' and 'Hardball' helped him gain massive popularity.
Rogan suffered from back aches due to his incorrect sitting posture while hosting, which prompted him to switch to a modern version of a typical saddle chair.
The answer to what chair does Joe Rogan use is there and you can see Joe's love for his Capisco chair in several of his podcast videos.
Joe Rogan's Chairs
Joe said in his podcast that the HAG Capisco was the best ergonomic chair he'd used up to that point. He was not happy with any of the chairs he had used before. However, Rogan's Twitter fans think the chair is weird looking, but its best features make it a healthy addition to any working environment.
The saddle-style chair comes with a T-shaped back to provide the user with maximum support and all-day comfort, making it appropriate for use in homes and offices.
Joe Rogan HAG Capisco Chair
Flokk under the brand HAG designed and manufactured Capisco. Its expert industrial designer took inspiration from the horse rider's posture to design this chair. The best part of the chair is that it is designed with incredible sitting ergonomics to offer various sitting positions to users.
Its contoured plus shape actually distributes the weight of the bottom of the human body evenly by opening up the user's hips (it requires you to sit with open legs). In this way, it reduces the pressure on the back as well as retains the natural curvature of the lower back easily, and shifts the body weight to the legs' powerful muscles.
Major Features of Capisco Chair
Its t-shaped design back can be used as an armrest and backrest both, users can take a break while resting with their elbow on. Backrest height adjustability is the standout feature of Capisco that allows users to adjust the backrest up by 2 inches.
Along with seat height, seat depth can be adjusted with this modified saddle chair, seat height can be adjusted to 33 inches while seat depth can be customized to 3 inches
The Capisco also features a synchro-tilt system that enables you to tilt back to around 25 degrees, whereas the seating is outfitted with tilt lock and tension control functions
Users can upgrade the chair with a headrest and a foot ring as optional fittings (if required) while the regular model comes without these features.
Related Links: