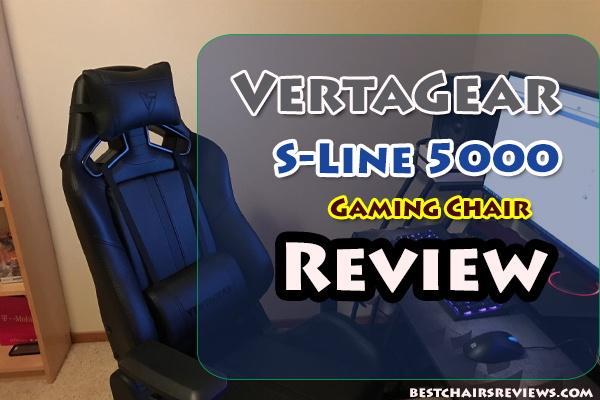 A premium gaming chair is a must-needed item for all geek or pro gamers. Without proper support and comfortable seating, it is almost impossible to have all, intense gaming experience.
Likewise, there are some misconceptions that there is not any potential benefit related to a full-proof gaming chair except a cool design identity.
But I hope a wise person can understand the real importance of perfect ergonomic gaming chairs for hours of comfortable and healthy gaming.
Besides, getting a mid-budget gaming chair is a big concern, therefore, we purposefully compiled up a full-fledged Vertagear SL5000 gaming chair review. This is one of the best quality, mid-budgeting chairs for all.
Is Vertagear S-Line 5000 worth buying? And what does this gaming chair offer? Let's find out:
Quick Overview
S-Line 5000 is the gaming chair related to the series of S-Line manufactured and produced by Vertagear Company. This American-based company is not new to the market though it managed to gain pretty much recognition in the same market within a short time frame. Their special and popular S-Line series includes gaming chairs intended for average yet larger sizes bodies.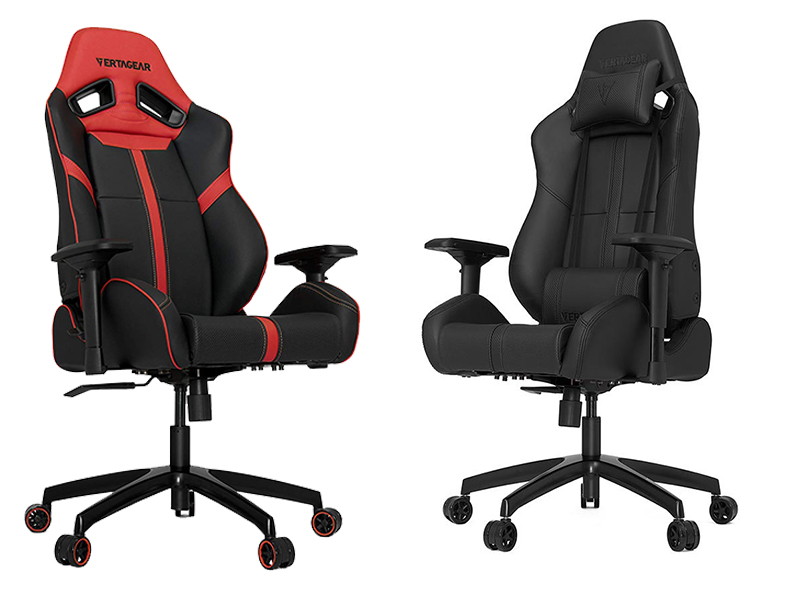 Vertagear S-Line 5000 is one among the series of chairs that are renowned for its new concepts of exclusive gaming chair designs. The company launched its successful racing S-Line series first gaming chair in the year 2015. Afterward, the follow-up P-Line is introduced along with extra ergonomic features, and the chain goes on.
Furthermore the subpart of the racing series, S-Line includes chairs specially designed racing automobile bucket seats. Whereas, three models in S-Line also go through ergonomic modifications and others. Unlike others, every model holds a different color combo, structural features, materials types, etc. These three models can be categorized as SL2000, SL4000 and last but not least SL5000.
The SL5000 is better defined as a gamer's delight and can easily fit into almost all gaming spots and even a professional gaming environment. This mid-budget racing-style gaming chair is manufactured for optimum durability and premium quality; hence the robust chair can stand up to 150 kg or 330 pounds weight.
Vertagear SL5000 Features
SL5000 is a gaming chair with advanced ergonomics and outclass features. A perfect gaming chair should not be an ordinary office chair it must contain all supportive and comfortable features.
Is the Vertagear SL5000 worth buying a gaming chair? We will be finding it:
From the racing S-Line series, SL5000 is also one of the premium gaming chairs in the market, managed to get high ratings and excellent reviews. At first, its racing style with aesthetics and ergonomics sets the seating on great standard, as professional gamers think styling, design, and color scheme of the chair matter. This is the real thought behind the designing and manufacturing of this chair.
With striking colorful stripes mainly on the back and sleek lines all over the rest black, in contrast, gives the defining look. The design of the chair is merely inspired by racing cars which are no doubt highly popular among gamers of all ages. Whereas the use of advanced ergonomics in this chair is highly praised along with perfect engineering.
The chair possesses an extra supportive and perfectly ergonomic high-back to offer help in supporting the head, neck, shoulder, and lumbar. Likewise, the two small vent areas keep the user fresh and ventilated. Overall a premium quality chair with top-notch features and a classy appearance.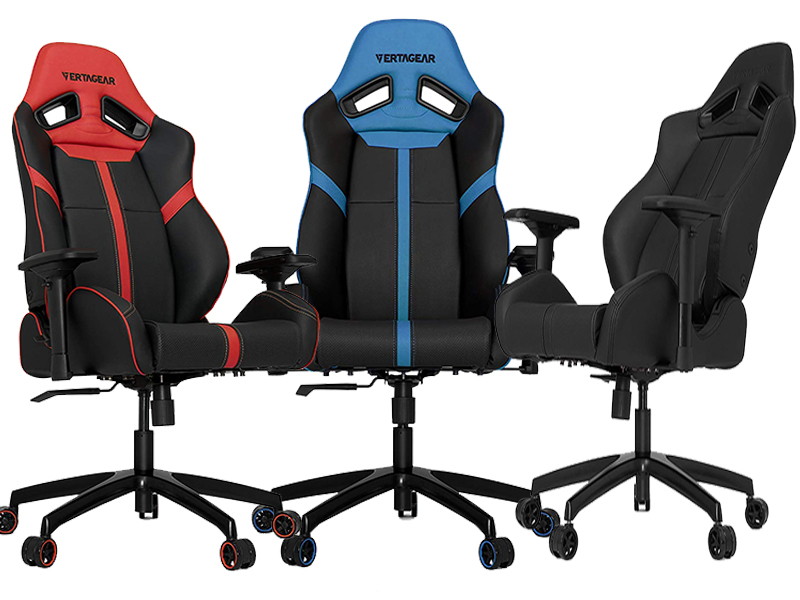 The chair is designed to bring additional support and comfort to provide an extraordinarily great gaming experience. Therefore the chair holds premium foam padding all over while the reinforced steel structure makes sure lasting stability and comfort.
Likewise, a thickly padded headrest pillow and lumbar cushion can be removed or adjusted in any position for max support.
All thanks to posture perfect ergonomics of the chair, the user is stimulated to proper posture thus decrease in spine ache occurs bit by bit. Unlike other gaming chairs, SL5000 comes with a vented design; twin cuts in the high-back are rare but very impressive features. Along with vent cutouts, the PUC faux leather is also breathable so altogether the user will remain cool and comfortable.
Furthermore, the armrests are contoured and cushioned in the perfect arm shape to provide the best possible comfort for hands. This is the kind of premium chair, that comes with a smart, jaw-dropping design and extremely comfortable ergonomics in totality.
The chair is crafted beautifully and solidly solely as an industrial-grade metal frame of the chair ensures durability at its peaks. Similarly, the advanced engineering of the chair takes pride in its high-quality construction. However, the 5-star solid base of the chair is redesigned and made from robust aluminum alloy material to ensure the greatest stability while carrying maximum weight.
When crafted the outcome, quality standard engineering, and highest grade materials will surely be Vertagear SL5000.
Another best thing about the company vertagear is its diversity and varieties, as they have maintained their ritual of bringing comfort, ease, and varieties to their customers. Versatility and variety have always been their forte which is why the company grows bigger and better.
The same situation happens with Vertagear S-Line 5000 gaming chair, as it comes in many options in colors so that you can choose your best.
With colorful stripes, you have great options for colors to choose from with the constant black contrast. The color variety includes black & blue, black & white, black &camo, black & carbon, black & red and black & green.
Excellent Customer Support
You can have manuals for each of Vertagear's chairs on their official website, also they offer contact details or forms for those who need help or support. Even they also offer FAQ opportunities for all who are concerned. They also offer a 'register your chair' feature on their official page but it is not mandatory even if you are going to claim a warranty.
Having said that the manufacturer offer warranty on parts and frame but is unable to offer a refund policy while users can benefit from a replacement or repair policy only. It is important to know that this warranty does not include self-caused damage or natural fall due to aging.
They do not offer a replacement due to wrinkling or discoloration but indeed it seems a fair policy when having ten years warranty on frame and two years guaranty on all parts, what do you think?
Vertagear SL5000 gaming chair comes with many premium features but some of them are worth discussing like personalization. This is the chair that can be fully adjusted from top to bottom. Starting from a padded and adjusted headrest cushion and lumbar pillow the seat height of the chair is also adjustable.
Another outclass feature is an independent backrest angle which can be adjusted anywhere up to 140 degrees. However, the 4D adjustable armrest is the great feature SL5000 holds, you can adjust armrests up and down, right to left, inside and outside. It can also swivel to 360 degrees for an easy approach to nearby things without leaving the chair.
Thick padding is one of the best features that make this chair stand out. The chair uses ultra-premium high resiliency foam with the best PUC faux leather covering to make this seating ultra-plush while sitting. Apart from the thickly padded bucket seat even the headrest pillow and lumbar cushion are also padded.
With its contoured and cushioned armrest, SL5000 is the real premium gaming chair that is worth buying for optimum comfort.
The chair includes an advanced mechanism for tilt tension and a locking system. So the user can easily decrease or increase tension according to body weight by using the simple knob. This feature enables you to rock without aggressive pushing as well as helps in decreasing muscle fatigue.
The solid castors of the chair are inspired by motorsports however coated with soft PU for resistant-free and smooth gliding on any surface. Also, the castors are matched with the same color as the chair making them look incredibly stylish and unique.
This is the gaming chair that can be assembled in just a couple of minutes due to its patent-pending Slide-in hardware. There is no need to remove or set any alignment and hardware complications, all you need to do is slide the backrest to the seat. Even a single person can easily complete the process of assembling within 5 to 10 minutes.
Pros
Attractive and high-end advanced ergonomic design
It carried thick padding all over for maximum support
The chair uses best of best materials from the market which altogether makes it highly durable and stable
It is a fully customized chair
It is a worthy versatile and luxury gaming chair
Assembling the chair is super easy
Cons
The chair is a bit expensive although this gaming comforter worth the cost
Verdict
Honestly speaking you may get many various good gaming chairs which more or less cost you around $200. But for premium chairs you have to pay a little more than that, this is the same case with Veratagear SL5000.
This premium chair is no doubt carried upgraded quality as well as premium-grade materials. The perfect seating is made to quality engineering standards while great customer service makes it most desirable.
Also unlike other chairs SL5000 stand consistently solid, supportive, and comfortable even after long-term, heavy use. This is a kind of chair that helps you to decrease the bad habit of bad posture while stimulating the right posture naturally.
It is not just attractive in looks and style but the variety of color schemes enables users to pick their best fit for an excellent gaming experience. If you are seeking a chair that improves posture and boosts performance and energy, vertagear SL5000 can be a good pick then.