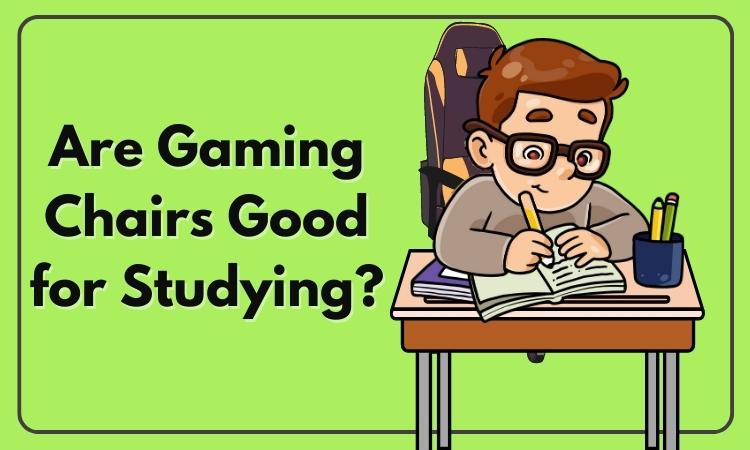 In recent times, gaming chairs are amazingly popular among the Z-generation for some good reasons. Young people enjoy their prolonged gaming sessions in the comfort of gaming chairs, but many of them are perplexed if they can use those chairs for studying. In other words, are gaming chairs good for studying?
Gaming chairs are safe for studying as it offers better and thorough back support and comfort that help users sit for a long time.
Logically speaking gaming chairs are ergonomically designed for optimum back support than any average couch or chair, allowing proper posture & comfortable sitting for hours.
Why Is It Important to Stay Comfortable While Studying?
Studying require hours of sitting in one position while sitting for hours may cause various health problems in which neck/shoulder and lower back pain are very common. However, regular movement is vital for your back health as well as an ergonomic chair can offer great support & comfort. 
The ergonomic gaming chairs that promote proper posture and come with thick cushion padding for optimal comfort are perfectly suitable for hours of studying. These are the proper chairs that reduce pressure from your back and bring instant relief, also making movements easier. 
Let's see the factors that make a gaming chair the best option to be used for studying:
Gaming Chairs Use During Study
All hype about gaming chairs is because of their ergonomic design that includes a high-back, headrest & lumbar support area, padded & wide backrest, and seat as well as multiple comforts maximizing ergonomic features. These chairs are intended for every possible comfort so that users can sit comfortably for extended hours.
Lumbar support is a major part of ergonomics in gaming chairs which provides additional back support and ensures that the user sits in the right posture. Prolong sitting without proper back support will not just make your posture worst, it also leaves harmful effects on your cervical as well.
Adjustable support to your back is most needed for your spine especially when you have to sit for a long time for gaming/studying.
Adjustable Features/Functions
Most of the gaming chair models come very handy with a range of additional adjustable features such as adjustable headrest pillow & lumbar cushion, seat height adjustment, backrest angle with tilt lock, and 360-degree swiveling. These are the functions that help you to sit in any position you want and move around easily without putting pressure on your muscles.
These chairs are made to deliver the highest comfort to users while sitting at a desk for working/studying/gaming therefore come with a well-padded seat and armrest. Besides, these are low-maintenance chairs and do not require extra effort for cleaning.
Also, it makes your place less crowded with only one chair to be used for various purposes.
Related Links: