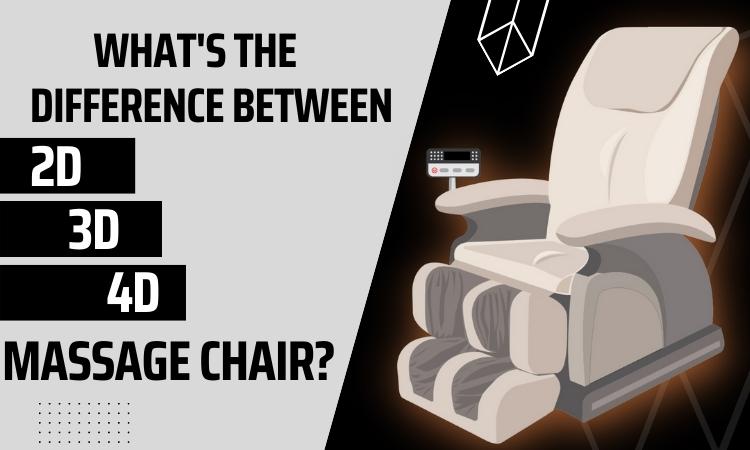 Simple Guide to 2d vs 3d vs 4d Massage Chair
Relaxing in a massage chair is one of the best things about living in this day and age. The reason for this is simple: there are so many different types of massage chairs available on the market today that you're guaranteed to find one that's perfect for your needs and budget.
If you haven't tried a massage chair before, then it's important to understand the difference between 2d, 3d, and 4d massage chairs.
Here's a quick rundown of each type:
2D Massage Chairs
As the name suggests, 2d massage chairs use two motors to deliver a message. These chairs are typically more affordable than their 3d and 4d counterparts, but they don't offer as many features or as much customization.
The roller in the chair moves up and down, as well as left and right, during massaging. You can change the speed to get as intense a massage as you want. The benefits are similar to those obtained by using a massage roller.
Despite being the most basic type of massage chair, they are very good at giving relaxation. Their simplicity makes them ideal for all types of users, from first-time buyers to long-term massagers.
3D Massage Chairs
3D massage chairs use three motors to deliver a deeper and more customizable massage than their 2d counterparts. These chairs are typically mid-range in terms of both cost and quality, so they offer an excellent balance between price and performance.
The rollers can move in virtually any direction to provide a truly immersive massage experience. You can change the speed, intensity, and location of the rollers to customize your massage.
3D massage chairs are great for people who want a more intense massage, as well as those who need to target specific areas of their body. They are often used in spas and salons to provide an indulgent massage experience to their clients.
From a features standpoint, 3d massage chairs typically offer a wider range of massages than 2d chairs. They also usually have more customizable options, so you can tailor the massage to your specific needs.
4D Massage Chairs
Intuitive, Innovative, and Peaceful
4D massage chairs were introduced on the market relatively recently and due to their innovative design and function, they quickly got very popular. One of the most important characteristics of 4D massage chairs is that they are intuitive and by using this feature you will be able to provide yourself or others with perfect relaxation. The massage will be based on your body type, weight, and height.
4D massage chairs are also very innovative. They come with a lot of features that you will not find in any other type of massage chair. For example, they have a built-in speaker system that will enable you to listen to music or any other audio while getting a massage. Some 4D chairs also come with a compatible remote control that allows you to change the speed of the massage.
On top of all this, 4D massage chairs have a very peaceful design so your mind will be taken on an amazing journey while getting one of these high-tech massages. You can choose between leather and fabric cover depending on your personal preferences.
Conclusion
There you have it! A quick overview of the difference between 2d, 3d, and 4d massage chairs. So, which type is right for you? It depends on your needs and budget. If you're looking for a basic massage chair that's affordable and easy to use, then a 2d chair is a great option.
If you want a more intense and customizable massage, then a 3d or 4d chair is the way to go. And if you're looking for the most innovative and immersive massage experience possible, then a 4d chair is your best bet.
Related Links: