There are some easy ways to remove hair from the caster wheels of your office chair which we are going to explain to you in this post.
How does hair get stuck in chair caster wheels?
In general, the clean or tidy exterior of an office chair takes most of our attention and we sometimes overlook the most crucial function of an office chair which is smooth mobility. Since the unforced mobility of the chair largely depends on the caster wheels hence this sector also requires regular maintenance.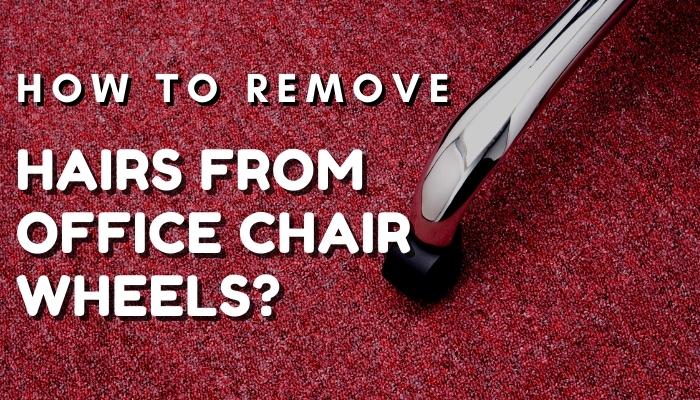 However, accumulation of dust, dirt, grease, and hair on wheels is not a matter of a few days, it takes time and things get easily dirty even if you keep them fully covered in the shelves. With too much debris/dirt you start feeling the caster wheels turn hard to move around and get worse if not taken care of.
Other than the lubrication drying off completely the other potential reason wheels grow hard to move is that many hairs get stuck in the caster. However, getting rid of hair from an office chair may not be difficult but a lengthy process so it is better to go with regular maintenance that saves you from the unwanted drawn-out effort.
If you are short on time, you can avail cleaning service to get perfect moving office chair wheels but since the service cost is insanely high, we would like to explain the best methods to get the hair out of wheels very easily to your own.
Effective Ways to Remove Hair from Caster or Wheels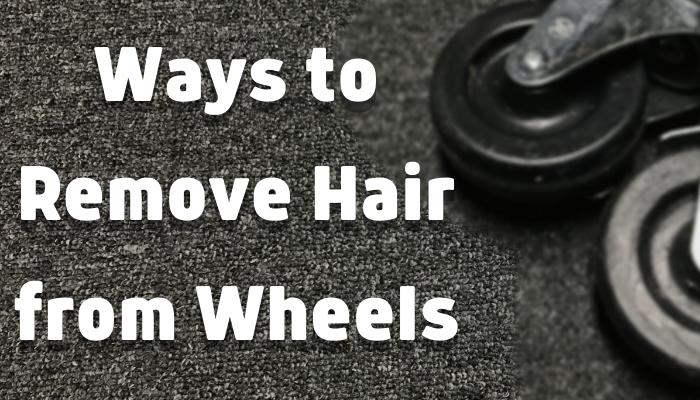 If you do not want to do an extended process of cleaning hair from chair wheels so you can go with a cleaning process that does not require wheels to be disassembled. Using duct tape, a thin nose plier, tweezers or clippers, a fire gun, or a lighter are some of the easiest ways to remove hairs from the caster without disassembling the whole wheel from the chair.
But if you have not cleaned your chair wheel for months or maybe years or so, you are recommended to disassemble the caster wheels and clean them properly.
Preparation to Get Started
You need to secure the place first when you are going to start cleaning, you may use old newspaper or any rough plastic sheet on the floor.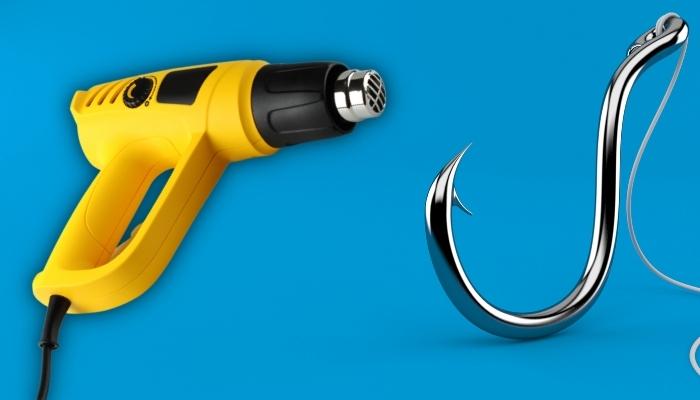 Mainly office chairs have dual caster, non-hooded, single wheel caster, and rolling ball caster wheels, nowadays, most office chairs come with removable caster wheels while a few chairs have non-detachable wheels. If you are about to clean the wheel after removing them so you will need only a screwdriver and simply detach the wheels using it.
Easy-to-Reach Tools Can Be a Good Help
Although you can start pulling out hairs using your fingers but to reach in further you have to use some sort of clipper tool. Tools like tweezer or clipper can help you pry out lots of tangled hairs from caster wheels. You need to grab as much as hair strands as possible and wiggle them back and forth so that hair strands loosen to come out easily.
For narrow spaces, you can use the tools like a needle nose plier to grab a bunch of hairs and pull them out using a bit of force.
Try Something in a Hook Shape
Any tiny tool with a hook-like shape at its end can be a good help in reaching hard-to-reach clumps of hair and pulling them out easily. You can use crochet hook equipment to grab loops of hair and simply can pull them out using fingers or a tweezer.
A Heat Gun Can be Super Easy & Effective
If you do not want any hassle so simple burn hair out is a good way to clean chair wheels. Oil coating on hair makes it easily flammable and firing turns hair into ashes within no time.
It is recommended to go with a heat gun or lighter as the blowtorch bursts huge flames which might harm the plastic attachments of the wheels.
Detach Wheels, Clean and Maintenance
Disassembling wheels from office chairs make the cleaning process super easy and damage-free.
Once you are done with the detachment of the wheel you need to:
Remove all hair stuck in the caster wheels and clean dirt as well
Use warm soapy water for deep cleaning
and make sure you dry them off immediately after cleaning
Now apply non-greasy lubricant to make the caster's mobility fluid-like and re-assemble the caster wheels to the office chair
Related Links: