8/10 people suffer from chronic back pain at least once in their lives. Of course, there can be many reasons behind this irresistible painful discomfort. However, there is one object that deserves the blame; an acutely flawed office chair.
It's bad enough you have to spend your Saturdays working, and doing it all on a worn-out chair increases the sadness. Lucky are those who have luxurious and comfortable seatings.
BUT, that doesn't mean you cannot have the same feeling of relaxation and comfort while working. The trick is to find a stuffed and well-adjusted office chair – if you have that, even working on the weekends won't be a stretch!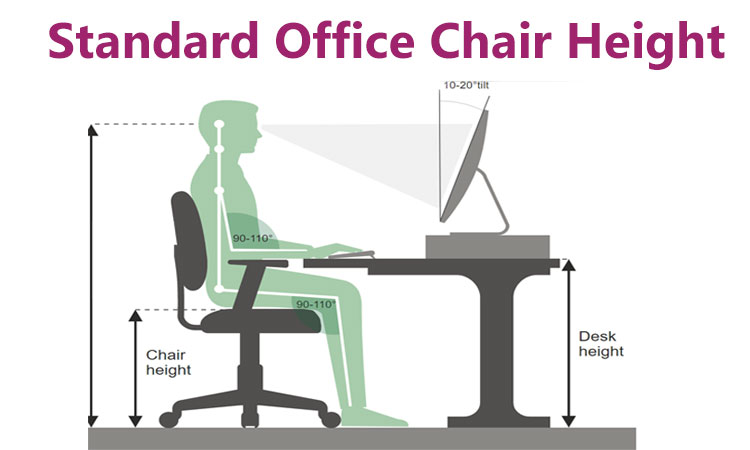 As enticing and soothing it is to work on a nice office chair, you won't get far with it if you don't consider a reasonably heightened chair.
Are you shopping for a new office chair with little to no knowledge of what should be the height of the chair?
Below are all the details and necessary information you need to know to pick an above-average office chair with the best measurements.
What is Standard Office Chair Height?
Before discussing the ideal height of an office chair, readers must know that there is no standard office chair height.
Every office chair is unique and has a different range. Still, if measured from floor to the seat, the maximum capacity will be from 16 to 22-inches (42-56cm).
For flawless understanding, please have a look at the six most famous office chair models and their height differences.
| | |
| --- | --- |
| Chair Model | Height |
| Haworth Zody Chair | 14 to 21-inches |
| Herman Miller Embody | 16 to 20.5-inches |
| Duramont Office Chair | 17 to 20-inches |
| Steelcase Gesture Office Chair | 16 to 21-inches |
| Sihoo Office Chair | 16.5 to 20-inches |
| ErgoHuman Eurotech | 17 to 21-inches |
Every one of these is the standard ergonomic office chairs. A few chairs for tall people can be adjusted above 21-inches in height, while other chairs have an even higher range of height adjustment.
How To Calculate the Perfect Office Chair Height
Here are two ways to calculate the height of an office chair:
Keep Your Feet Firmly on the Floor
Prefer to adjust the height lever until your feet reach the floor entirely, and your knees are at a 90-degree position.
You can also measure the height of an office chair under the same position by sitting up. This one is faster and more accurate.
Consider standing in front of the chair and adjust the chair so that the seat's top aligns with your knee cap.
Keep the Forearms Equivalent to the Desk
Please make sure your forearms are positioned at the right height to the desk.
Raise your seat height to position your elbows at a 90-degree open-angle. After that, adjust the size of your forearms, so they become parallel to the desk.
There you have it; that's how you measure the height of an office chair!
During this time, everyone prefers to work from home, and for that purpose, an ergonomic chair is all you need. A good thing about office chairs is that even if you are on a tight budget, you can still find something that will comfort your body throughout the hectic sitting hours.
Here's a list of our office chairs under $50:
Smugdesk Mid-Back Breathable Office Chair
Furmax Mid Back Desk Office Chair
NEO Desk Office Chair
Sitting on an ergonomic, comfortable chair shouldn't mean you have to empty your wallet. Posture-enhancing chairs for home offices can get a little expensive. Still, the chairs we are about to mention are mercifully affordable.
An employee's dream is to have an office chair that does not cost a fortune and comforts your back. So, below are the office chairs under $150:
Amazonbasics Low-Back Computer Chair
Flash Furniture Designer Chair
OFM Leather Gaming Chair
If you are browsing the market to find the best office chair under $300 with maximum features and ultimate comfort, then we a few options for you:
Garbylly Ergonomic Mesh Office Chair
HON Ignition 2.0 Ergonomic Office Chair
Basyx by Hon Mesh Task Chair