Nickmercs seems quite comfortable on its best ergonomic Steelcase Gesture chair in his video and uses it regularly.
Nickmercs (Nick Kolcheff) is an American popular pro gamer, Youtuber, and one of the finest Twitch streamers in the streaming industry. At first, he got fame being a Halo & Gear of War professional and in 2010 he joined Justin.tv for streaming. He achieved success and fame when he worked as a content creator for an organization named 100 Thieves. He continued his content creation job at FaZe Clan and now he is a co-owner of the team.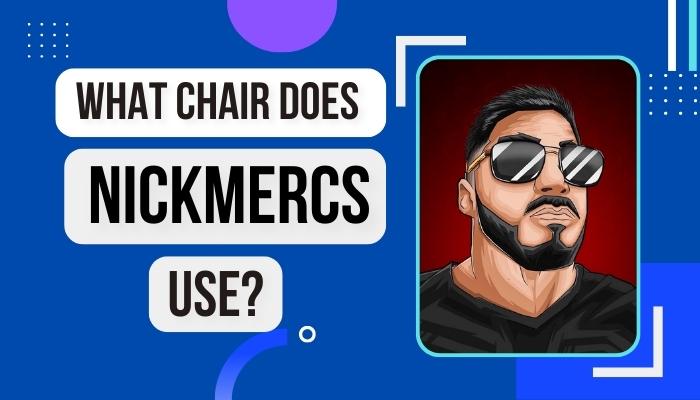 Aside from what gaming accessories and equipment this professional gamer uses, people often feel curious about what chair Nickmercs use. These days Nickmercs finds comfort in a Steelcase Gesture chair, considering his amazing gaming skills seeing him (showing off in his setup video) using a luxury comfy seat like Gesture is no surprise at all.
If you like to explore his whole setup along with the chair he is using in recent times, check this out:
Nickmercs' Comfortable Seating
Since their physique of Nickmercs is big muscular-type so he certainly requires a big and comfy seat with various controlling features. Maybe that's the reason he actually like customized chairs from the beginning, previously it was Opseat Grandmaster (black) that provided him with all the support and comfort in long sessions of gaming/streaming.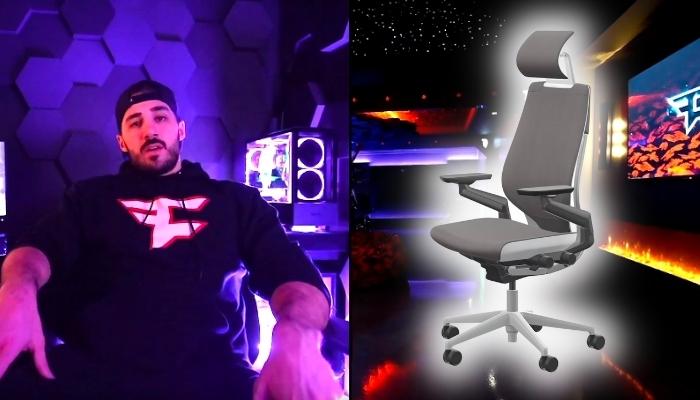 In 2019, he switched to the Steelcase Gesture chair for its world-class lumbar adjustable technology and some next-level adjustability controls.
The Brand – Steelcase
The brand 'Steelcase' though does not need any introduction, formed in 1912, and the USA brand then became one of the most recognized and reputed companies that produce office furniture and products all over the country.
Steelcase has been the trendsetter in the industry as they try to innovate seating by studying people's movement in office working environments and for gaming.
Steelcase Gesture
The gesture is the kind of seating that gives a new definition to luxury comfort, design, ergonomics and top-notch support. Steelcase Gesture is a chair with the perfect futuristic design, great research-based ergonomics, and modern-era technologies.
Highlight Features of the Seating 
Although the design of the chair is inspired by the human body the 'Gesture' in the name describes the gesture recognition feature of the body. However, the chair in terms of price tag is not for everyone but its high-end ergonomic adjustments, 12 years warranty, and automatic lumbar adjustments are the features that make this chair worth the cost.
Certainly, a professional gamer like Nickmercs would not sacrifice its comfort and performance over some cheap chair which is why he picked Steelcase Gesture.
The tech-inspired design of Gesture is the biggest highlight in which every detail is cleanly finished to propose a sleek and sophisticated look. The sync of seat and back area upon user movement provides consistent support while the same back & seat of the chair is flexible enough to accommodate any posture by users.
Steelcase Gesture chair ranked highest in terms of build quality; it is a prime quality craft under Steelcase. At first, some plastic components fixed in the chair may upset you but the quality and finishing of every component are impressive. In areas of seat comfort and performance Gesture by Steelcase scored excellently.
One of the highlight features of Gesture is that it naturally aligns with every user's movement. This chair features great adjustability options such as seat height adjustment, 90-degree rotation, seat depth adjustment, 4D armrest, tilt lock angles, and backward & forward pivot movement.
Besides, the chair comes fully assembled so users can use it right after removing the chair from the box.
Specs:
Seat Depth & Width: 15.75" – 18.75" D, 19.25"
Seat Height: 16 inches – 20.5 inches
Arm Width & Height: 10.25 inches – 22.5 inches, 7.25 inches – 11.5 inches
Weight Limit: 400 pounds
Related Links: