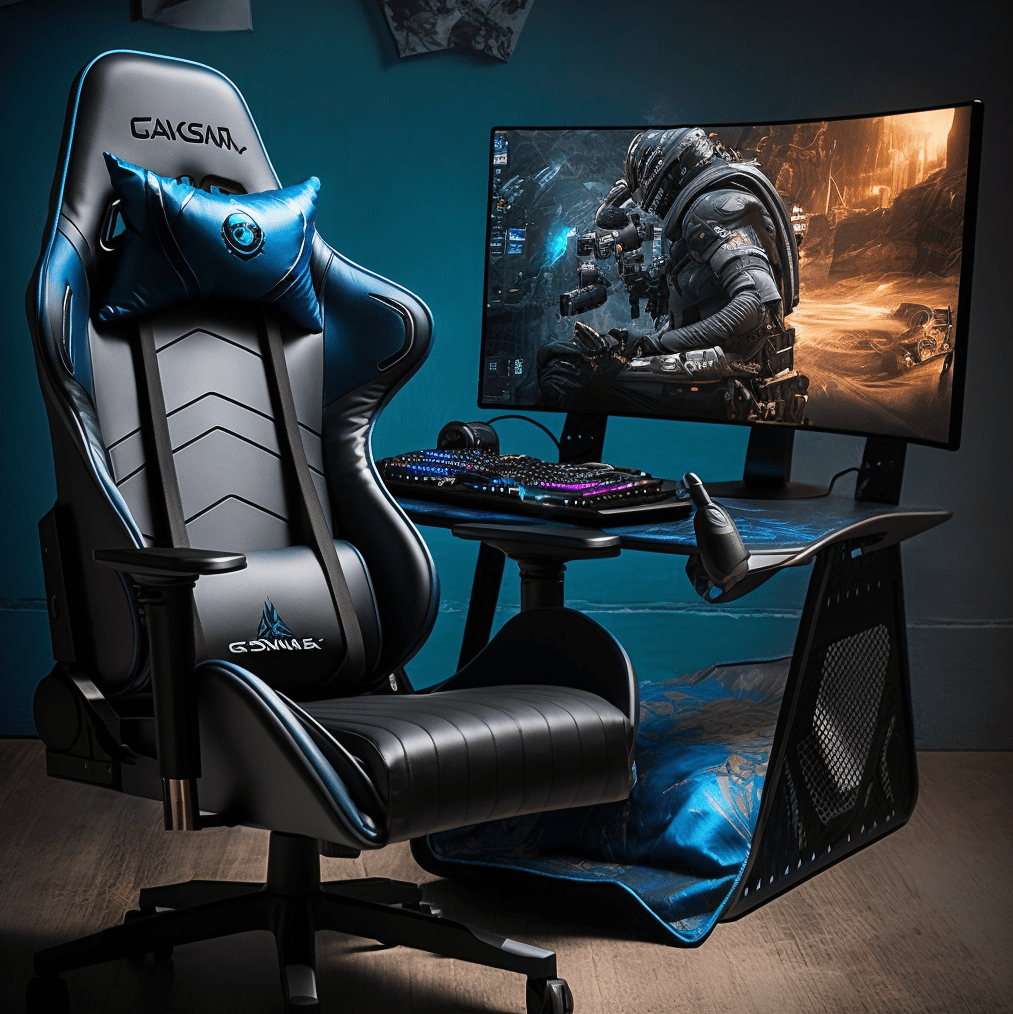 If you are a gamer, you must have heard about the traditional gaming console Atari, AtGames, Radica Games, etc. which were there decades ago. That was not the time of people investing their hours in gaming in front of the screen like people do these days. With time, technological advancement offered improved varieties of games, but they also worked hard to develop safe/healthy sitting set up for long gaming sessions.
Gaming chairs are ergonomic seating especially designed and built to facilitate gamers to sit in a proper posture. The lumbar support pillow in the gaming chair is intended to offer additional lower back support and prevent back pain. These are ergonomic chairs that are manufactured aesthetically correct for better posture as well as make prolonged sitting harmless for users. 
Do you need pillows for gaming chairs?
You can use a gaming chair without pillows, but it is hard to maintain the correct posture while sitting for an extended gaming session. In that case pillows on the chair assist your neck, shoulder, and back to be in a neutral position.
Similarly, most gaming chairs have adjustable cushions for the neck and lumbar so they can be adjusted to comfortable sitting positions to reduce stress from the neck and back.
Promote Proper Posture
Although limited-time sitting does not require you to have a pillow on the chair if you have to sit constantly for 4 hours or more pillows for the neck and lumbar area can provide great support & well-being.
If you sit for a long time without any support to your lumbar curve, it will cause excessive stress and strain on the spine, becoming the reason for back pain. A lumbar pillow on the gaming chair offers adequate support to the natural curvature of the spine and also stimulates proper sitting posture.
Neutral Position
The ergonomics of gaming chairs also include pillows for extra support and enable users to align hips with a straight upper body. The addition of a cushion on the chair helps users to adjust to the comfortable yet neutral sitting posture with a stable neck and shoulder while the back is well supported. 
A neutral position of sitting makes your movement easier for the routine as well as increases productivity.
Support for Relaxation
The ergonomic design of gaming chairs usually includes high and wide backrests to promote upright posture and help you relax your shoulders & upper back. If you have to adjust the backrest angle of the chair so you will have to adjust the lumbar pillow to feel more relaxed and supported.
Neck and lumbar cushions on the gaming chairs are fitted to provide absolute ergonomic support and comfort to the users.
What are the benefits of Pillows in Gaming Chairs?
Gaming chairs have ergonomic pillows for some very good reasons, the removable neck pillow on the chair is very well-padded to not just support the neck but also prevent muscles from straining. Versatile gaming chairs feature adjustable cushions for the neck which can be fit according to the comfort and height of different people.
Similarly, these ergonomic chairs come with an adjustable lumbar cushion which can be adjusted for the lower back area to the angle of the chair and comfort level. Lumbar pillows are a great addition to the overall ergonomics of gaming chairs that offer great support to the natural spine curve. With that said, a lumbar support cushion prevents chronic backache, improves blood circulation as well as reduces muscle fatigue.
Conclusion
All the comfort and support from the pillows make gamers more focused, energize, productive and attentive.  The setup of ergonomic pillows is particularly designed and added in the gaming chairs to relax the user's neck, shoulders, and upper and lower back, eliminating pressure and pain from these areas.
Related links: