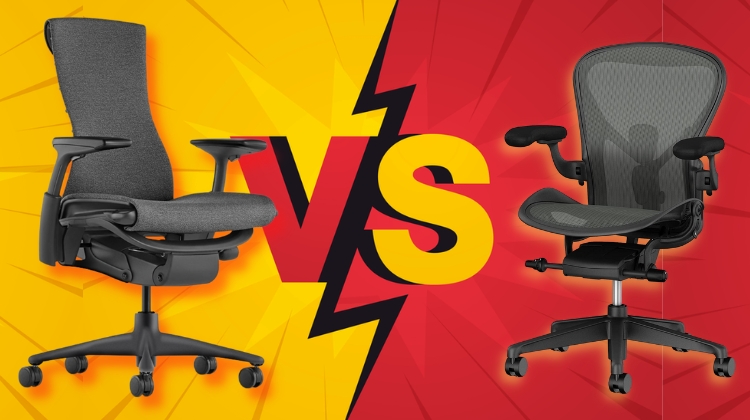 Herman Miller is not a new name in the market when it comes to top-of-the-line and most popular ergonomic chairs, this brand name has been the guarantee of the highest quality for years. They are known to manufacture different chairs from one another with different approaches to ergonomics and aesthetics.
Here, we are going to compare Herman Miller's top leading models Aeron and Embody which can be termed as best-ranked office chairs in 2023.
However, Herman Miller Embody & Aeron chairs have some similarities, but some key differences make these chairs appropriate for different groups of people. We will help you understand what are the factors of differences in both chairs in terms of design to functionality. Precisely, we have conducted a test on Embody (standard size) and Aeron (size B) to give you an in-depth idea of which chair suits your need better.
Herman Miller Aeron vs Embody Chair – General Comparison Chart
| | | |
| --- | --- | --- |
| | Embody | Aeron |
| Size | Standard Size | A (Small), B (Medium) & C (Large) |
| Seat Material | Fabric | Pellicle 8Z mesh |
| Seat Height (Adjustable) | 16" – 20.5" | A = 15" – 19" B = 16" – 20" C = 16" – 20" |
| Seat Width | 29.5" | A = 25.75" B = 27" C = 28.25" |
| Seat Depth | 15"-18" (Adjustable) | A = 16" B = 16.75" C = 18.5" |
| Lumbar Support | Firm Adjustable | Adjustable (up, down & firm) |
| Weight | 51 lbs | (A=40 lbs, B=41 lbs, C=43 lbs) |
| Color Options | White Accents & options for color Upholstery | Mineral, Carbon, Graphite |
| Frame Material | Recycled Material (Aluminum) | Recycled Material (Aluminum) |
Pricing
Herman Miller Aeron and Embody both are related to the exclusive office chair category which somewhat confirms their high price tags. Besides, the Aeron comes with quite a less of basic cost as compared to Embody, however, it comes with basic functionality for the price. Whereas, upgrading Aeron functionality to the extent of Embody will cost you almost similar to Herman Miller Embody.
The utmost price range of Aeron can be $1,095 to $1,995, and Embody's price ranges from $1,495 to $1,895. Below you can find the tariff for optional upgrades:
| | | |
| --- | --- | --- |
| | Aeron | Embody |
| Original Price | $1,095 | $1,495 |
| PostureFit Lumbar Support | $95 | N/A |
| Adjustable lumbar | $75 | N/A |
| Adding Fixed Arms | Included | N/A |
| Adding Arms (Height Adjustable) | $75 | N/A |
| Adding Fully Adjustable Arms | $205 | Included |
| Hard Floor Wheels/Casters | $50 | $50 |
| Translucent Casters | N/A | $80 |
| Tilt Limiter with Seat angle | $100 | N/A |
Specifications
| | | |
| --- | --- | --- |
| | Embody | Aeron (B) |
| Overall Dimension | 29.5" W x 26.5" D x 42-45"H | B=16.75″D x 27″W x 41″H |
| Seat Dimensions | 21.25" W x 15"-18" D | 17" W x 16.75" D |
| Base Dimensions | 26.5 Inches | 27 Inches |
| Back Dimension | 14" W x 23.5"H | 21.5" W x 22"H |
| Distance between Arms | 11.5 – 21 Inches | 17 Inches |
| Weight Limit | 300 lbs | 350 lbs |
| Shipping Weight | 63 lbs | 46 lbs |
Herman Miller tried something very unique with the size of Aeron and produced chairs in three different sizes which are A, B & C defined as small, medium & large. However, they kept the Embody available in only one size which is enough to accommodate a wide range of people than any of the Aeron sizes.
Assembly & Delivery
Aeron & embody come fully assembled, you do not need to feel hassle about the boring process of putting the chair together. Also, they offer a pretty straight shipping process in which your chair is delivered to your doorstep.
Warranty & Return Policy
Both the chairs (Aeron & Embody) are backed by best warranties, 12 years without any warranty on parts. Embody and Aeron office chairs are manufactured on international standards to be used in offices 24/7.
Similarly, Herman Miller proposes an excellent return policy of around 30 days with both models. If you don't find the chair appropriate so you can return your chair model in 30 days to get a full refund without any return shipping charges/fees.
Ergonomic Design (Seat & Backrest)
The design is the biggest difference between both chair models, especially their seats & back. For Embody they have chosen a stylish upholstered look while Aeron has kept conventional with a complete mesh look. The ergonomics of the chair can be better defined with a supportive backrest and seat comfort.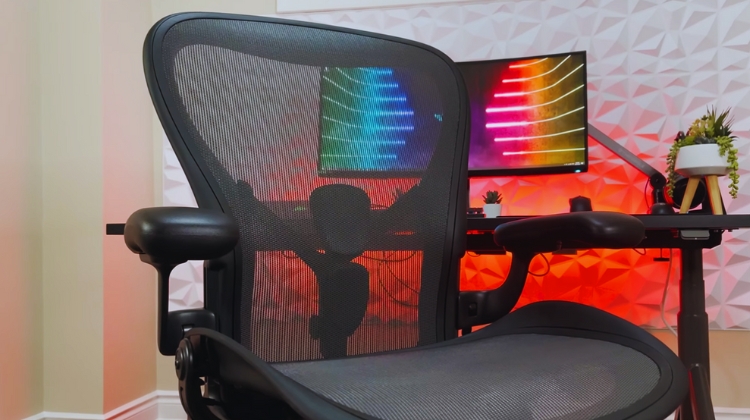 We found the Embody seat much more comfortable than the Aeron mesh seat during the experiment. However, the Aeron seat is upholstered with soft and flexible 8Z Pellicle mesh but the seat is surrounded by a thick frame which makes the seat firm to sit on. The comfortable seat of Embody is wide and has a unique pixelated system while the upholstery and multiple layers system offer flexibility, breathability, and support.
The tall backrest with natural spine curvature in Embody offers great support as well as the plastic pixels network same as the seat makes it more flexible and supportive for any back shape and easy movements of users. Aeron, on the other hand, has a mid and wider backrest that offers adjustable lumbar support for maximum comfort.
However, the concept of comfort and support differs in people but we can conclude that both models provide incredible backrest support.
Build Quality
In terms of build quality, both the chairs are high-end office chairs we have used so far. Not just premium components are the reason, but the build of each chair has a unique approach to design & functionality which you cannot find in other office chairs.
However, we are a bit more amazed seeing the build of Aeron, but surely you will get a top-grade chair whichever you choose.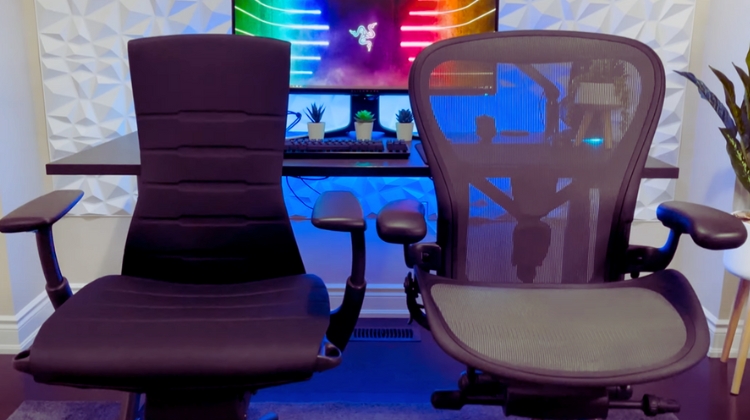 Ergonomic Adjustments
The completely different mechanisms of Embody and Aeron also have different adjustable functions. Aeron allows various optional mechanism upgrades; however, the regular tilt function & tension control are included in the basic mechanism. You need to get an upgrade for the mechanism of 3 adjustable tilt-locked positions along with the seat forward tilt option. Whereas, embody chair does not require any upgrade for 4 tilt-lock angles & tension control.
Both the chairs have tilt locks, seat height, and arm height adjustments. The Embody offers adjustable arm width while the ergonomic adjustments of Aeron include arm depth & pivot adjustability. You can adjust the lumbar in Aeron, not in Embody, likewise, embody chair is featuring back angle and seat depth adjustment but Aeron lacks these.
The mechanism of reclining and moving in the chair is quite different with both chairs. Aeron rock back and forth more naturally while embody has a synchro-tilt mechanism. The flexible back and seat of Embody allow users to move more naturally and freely which feels difficult in Aeron.
Others
Fit for Users: However, embody is available in only one standard size but its large seat size, good seat height, and depth & width adjustments make it perfect for around 80% of people. Similarly, the different sizes of Aeron are designed to keep all groups of people in mind from short/average, and lightweight to tall or big people.
Armrest Comfort: Armrest Comfort: The arms in Embody are well attached to the seat and have a pretty good height & width adjustable range. Further, the large & rectangular-shaped arm pads are not as well-padded as Aeron's arm pads but the arms width adjustment is something you will not find in Aeron.
The arms in Aeron are attached to the chair's back and have a pretty large height adjustability range while the curve-shaped arm pads are thickly padded and are extremely soft and comfy. The arm pads in Aeron can be adjusted to depth and pivot, making this chair best for task work and typing.
Upholstery Choices: You have more color options for upholstery available in Embody in which you can select any of 10 bright and sharp colors. Aeron has only three limited color options which suit the neutral office environment.
Verdict
Aside from premium class build, highest adjustability, support, and best warranties, both chairs still have so much more to impress you. Both Aeron and Embody are the type of office chairs that undoubtedly deserve to be the top-ranked chairs of the year.
Therefore, it is better to check the features you need the most so that you can choose the fit for you.
Related Links: