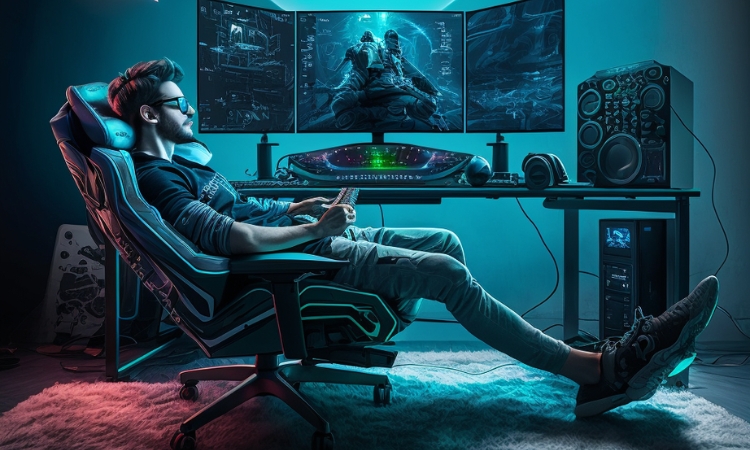 The gaming chair is an integral part of any gaming setup as a gamer needs a comfortable & useful chair to have competitive gaming. These sporty chairs are made for hours of sitting, however, sometimes gamers are spotted taking naps between sessions.  Due to this, they become more curious to know can you sleep on a gaming chair. 
You can sleep/relax on the gaming chair, but the chair must contain some particular features. If you have a habit of dozing off between gaming you should get a comfortable and fully-reclining gaming chair. Luckily, it is the most common feature you will find in most gaming chairs, but make sure the one you choose, offers a complete reclining backrest.
Gaming chairs can be comfortable to sleep in and there is no harm in taking a rest for some time, just ensure you set the most comfortable backrest position/angle as well as adjust the head & lumbar pillow.
Gaming Chairs for Sleeping
Chairs cannot be as comfortable as your couch there is no comparison between thick cushioning and space on them.
Yet gaming chairs are made super comfortable to sit for hours also they have many features which allow users to take a break and relax.
The ideal features that make gaming chairs fit for sleeping include comfortable lean back angles, head cushions, well-padded seats & wide leg rest/ottoman.
What you should know?
But you have to be careful as constant resting/sleeping on a gaming chair may cause various health risks than benefits. Relaxing on gaming chairs is all about finding a comfortable position, but considering the narrow space and bad posture of sleeping, it is not recommended. Further, if you act careless and sleep in an uncomfortable position so this puts strain on your back and neck when you take nap in your chair for hours.
Similarly, not all types of gaming chairs are fit for relaxing and lack many features like lumbar support, wide seat/back, footrest, etc. Sleeping in these types of chairs makes your posture bad which really put pressure on the spine and lower back and leads to discomfort, muscle strain, and at worst, pain. 
How do you lie down in a gaming chair?
The simple way to sleep in the gaming chair is to adjust the back angle and lay back by putting your hands on the armrest. This is the normal sleeping position, but if you feel any kind of discomfort try adding a head & lumbar support pillow. You can rather lie on your back in which your head, neck, and spine can be properly aligned.
Similarly, the reclined position is the best and safest way to sleep in a chair though it may be an uncomfortable position for some but surely the healthiest way in which your spine stays aligned. However, you can adjust the backrest and height of the chair to stretch your legs out, but you should elevate your legs using a footrest/footstool/ottoman to promote blood flow.
Note: Do not put your feet on the ground while relaxing on the chair, it causes putting extra pressure on your joints and leg muscles.
Types of Gaming Chairs Fit for Relaxing/Sleeping
Adjustable Gaming Chairs: These types of chairs automatically adjust to the user's weight and also offer several customizable features
Recliner Chair: Usually these chairs have thick sleep cushions for the neck and head, these can be the best sleeping chair that keeps you supported and upright. 
Chairs with Lumbar Support: These are the best gaming chairs that enable users to sit for hours and also provide the utmost support while relaxing/sleeping
Motion Blasting Chairs: These are special chairs made out of materials that keep users cool throughout sitting and resting, these chairs are a good option for gamers who spend a long time in front of the screen in the same position. 
Related Links: