Massage chairs feel like a real blessing when you are too stressed or tired after a long day. Great massage for the overall body is not the only thing a good massage chair provides you but users are offered to personalize massage settings (intensity, speed, type of massage/favorite, etc.) as per they expect.
Massage chairs are electronic devices that need an occasional restart or reset to factory settings for a variety of reasons.
Let's see what could be the possible reasons for resetting or restarting massage chairs:
Reasons for Resetting Massage Chairs
Usually, people don't remember the settings they have customized or get bored of personalized settings, or experience a decrease in performance so they should reset massage chairs to default settings or factory reset.
Also, if you happen to see malfunction in any of the normal functioning massage chairs so then you should contemplate resetting the massage chair.
Some common functional breakdowns in the massage chair are as follows:
Massage dysfunctional or massage errors appeared
The massage chair overheat during the massage session
Weird noises
Power surge fault
The chair or remote control does not respond
Temperature fluctuation in the massage chair for no reason
Unexplained timer & massage features stop
How to Reset Massage Chair?
Even if you don't know anything about automatic machines you can still reset your massage chair without getting help from professional technicians or spending heavy maintenance costs.
It is crucial to know that dozens of brands are producing a wide range of massage chairs with varied mechanisms which very obviously need different ways to reset them. Therefore, in this guide, we will explain various methods of resetting different types of massage chairs.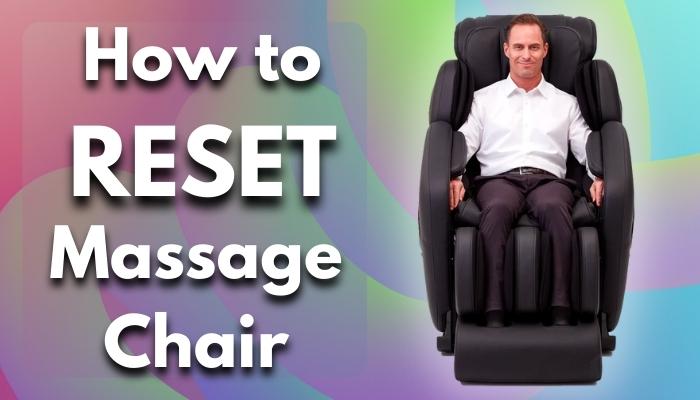 Method #1: Unplug your Chair
Unplugging the chair is the simplest means to reset the massage chair if you have experienced any breakdown in chair functioning, simply unplug your chair and let it rest for at least 24 hours and then turn the chair on again with all pre-set functions.
Method #2: Manual Reset
You can easily reset your massage chair with the 'reset' option on the remote control, if your remote control is damaged or unresponsive then try a manual reset.
Make enough space around your chair and make sure the power cord is plugged in
Check for the 'Reset' button on the chair, usually, massage chairs have a reset button right under the seat pillow
Press the button and at least wait for 10 minutes, after this your chair will be all set to use again
Method #3: Reset Massage Program
In this way, you can change your pre-existing personalized massage settings.
Power on your massage chair
Turn on the massage chair using the remote control
Now press the on/off button to set the massage programs you like
You can press the on/off button to delete or change previous massage programs
Reset your most preferred program in this way
Method #4: Factory Reset
If you are facing any problem with the internal mechanism of a chair or issues in performance or if you want to reset all personalized settings you have made then use this method.
Switch off the massage chair completely
Now press the 'Power' & 'Kneading' buttons on the remote control at the same time
Press and hold pressing both buttons for around 10 seconds
If you have a display screen on the remote control, the sign 'error' will appear on the screen
Thus, the automatic massage pad will vibrate a bit which indicates factory reset has been successful.
Wrap Up
These ways likely work and you will be able to reset your expensive massage chair which is supposed to last quite a long. Factory reset will help the best to reset the massage chair if the problems are not related to the chair's hardware. As you know that not all massage chairs reset with the same process so you can try other mentioned methods as well.
However, if you are in doubt even after completing the reset process on the massage chair so you can run an error diagnostic on a chair by using the remote control.
Related links: